This is the first time a film trailer has been released officially on a mobile application.
The team behind the long awaited film Happy New Year have decided to release the trailer on the popular mobile messaging app named WhatsApp.
This is the first time that a film trailer will be given its official release on a mobile application.
Happy New Year stars Shahrukh Khan, Deepika Padukone and Abhishek Bachchan. It has been produced by SRK's own film production company, Red Chillies Entertainment Rvt Ltd, which is well known for its savvy digital innovations.
SRK himself is also involved personally in the scheme, and it is said that he made the final decision to release the Happy New Year trailer on WhatsApp rather than through a more conventional medium.
Throughout the promotion of Happy New Year, various new strategies have been used by the film's producers to gain fan interest, as competition at the box office is becoming tougher in today's film industry.
For instance, there has already been a large campaign on both Twitter and Facebook, sharing the film's poster on these social networking sites.
The film's actors, Deepika Padukone, Abhishek Bachchan, Boman Irani, Sonu Sood, Vivaan Shah, Shahrukh Khan, and director Farah Khan, also signed posters for fans.
The decision to release the official trailer for Happy New Year on the mobile app is in keeping with Shahrukh's innovative attitude towards film making and production.
The CEO of Red Chillies Entertainment, Venky Mysore, spoke of the decision to use WhatsApp as the medium for the trailer release: "There is a special focus on constantly improving fan experience through innovation.
"With over 50 million active users on WhatsApp in India who share millions of videos and images with friends and extended friends group it was an obvious choice to use the tool as a platform," he said.
Mysore also talked about the logistics of putting this new idea into practice: "The only challenge was the restriction by WhatsApp where a broadcast message cannot be sent to more than 250 friends/WhatsApp users but WhatsApp has specially removed this restriction for this campaign."
As there are now no restrictions on the number of people able to share the Happy New Year trailer, millions of people are expected to watch it and share it via their mobile phones.
In order to see the film trailer on your WhatsApp number, simply register your number with the 'HNY' team. You can do this just by giving them a missed call, or by sending them a message.
This number was posted on the Happy New Year website on Saturday, along with a photo giving a teaser of what the film might look like.
In another use of social media, the official Twitter page of 'HNY' also posted the number for the use of fans:
"Give #IndiaWaale a missed call or drop in a #Whatsapp msg on +91981902020202 to get the #HNY trailer on your mobile."
This latest unique innovation by King Khan indicates that his production company, Red Chillies Entertainment, is going to keep coming up with new ways to interest fans in the future.
He is already set to tour the world with an exciting 'Slam' concert along with the rest of his castmates in the run up to the film's release on Diwali.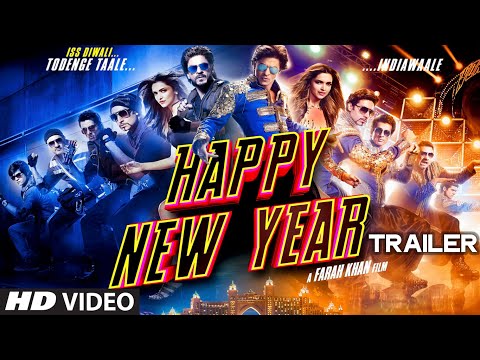 Speaking about the trailer, SRK says: "Farah has worked very hard to make this film. I think the trailer is great. I hope you all like it. We are trying to make a film that is a little about dance, music, glamour and beauty. It was our wish to make the ultimate Bollywood film. It has everything."
The release of the Happy New Year trailer offers fans a new, unique way to watch the latest Bollywood preview, and share it with their friends instantly.
It will be interesting to see what the Shahrukh Khan team's next innovation is, as the hype builds around Happy New Year.