"Govinda is such a sport, he agreed to the idea right away. He is a dude!"
Romantic Comedy, Happy Ending stars Saif Ali Khan, Govinda, Ileana D'Cruz, Kalki Koechlin and Ranvir Shorey.
Directed by Raj Nidimoru and Krishna D.K, the film is produced by Saif Ali Khan, Dinesh Vijan and Sunil Lulla.
Raj Nidimoru and Krishna D.K. are said to be upcoming directors that are slowly changing Indian cinema. Their previous feature films include; 99 (2009), Shor In The City (2011), Go Goa Gone (2013) and now Happy Ending (2014).
The film follows Yudi (played by Saif Ali Khan). A writer in his late 30's, he lives the good life with fame, money and not to mention girls!
Whilst living this amazing life, Yudi has serious commitment issues. He starts to run when the phrase 'I Love You' enters in a flamboyant way.
His fame was bestowed upon him with a one-hit-wonder release of his only book written years ago: naturally, the book became an instant hit and he hasn't had the need to write something again.
However, Yudi's life drastically turns upside down, as he runs out of luck, money and the ladies. Speaking about his character, Saif says:
"My main character is that of a writer based in Los Angeles, who is very lazy and has not written a book for five years and has many problems — his money is running out and his girlfriends are ditching him."
Luckily, Yudi's agent pulls through and gets him a job to write a script for Bollywood comedy actor, Armaan (played by Govinda).
Armaan is looking to create a new image for himself as a 'lover boy' after receiving a lot of help from famous cosmetic surgeons from around the world. With these turn of events in Yudi's life, will he get his 'Happy Ending'?
Govinda is said to be comically fit for his role in Happy Ending. It is rumoured that in the film Govinda will be showing the world what was hidden underneath his shirt: a hot six pack of abs for the film.
In the film, Govinda plays the character Armaan who is a fit and lean character. When the story writers and director approached Govinda with the idea he gladly agreed to it. Director Raj and DK said: "Govinda is such a sport, he agreed to the idea right away. He is a dude!"
Saif also has dual role in the film that promises a lot of laughs from the audience: "Yogi is my alter-ego in the film, and I have designed his looks like my friend and composer Pritam's persona," Saif explains.
The film will also see guest cameos from Kareena Kapoor Khan and Preity Zinta who both play Saif's ex-girlfriends.
Rumour also has it that Saif Ali Khan has made his début in the music industry, with his very own song in the film. He is said to have played the guitar in one of the songs as well as lent his voice to the song 'Khamma Ghani'.
The cast of Happy Ending took away a lot of funny moments whilst making the film in San Francisco. On one of the days, after packing up, the entire crew decided to explore San Francisco. Saif decided to venture by himself until he had to return back to the hotel in a taxi.
Unfortunately he realised he wasn't carrying his wallet! So he left his expensive designer watch with the taxi driver and then returned with the money. Saif was impressed with the honesty of the cab driver and gave him a big tip!
The soundtrack for Happy Ending has a total of 6 songs all arranged and directed by Sachin-Jigar, who has previously directed the music for Go Goa Gone and Finding Fanny. The lyrics were arranged by Amitabh Bhattacharya.
'Mileya Mileya' is a beautiful track, as it's quite soothing. 'Paaji Tussi Such a Pussycat', the title speaks for itself. It is quirky, funny and entertaining.
'Jaisa Mera Tu', is the romantic number of the soundtrack, the mellow guitar sounds and lyrics will have you melting. 'G Phaad Ke' is a fun playful and upbeat number on the soundtrack. The fast tempo will have you dancing in no time.
'Khamma Ghani' is a soothing guitar song, and arguably a song that doesn't fit with the entire soundtrack. 'Haseena Tu Kamena Main' is a fun and quirky song, the song definitely has a summer feeling to it.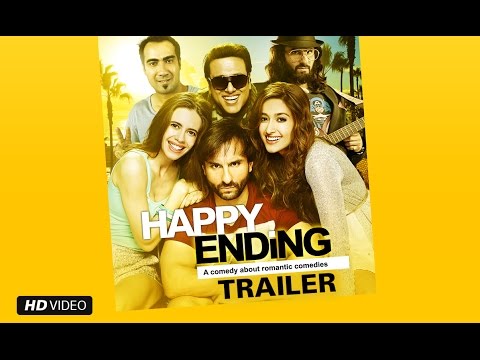 Although Happy Ending didn't have quite a big buzz when the trailer and music had released in October 2014, nevertheless the movie has had positive publicity from Saif and Ileana fans. The music has had a great response on YouTube, but we will have to see how the film does at the Box Office.
Let's hope it's a Happy Ending in the box office, on its release on November 21, 2014.