"The idea is to create a fun illusion that a person can carry on conversations with their doll."
2015 is the year of virtual reality in video gaming. Could the sex toy industry be the next to adopt the mind-blowing technology?
Matt McMullen's would say yes, as his company is spearheading a revolutionary project called 'Realbotix'.
Matt is the CEO and founder of RealDoll, which produces 'the world's finest love dolls'.
It has sold over 5,000 life-size silicon playmates since 1996, at US$5,000-10,000 (£3,500-6,500) each.
He has recently recruited a team of top-notch engineers to create the world's first sex doll robot.
With their expertise, Matt wants to inject Artificial Intelligence (AI) into his love dolls, so they can talk, respond and interact with real people.
He explains: "The idea is to create a fun entertaining illusion that a person is actually able to carry on conversations with their doll, and that the AI will be able to learn from those interactions."
He also wants to make an animated robot head that is capable of eye and mouth movements, to enhance sensual pleasure for his customers.
And that's not all! Apparently, a mobile app for Android and virtual reality headset are also in the works to complete the package.
Speaking of his provocative use of AI, Matt comments:
"What is she thinking, does she like it?"
He continues: "If you can create that, or the illusion of that, it is going to be a much more impressive payoff than 'Wow, she can gyrate her hips by herself'.
"It'll have the ability to text message you or email you. I look at it, like, we're building a robot that just so happens to incorporate sex."
He insists the aim is to create human-like dolls, not duplicates of human beings, saying: "I think that it's more of an alternative, and it's in the end a form of entertainment."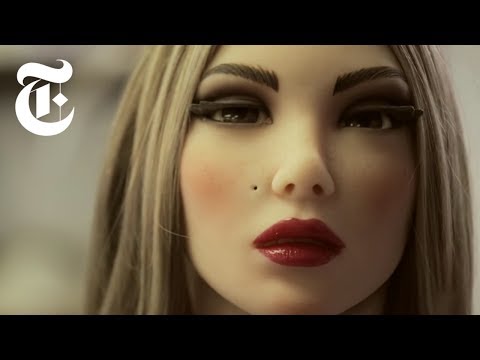 But anyone who has seen Steven Spielberg's Artificial Intelligence (2001) will tell you Matt could be treading on dangerous ground.
Attempts to recreate human emotions in a machine raise serious ethical concerns. Making them available for purchase (though at a steep price) could continue to blur the lines between the real and virtual.
The New York Times pointed out the Uncanny Valley debate could come into play.
The Uncanny Valley is a concept developed by a Japanese researcher at the Tokyo Institute of Technology in 1970.
Masahiro Mori believes 'something robotic that looks alive, but is not completely convincing, will creep people out'.
Nevertheless, Realbotix may not be too far away from bringing a doll to life.
In two years' time, customers can buy the Realbotix head to attach onto their RealDolls. It will be priced at around US$10,000 (£6,400).
The rest of the body will cost from US$30,000-60,000 (£19,000-38,000), but it remains at its early stages of development.
If you don't have the patience to wait for the ultimate sex doll, take a pick from RealDoll's current collections that range from a chiselled six-foot tall male doll equipped with a proud 'package', to a busty latina with a sexy tan!