The watermelon surprising withstands the intense heat of the fire.
Have you ever become curious about South Indian dishes? Created using locally-sourced ingredients and crafted with traditional tools? Then, let DESIblitz introduce you to the 'World's Oldest YouTuber'.
Mastanamma, an Indian great-grandmother, claims to hold this title as she has recently hit her 106th birthday. However, despite having no birth certificate to prove the claim, it's not just her title that has acquired her a massive following.
Fans have fallen in love with her recipes on home cooked, traditional South Indian dishes. As the great-grandmother lives in a remote village, far from any city, she relies on local ingredients and traditional utensils to help her create delicious food.
With her Youtube channel, she demonstrates to viewers how she makes the dishes. While she cooks the food, her great-grandson and his friend run the channel, called Country Foods.
Since its creation, they have gained over 350,000 subscribers. Let's take a look at some of her popular videos.
Watermelon Chicken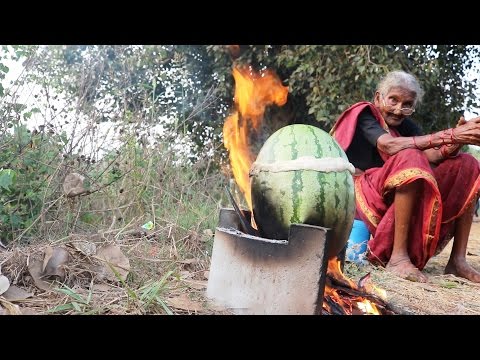 This video shows how a watermelon can become a surprising cooking utensil!
By carving out the watermelon, all the fruit is removed to keep it completely hallow. Later on, banana leaves are placed inside to make it an ideal cooking pot.
Mastanamma mixes chicken with tomatoes and onions. To give it flavour, the 'World's Oldest YouTuber' adds a range of spices such as turmeric and red chilli powder. Using only her hands, she coats the mixture with spices, alongside curry and coriander leaves cut from traditional tools.
Once ready, the great-grandmother scoops the chicken up in her hands and puts it into the watermelon. Placing it over a makeshift stove, it cooks. The watermelon surprising withstands the intense heat of the fire, even when it becomes engulfed in flames.
Afterwards, Mastanamma opens up the watermelon to reveal a delicious chicken dish.
Egg Dosa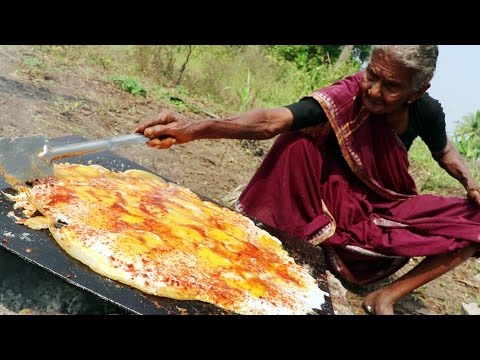 The 'World's Oldest YouTuber' recreates this popular South Indian street food into a banquet-sized portion!
Using a big piece of slate, her great-grandson helps create a makeshift grill with logs to support the slate over a lit fire. Pouring oil and batter onto the slate, Mastanamma prepares the ambitious meal. She and her grandson crack dozens of eggs, using their fingers and the edge of a spatula.
Finishing off the South Indian dish with spices and herbs, the great-grandmother simply waits for the food to cook.
With such an impressive size, it's amazing that Mastanamma, her great-grandson and friends can flip over the egg dosa to cook on both sides.
Traditional Prawn Curry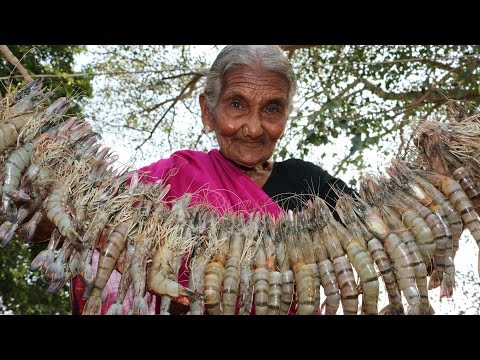 The great-grandmother crafts a delicious prawn curry using just simple ingredients. Holding up a vast amount of prawns, she gets straight to work peeling them. While many nowadays would despise handling raw meat or fish, Mastanamma is unfazed.
After washing the prawns, she chops up onions with her handy traditional knife. The great-grandmother also blends spices such as ginger and garlic together in a pewter bowl. Mashing them up with a big wooden stick, we are amazed by her strength!
Mixing the ingredients together, she also easily picks up the big cooking pot, full to the brim, onto a lit fire supported by logs.
Once it becomes ready, Mastanamma serves the prawn curry up with white rice.
KFC Chicken – Village Style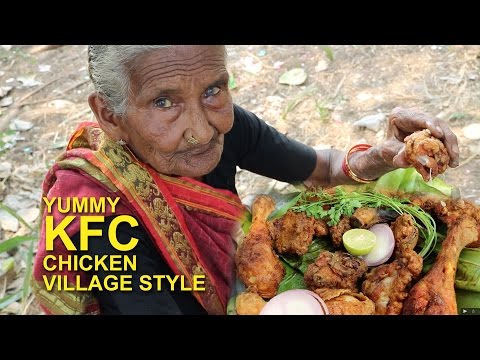 Straying away from South Indian cuisine, the 'World's Oldest YouTuber' shows how she can take inspiration from the Western world. In this case, creating her own version of KFC chicken!
For this recipe, she uses her own mixture of spices, including turmeric, pepper, red chilli powder and salt. Blending them into cornflour, she coats the chicken with the mixture after an egg wash.
She fries them in a pot filled with oil over a lit fire. When fully cooked, Mastanamma serves them in a platter lined with banana leaves.
No wonder the 'World's Oldest YouTuber' has proven to become a big hit on the internet. With experienced culinary skills, creativity and traditional methods, Mastanamma creates superb dishes.
But what we also love about the great-grandmother is her caring nature towards her great-grandson. In near every end of the videos, she always make sure he and his friends are eating, fussing like a typical 'granny'.
We can't wait to see more intriguing South Indian recipes Mastanamma will showcase next!
To watch more of her videos, visit the Country Foods' YouTube channel here.