India's biggest issue regarding marital rape is people don't care
India has a dubious stance towards consent and section 375 blurs it further.
This legislation in the Indian Penal code legalises marital rape and does not consider it to be a criminal offence.
This means that a 21st-century Indian court will not convict a rapist simply because they are married.
However, India is starting to look into the issues section 375 is causing in the country.
It is evident that this law fails to prioritise the safety of women and young girls who are subjected to marital rape.
In addition to this, the Indian society is often stereotyped as being conscious of what other people think and shame being brought onto their family.
This means that claims of being raped or even admitting the desire to leave an abusive husband is considered as a minor indiscretion and the people around the new bride work towards silencing her immediately.
What is Considered as Rape in India?
Section 375 could be considered to be an aid that normalises rape and encourages child marriages.
Unicef released a report in 2018 that stated nearly 1.5 million girls in India get married before they turn 18, despite this actually being illegal in India.
However, this code acts like a loophole because it states that a man having sexual intercourse with his wife, under the age 18 is not considered to be rape.
Although, by the early 2000's Indian government created a law that protected the children from being forced into marriage.
In 2006 a legislation called Prohibition of Child Marriage Act (PCMA) was created.
If this legislation is broken the offender would have to deal with the following consequences: the adult could be sentenced to a prison sentence of up to two years and fined Rs 1,00,000.
What about the Rural Areas?
Most of the people in rural parts of India are often unaware of such laws and therefore do not speak up for themselves.
With patriarchal village councils (panchayats) still acting as the main authority in these parts of India which are male-dominated, for a woman to seek justice for marital rape will be a challenge beyond her means.
The way of life is normalised where husbands can do as they wish with their wives. Especially, when it comes to sexual relations.
In addition, women are taught from a young age to accept anything and everything their future husband needs or desires as a dutiful wife.
Therefore, if marital rape does take place she will not really know the difference. Because for her it is normal behaviour based on the desires of her husband and her complying.
Most importantly, these women with very little or no education do not have the facilities or knowledge to contact authorities or seek help from support organisations.
The local police and administrators have also revealed that even if they investigate a marriage, the parents of these women will not tolerate or accept want interference of their way of life.
So, trying to prove marital rape in rural areas is not at all a straightforward process as it involves many obstacles which dictate the way life is lived in such parts of the country.
Are Our Daughter's Really a Burden?
In the Indian society, a son is referred to be his father's right hand whereas the daughter is considered to be her father's pride.
In theory, this is a nice anecdote, but realistically it means the daughter can easily bring shame to her family, even though the most innocent of actions.
In parts of India and especially amongst poor families a daughter can be often seen as a burden. Especially if the household cannot even afford her wedding.
Hence, there are frequent mass arranged marriages that take place in India to help poor families with the 'burden' of their daughters. Large numbers of girls get married to their husbands in huge ceremonies.
Therefore, a girl married in such scenarios could never speak up about marital rape due to being indebted to the husband and his family for simply accepting her as a daughter-in-law.
Giving complete control over the marriage to the husband and her family. Even the parents of girls married in this way would ignore any difficulties or abuse experienced by their daughters.
Anam, not her real name, opens up to the Indian Express about her abusive marriage.
She shares that she did actually tell her mother and mother-in-law about the several sexual assault incidents and she admits that both of them said:
"hold your head up and bear it. Even her older brother threatened to cut ties from her if she divorced her husband."
This has become a reoccurring tale in India as most people will try and question the girl/woman's integrity by assuming she provoked her husband to rape her.
However, the entire blame will be placed on the girl and her maiden family.
Therefore, in order to save their family's reputation and honour, it is the girl that usually suffers or even abandoned.
Child Marriages
According to the National Family Health Survey (India) almost half the women between the ages 20-24 are married before their 18th birthday in Rajgarh district (Madhya Pradesh).
The statistics indicate that more than 60% of 25-29-year-old men still get married before the age of 21.
The most chilling statistic is that 7% of 15 to 19-year-old girls are pregnant and expected to become mothers from a very young age.
Child marriages are a way of life in many rural parts of India and even been normalised through the certain Bollywood film such as Dangal, where a 13-year-old girl is being married off to a man twice her age.
This often means that some of the Indian public fail to understand the problem with child marriages.
However, a recent case study highlights a judge in Gujarat questioning the basis of child marriages and the need to protect the husband in marital rape cases.
Hence, the outlook on marital rape is beginning to change, starting with J.B. Pardiwala of the Gujarat High Court.
He spoke out about why the change needs to take place after a case where a groom allegedly forced sex on his wife multiple times.
When talking to the Hindustan Times she says she was subjected to "mental and physical torture."
As Pardiwala, tried to sentence the husband he quickly learnt that he could not convict him as a rapist.
This is because the Indian penal code technically protects him when it states:
"sexual acts by a man with his own wife … is not rape."
This meant the 'rapist' could only be charged with cruelty and sexual harassment towards his spouse, leading to a lighter sentence.
Looking Ahead
In early July 2018 Delhi High Court stated that physical force and evident bruises are not the only things that can constitute the offence of rape.
To further this claim, acting Chief Justice Gita Mittal and C Hari Shankar say that people need to reject the idea that both the husband and wife are entitled to sex once married.
They stressed that asking for consent is mandatory.
The court also stated that the definition of rape is completely different:
"It is incorrect to say that (physical) force is necessary for rape. It is not necessary to look for injuries in a rape. Today, the definition of rape is completely different."
Although, representatives of NGO Amit Lakhani and Ritwik Bisaria disregarded the social advances towards martial rape by claiming that there are legislations that protect the bride, such as the Prevention of Women from Domestic Violence Act.
This deters harassment of woman and sexual intercourse with a wife without official consent.
Controversially, a popular Indian comedian called Daniel Fernandes spoke about marital rape as part of his stand-up comedy routine.
His sketch discussed chilling aspects of the problem whilst constantly reiterating what India's biggest issue regarding marital rape is people don't care.
Fernandes also listed a plethora of countries that criminalised the offence and was also sure to mention that his nation had reached the moon and back but still failed to protect the women in its own country.
Watch Daniel Fernandes speak about marital rape in India: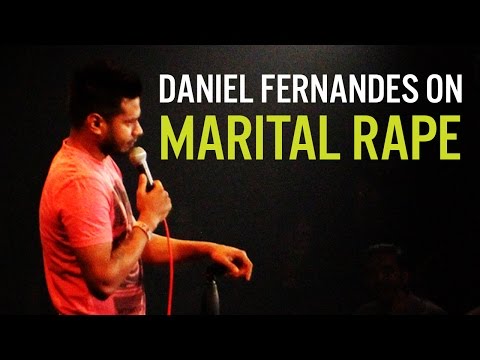 It is clear that the youth of India is keen to change this legislation in particular.
Many petitions have stated that making marital rape illegal contradicts the institution of marriage and can easily become a method for harassing husbands.
This does fundamentally mean that proving and criminalising marital rape in India is going to be very challenging and difficult.
In a country like India which still trying to deal with daily gang rapes of women and young girls, the notion of marital rape due to its complexities would be very difficult to prove.
In addition, with the practice of child brides still being accepted in some parts of the country, the cry of marital rape would simply be ignored due to the shame it would bring on the girl's family.
Moreover, people in rural areas are often unaware of the full extent of their rights, and there are several people in parliament who do genuinely believe that the Indian government is doing 'enough' to protect the Indian woman and her sexual rights.