"Just sleep on the floor, the mosquitoes will bite you."
You do not want to be caught getting high on weed by a nosey aunty on the lookout. But these Indian aunties, on the other hand, may just have your back.
Shudh Desi Videos (SDV) posted a video we would never have thought to ever see, Desi aunties getting high off marijuana!
Titled, "Indian Women Smoke MARIJUANA for the First Time!", these Indian aunties spend the afternoon inhaling from a bong and slowly see the effects of the weed take place.
From out how high they really got!
Have you ever smoked weed before?
(We numbered the participants from 1 to 3 from left to right)
In this interesting and funny video, SDV record three women who have never smoked marijuana before.
The audience can see how long it takes for the ganja to kick in as we are notified of the time periods.
When asked if they had ever smoked weed before, participant 3 said:
"At the place, where I used to work, people spoke openly about smoking weed, they used to say let's go and have a good time."
They each take turns to smoke from the bong. Here's how they each reacted:
After 5 mins
No visible effects occurred after the 5-minute mark.
Participant 2 said: "It's nice I like it, it's alright, it's not like what they say, nothing happened yet, we'll see what happens."
After 10 mins
Participant 1 compared the smell to cigarettes.
Participant 2 thought after smoking the marijuana, it seems lighter than a cigarette.
After 20 mins
Participant 3 began to feel tired.
Participant 2 jokingly replied: "Just sleep on the floor, the mosquitoes will bite you."
They all break into laughter.
After 1 hour
By now, the participants began to feel the effects as they began talking about random topics.
After 1 hour and 30 mins
The participants were given helium balloons to inhale.
After 2 hours
All high, singing.
After 2 hours and 30 mins
Smoking Blunts.
After 3 hours
Participant 3 sings about aloo gobi!
After 4 hours 20 mins
Participants 1 and 2 have left whilst participant 3 has fallen asleep.
Watch the full video of Indian Women Smoking Weed here: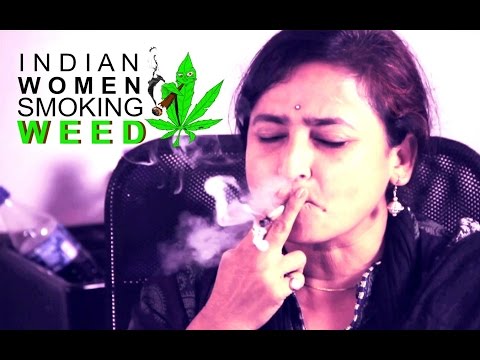 While these Indian aunties are unaccustomed to taking ganja, drug taking is not completely condemned in parts of India.
Cannabis or Bhang is commonly consumed during the festivals of Mahashivarati and Holi where observers drink thandai. A bhang-infused (cannabis seed) milkshake that is a popular beverage during the celebrations.
The reception to cannabis consumption has mixed feelings in the country with some states criminalising the use of the drug.
It is considered illegal by federal law. However, it is legal or tolerated by numerous states such as Bihar, Odisha, Uttarakhand, West Bengal, Gujrat and the North-Eastern states.
In addition, Marijuana does not have the best of reputations amongst, not just Desi communities, but around the world.
However, these hilarious weed-taking aunties might just shake things up!
SDV has developed a following of 137k subscribers by posting outrageously hilarious videos covering a range of taboo topics.
Their content includes Bollywood parodies, sexually explicit themed videos and pranks.
If you want to see more hilarious videos, check out more Shudh Desi Videos here.