"She's like the Terminator. When we're not in class, she's at the library, the pool, the gym."
It is all about 'do or die' in the fourth episode of ABC's thrilling drama, Quantico.
Alex Parrish brushes aside her painful past and is all gung-ho to stay at the top of her class.
Even roommate Shelby Wyatt says: "She's like the Terminator. When we're not in class, she's at the library, the pool, the gym. She doesn't stop."
But the cracks begin to show during two hostage rescue exercises at the FBI training base in Virginia.
Alex successfully completes the task, however, at the expense of her teammates.
When Shelby confronts her about her change in attitude, Alex coldly says: "I was leading. You were supposed to keep up."
Their friendship gets rocky as the two roommates bring up their suspicion about each other in the heat of a moment.
Alex is then paired up with undercover agent Ryan Booth in the next exercise, set in a bank robbery scenario.
The recruits' objective is to work as a team to retrieve hostages safe and sound, but Ryan is armed with a different agenda, which is a direct order from special agent Liam O'Connor.
As much as Ryan dislikes taking orders blindly from him, his career is on the line and has no choice but to set Alex up for failure at the exercise.
The goal is to get Alex to quit Quantico on her own terms, as she is deemed 'an unfit candidate for the FBI'.
One has to admit Liam is really good at what he does and he is so close to tearing apart Alex step by step – from giving her snippets of the truth about her father to using Ryan to manipulate her.
Hence he cannot believe it when Ryan joins forces with Miranda to help Alex get back on her feet and be her 'Terminator' self again.
This, of course, serves Ryan no good. He realises he is far from an undercover agent, and is actually put on probation to retrain to become an FBI agent again.
Simon Asher, who confesses to be heterosexual, has his own demons, too.
Analyst Elias Harper threatens to expose him: "The most dangerous enemy America faces is the enemy within – traitors who play the long game.
"They inflict the deepest wounds because people miss the warning signs. And that's what you are."
The mysterious twin sisters Nimah and Raina also find out from Miranda Shaw that there is more at stake than just their cover at Quantico.
A glimpse of renewed conviction in their eyes hints at more drama and tension to come in the coming episodes.
In the present timeline, the situation is just as twisted and dangerous.
Simon Asher is tangled in a web of dilemma where he appears to play double agent to everyone. He works for the FBI and says he is on Alex's side, yet Ryan remains dubious.
Shelby is up to no good either, as Alex suspects her family business is responsible for making the explosives that blow up Grand Central.
Taking Shelby hostage, Alex hopes to track down a lead to the real terrorist. But she must do so before the FBI finds her or she will be shot on site – as instructed by senior agent Clayton.
Watch the promo trailer for the next episode here: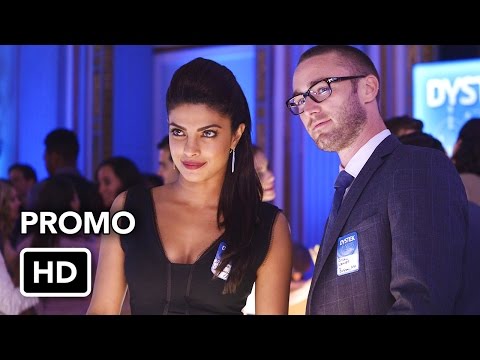 Catch the fifth episode of Quantico, 'Found', on October 25, 2015 at 10pm (US time) on ABC.