hourly rates are as low as 10p an hour
A revealing report by the BBC has uncovered the use of child workers by Primark in its supply chain of fashionable clothes. A protest took place outside Primark's Oxford Street store regarding this matter organised by War on Want.
Children as young as 8, 10 and 11 in India are being used in this trade. where they are used to sew garments and quality check them by hand. The practice takes place in the slum areas of India and is hidden from the front-end dealers who manage the sales.
Pay for these children is on a very low scale and without doubt the exploitation is high. There is no such thing as a minimum wage and hourly rates are as low as 10p an hour or lower. If there was no demand there would be no supply. So, the suppliers running these sweat shops know very well they have buyers waiting such as Primark.
A BBC programme has highlighted this matter in a documentary showing evidence of such child labour and suppliers providing Primark with final products. Here is a short video for the programme which follows some photos and music of children working for Primark.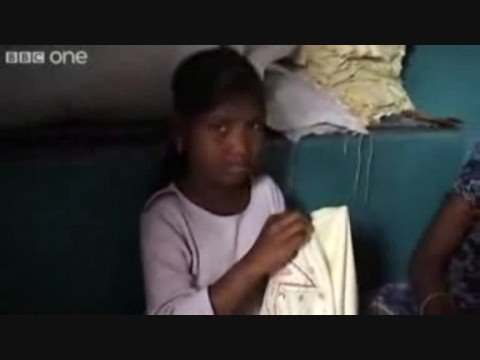 With no regulations or laws curtailing such activity, this shows that these kind of practices will continue with British businesses utilising such labour abroad, providing them with huge cost effective margins. Countries providing such manufactured goods include India, Pakistan, Bangladesh and China, due to the availability and exploitation of cheap labour in their countries.
The other side to this story is that with no welfare state, financial help and medical support available to the masses in these countries, this is the only livelihood they have to survive. Many can't go to school due to their circumstances and are use to looking for work early on in life. Therefore, it's argued by many locally that if you take away the chance for these children to earn this kind of living, it means that they will to resort to crime and prostitution. As many of these children work to support their families and elders.
Since the revelation, Primark have stated that they were not aware of the sub-contractors used by their front-end suppliers and therefore, have cancelled orders worth millions of pounds and sacked Indian suppliers who represented the supply chain in India.
So does this mean, the end of contracts for those suppliers? Very unlikely as they know the West has a lot more businesses interested in such cost effective strategies and that demand is high, especially in difficult economic times.