"I would rather have the cutlery and crockery in the right order"
The big Pakistani film release for Eid 2019 is the romantic-comedy Parey Hut Love (PHL).
This is the second film of director Asim Raza, with the eminent seasonal writer Imran Aslam penning down the script.
The film has an incredible cast that includes Sheheryar Munawar, Maya Ali, Ahmed Ali Butt, Zara Noor Abbas and Mahira Khan. There are also cameos from Fawad Khan and Meera.
The film is shot in Pakistani administered Kashmir, Bahawalpur and across parts of Turkey as well. The cast and crew had to film in reverse conditions to what they were expecting.
But despite all that could go wrong, the film came to a completion on time with everyone getting tough and having so much fun.
DESIblitz exclusively spoke to the director and the two lead actors from Parey Hut Love, sharing some interesting stories about themselves and the film:
Asim Raza – The Family Filmmaker
Asim Raza has over twenty years' experience in AD film making. In between this, he has also had the opportunity to work on music clips for bands like Junoon.
He also made telefilm Behadd (2013), featuring Fawad Khan and Nadia Jamil. Asim talks about how the idea for Parey Hut Love came about:
"Imran Aslam who's a very well-regarded name industry in Pakistan. He happens to be a close friend.
"And I was lucky one day when we were chatting. Imran offered me a storyline and he said if you want I can develop it for you."
Despite loving the storyline, Imran became busy. Asim's dream of becoming a filmmaker came true when his first feature movie Ho Mann Jahaan (2016) came out before PHL.
It was a blessing in disguise as Asim got to work on a small scale film first before revisiting Parey Hut Love.
On this road to discovery, an emotional Asim came to realise the importance of family. Thus, he describes the process of PHL as a "family business."
He adds:
"Parey Hut Love is a light romantic film like a dysfunctional family around it. I learnt we underestimate our relations."
Asim reveals that PHL like most classic films does take a leaf out of other films.
The writer and director did take inspiration from romantic comedies like Roman Holiday (1953), When Harry met Sally (1989) and Four Weddings and a Funeral (1994).
Whilst the arcs, situations and the issues of PHL are similar to For Weddings and a Funeral, they are not the same.
On this matter, Asim states:
"It's not a direct adaptation by any standard. It's an inspiration, which I would say relevant for the Society of Pakistan as well for the youngsters of Pakistan today."
Asim believes the films grand set, stunning costumes and spectacular production design was a demand of the film and he had the resources. It was not merely to dish out what the audience normally wants:
"If I'm creating a dining room, for example, I would rather have the cutlery and crockery in the right order there. Otherwise, I would not do that scene there.
"My stories generally are the most important thing for me."
With the film having an interesting story, it will have something to offer both men and women.
Asim elaborates:
"When you watch a film it should be light enough for you to entertain, but when you go home, you don't go as empty as you came."
Music plays an integral part in the film, especially the music by Azaan Sami Khan. Asim and music date back to when he was growing up. His wife is also a patron of classical music.
Working closely with the music director, Asim is also the writer for most of the songs in PHL.
Talking about Azaan, Asim expresses:
"I was very lucky to have Azaan on this time with me. He's so fantastic with his understanding and I needed somebody to understand what I'm trying to say in that song.
"I think he's done a wonderful job."
The film comes out at a time when other movies will also be releasing. But Asim hopes all films will get their fair share of success.
Asim is of the view that every movie that releases is important for the Pakistani film industry:
"You have to understand an industry is not made by one film of one filmmaker."
Asim says that all filmmakers have to play intelligently when it comes to scheduling.
Maya Ali – The Strong Saniya
Maya Ali who plays the lead role in Parey Hut Love has found working in this film as a "great experience." She has learnt so much from Mahira Khan.
Wishing to emulate Mahira, Maya said:
"I wish I could copy her ada and her moves, which I have already seen in More Saiyan (song)."
Maya also acknowledges that the comedy of Ahmed Ali Butt in the film is the best.
Overtime Maya has had a shift in opinion about her co-star Sheheryar Munawar after working with him in PHL:
"I'm very much blessed that I'm working with him. I did not know much about him before this film. But I've already done two-three shoots with him."
"I thought that he's very much egoistic. And yeah that kind of a boy. I'm really sorry Sheheryar I'm saying all this.
"But during the shooting of the film, I got to know him. After spending time with him, I feel like that I have never met such a human-like him. I found a very good friend in him.
"And I'm happy that I got a chance to work with him."
Maya told us that she was fortunate to get different roles, first with Teefa in Trouble (2018) and then PHL.
Speaking about her character Saniya, she says:
"Saniya, she is bold, she is beautiful, she is strong, and she knows her family values. And she is very much focused.
"When you have to play a strong character, you have more responsibility. This is because you are representing many girls and women.
"So I hope I have done justice to my role as I did what was expected from Asim and Imran."
Maya admits that television is a big medium in Pakistan. Hence she will give preference to dramas. But as a film actress, she will continue to act, subject to the script.
Maya feels PHL has all the ingredients a film should have, including four weddings and a huge cast.
According to Maya, the soundtrack of the film is also good, including six songs. The soundtrack covers various genres such as wedding tracks, a romantic number and qawwali.
Sheheryar Munawar – The Daydreamer
Sheheryar Munawar began working as an assistant director under the wings of Asim Raza. He went onto direct commercials under Asim's company and was the producer of Ho Mann Jahaan.
Sheheryar who plays the character of Sheheryar is a struggling actor in the film. Sheheryar lives in his own world, often daydreaming.
As the film progresses, viewers will get to see that he has a lot of baggage behind him, coming from a broken family.
In pursuit of becoming a film actor, Sheheryar leaves home where his mother and step-father live. He decides to move to a shanty area, where his friends reside.
This is where the film kicks off. Sheheryar opposes the marriage concept. In fact, Sheheryar alludes to this point as he questions in the trailer:
"Why is this nation obsessed with marriage."
Sheheryar who distances himself from issues and hides any problems eventually learns to man up and deal with them.
But he faces a dilemma when he meets the gorgeous Saniya.
The problem he has is that whilst he falls in love with this beautiful woman, he also has to address the issue of commitment.
Giving more details about his character, Sheheryar discloses:
"He's a bit of a charmer. He's more of a reserved shy kind of person who believes in charming the lady and letting them come to him."
Sheheryar divulges that he got his real name in the film, following a request from Asim. The reason for choosing this name, was so that Sheheryar could draw on similar real-life personality traits and mannerisms.
Prior to PHL, Sheheryar had some interesting encounters with lead actress Maya Ali. Their first meeting took place during the cover shoot for Hello Pakistan:
"I'm a bit clown on set. You know, I like to joke around and have fun with my colleagues. And I remember that day she was in a bit of a mood.
"So my defence mechanism is always humour. So I tried to do that and it didn't go down the right way.
"And I remember she kind of snubbed me. I was a little intimidated post that and I stayed quiet during the entire shoot."
The Coca-Cola ad she did for Sheheryar was interesting, with the actor admiring her look and acting despite not being present at the shoot"
"I'd seen the rushes and the footage and I said wow she's really come a long way and she's looking beautiful. She's looking like a star, she's acting like a star that she is and so I was in a bit of awe for her.
Sheheryar also opened up about their encountering during the shoot of Lux:
"She was a Lux girl. I was the Lux boy if there is such a thing."
"I was very reserved, you know because I'd remembered two years back our interaction.
"And so she walked up to me and she said, 'Sheheryar what's wrong you are very serious today.' I said, 'really.'
"She's like, 'come on. You only have four shots in this commercial'."
The two would continue to exchange messages, asking each other of how their work was coming along.
Even though Sheheryar happily came on board as a producer of the film, he was anxious when getting into the rehearsals.
With the film being a musical, Asim got Sheheryar and Maya going with dance rehearsals first to break the ice. Scene rehearsals came later on.
Sheheryar is of the opinion that their on-screen chemistry in the film is down to their competitive star sign Leo.
During an entire year raising the bar, and complimenting each other, Sheheryar came to realise how disciplined Maya was. The two have certainly become close friends as a result now.
Sheheryar is different from Maya in terms of his acting style. Sheheryar conveyed to us that he likes to get into the mood of his character.
Whereas Maya likes to read the scene, before doing it. Although they have different school of thoughts, Sheheryar respects Maya as a strong woman.
Sheheyar interestingly has a phobia of matchboxes, rubber bands and birds. Sheheryar spoke about his Bird Phobia on set, saying:
"I remember the scene that is in the song 'Behka Na.' If you've seen she supposed to come running to me and I'm supposed to be that knight in shining armour.
"And lo and behold the knight in shining armour himself is scared of birds. So walking into it now, I couldn't let her know this.
"So walking into the scene I am just telling myself, this is just a scene, breathe in breathe out and we're going to take it like that.
"And then I did that and then when the scene was over, that's when Asim came up and he said, 'well, you know, you really pull that through.'
"Asim knows that there is one time he was shooting at a stadium and I remember running up to the stadium and this bird came and hit me on the head.
"And all of a sudden and I passed out I passed around so everybody knew the story about me."
But Sheheryar also revealed to us that Maya has her own phobias as well. For example, height was a frightening experience for her when shooting at Kashmir fort.
Sheheyar had a lot of fun when making this film, especially as everyone was travelling together as a family for six months.
As the producer of the film, Sheheryar became a father figure to many, solving what he could do in the process
Watch our Exclusive Interviews with Team Parey Hut Love here: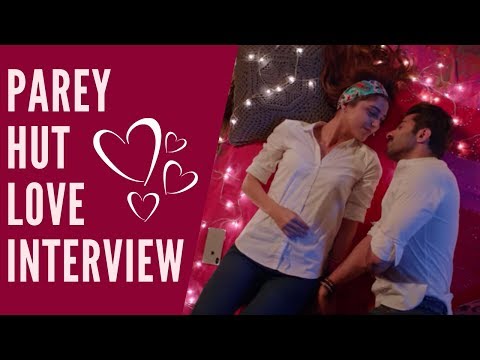 The film has excellent songs, with each track having its own charm. Audiences can listen to the amazing album through the official PHL Jukebox here.
The film is full of family entertainment. Hopefully, fans will have some laughs when watching the film, leaving the cinema halls happy.