Nasser will experience the changes in physical feeling and sensations
Artistic painter, Nasser Azam heads to Antarctica in February 2010 to complete a major series of new paintings in sub-zero temperatures, the latest expedition in his 'performance painting' projects to produce works of art in extreme conditions. He will produce nine paintings which will be three triptychs – a set of three canvass panels side by side.
Naseer's idea of the Antartica performance painting project is to explore the creative limits of an environment with unfamiliar sensations. He said, "I think the conditions are going to be a lot more extreme. This is the furthest point outside my comfort zone."
Naseer normally prefers to paint at night and in the Antarctica it is going to be Summer. This means there will be 24 hour daylight. Naseer said, "It's going to be challenging painting under the daylight."
Previously, in July 2008, Nasser created paintings in zero-gravity. The project was called Life in Space. A specially modified ILYUSHIN 76 MDK parabolic aircraft was used by Azam to experience total weightless conditions, simulating those of being in space. During this experience he completed two 'Homage to Francis Bacon' triptychs.
Nasser Azam was born in Jhelum, Pakistan, in 1963 and moved to London with his parents in 1970. He began to seriously paint in 1980, and in the same year embarked on a business degree at the University of Birmingham.
Azam's reputation as an artist of considerable talent had been established by 1983, through a number of exhibitions in Birmingham and the West Midlands, including one at The Barber Institute of Fine Arts. A BBC documentary also featured Nasser Azam that year.
Azam then left the UK pursuing a career in banking and financial services in 1984, and went to Japan. For eleven years Azam lived and worked in Japan, and was particularly inspired by Japanese art and culture.
In early 2006, Azam began painting again. He became 'Artist-in-Residence' at the County Hall Gallery in 2007, presenting a major exhibition of his early and recent work. The work reflected his artistic journey to date at the time.
Subsequent work by Nasser appeared in exhibitions. A large bronze sculpture called The Dance was unveiled at the South Bank in London, in February 2008; a series of paintings called Anatomica based on illustrations from both fashion and magazines and medical textbooks were exhibited in Spring 2008; the Montmartre Gallery featured Azam's paintings and bronzes, in late 2008 and Azam's monumental bronze sculpture Sepian Blue was exhibited at Sculpture in Context, Ireland's largest exhibition of public sculpture held at the National Botanic Gardens outside Dublin, where it now resides.
The Homage to Francis Bacon (Triptych I) sold at Phillips de Pury, New York, on 14 November 2008, for $332,500. Other auction records include the painting Intricate Requiem II, which sold for €80,000 in the Sovereign Arts Fund auction at Somerset House in London on 10 October 2008.  The Homage to Francis Bacon (Triptych II) forms the centrepiece of an exhibition at County Hall Gallery, showing works developed from the Life in Space project, which opened on 16 January 2009.
Azam's expressive semi-abstract style of painting shows the human figure encoded in bio-morphic forms and gestural marks, and typically uses a restricted but intense palette.
You can see the recording of Naseer Azam painting in zero gravity in the video below.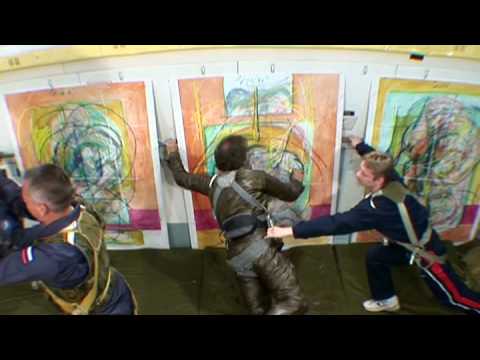 The Antartica project will last five days and it will be Nasser's  feat to paint under very extreme conditions. He said,
"I think the Antarctica project will be a lot harsher than the zero gravity project."
Nasser will experience the changes in physical feeling and sensations when painting in such a climate. The issue of paint freezing in such extreme conditions is being addressed by producing special paints which will have anti-freeze properties. Different to what Naseer used for the zero gravity project, when he used oil pastels.
For preparation for the trip, Azam said, "I  have been working with a  supplier in the Billingsgate Fish Market where they have a heavy duty room size freezer. So, what we will do is try to replicate the conditions there." This is to help him climatise and develop a sensation for freezing conditions.
This is the first time Nasser is going to be painting nine canvasses which are 9×9 feet in size, in a time limit of five days under such conditions. He said, "Traditionally, I'll be doing it on a larger canvas which is stretched. So, we will have to lay the canvass on the snow. So, it's going to be interesting."