"home" aims to create international cross-cultural dialogues
The "home" exhibition is a group effort looking into how, when set in a comparable context with artists from South Asia, British artists of South Asian descent view their own origin and literal physical sense of location, alongside more figurative investigations and manifestations of the self and identity, locality and vicinity, foreign and foreignness, home and origin.
The exhibition displays established artists together with recent graduates at the beginning of their creative careers, including Kashif Nadim Chaudry, Samit Das, Chinmoyi Patel, Hetain Patel and Harminder Singh Judge. Presenting the growing and changing face of South Asia, the show examines the cross-cultural international relationships through visual interpretations.
The artists are trying to make sense of their past, history and origin, whilst negotiating and comprehending the contemporary changes to South Asian society.
Simultaneously, Rachel Marsden, the curator, attempts to bring the artworks out of their usual frameworks to be reconfigured, renegotiated and reassessed in a new context, providing appropriate socio-historic interpretations through which the public and viewer can understand an unknown and often unseen narrative.
The progressive urbanisation and globalisation of India and Pakistan, its relationship to the West and the distance of the artwork and artist from its "home-country," or origin, has presented a whole new set of questions. How is South Asian contemporary art interpreted, exhibited and understood when it is moved from its origin to the West, specifically the UK? How do South Asian and British artists of South Asian descent view and interpret their own origin? What happens to the notion of the "self?"
By looking at artists in relation to the global context of South Asia, "home" aims to create international cross-cultural dialogues between local and regional diverse and dynamic communities in North Staffordshire and the West Midlands in the UK.
DESIblitz.com caught up with Rachel Marsden at the "home" exhibtion and asked more about the exhibtion, the artists and her involvement as a non-Asian. Watch the video below to find out what she said about this exciting cross-cultural exhibition.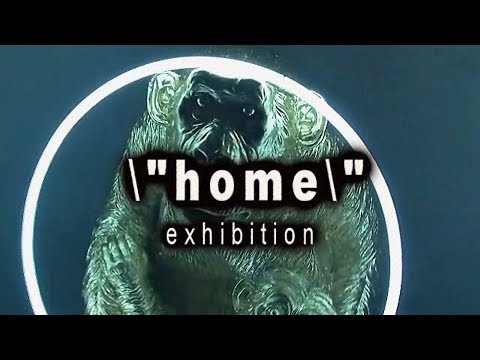 The exhibition will be on display until the 27th March 2010. On the final day of the exhibition, Saturday 27th March, there will be a closing event, which will include an artists' talk and drink reception. Everyone is welcome and the event is free.
A free limited edition publication has been produced in conjunction with the exhibition by the AirSpace Gallery, featuring an essay by the New York academic, artist and writer Basem Hassan.
Here is some more information on the artists participating in the "home" exhibition.
Kashif Nadim Chaudry
www.sacrednature.co.uk
Migration and identity are major influences in Kashif Nadim Chaudry's work, where religion is also a constant reference point, stemming from the Islamic culture into which he was born. Visually, his work is concerned with the idea of circumscribing the sacred and examines elements of church and mosque iconography to explore themes of containment and the framing of space. Inspired by several research trips to Pakistan and Morocco, and places of worship and their function as sacred ground viewed first hand, he looks specifically at the elegance and monumentality of religious and secular Gothic and Islamic architecture.
Harminder Singh Judge
www.harminderjudge.com
The work of artist Harminder Singh Judge combines and reworks the visual codes of world religions in an attempt to explore the appeal of spirituality and its role in the formation of cultural identity. Acknowledging his own Sikh upbringing within a society historically dominated by Christianity, Singh Judge transforms religious imagery through use of a pop aesthetic and questions the perceived incompatibility of science and faith.
Samit Das
www.laurentdelaye.com
Presenting an in-depth investigation into the unstoppable growth of the Indian cities of Bombay, Kolkata and Delhi, Das's work shows a personal archive of archaeological and architectural fragments through a series of conceptual photographic and representative montages that mirror the layered surface of these cities. Their frantic social and economic development is eradicating the marks of past human achievement, meaning the cities are in constant redefinition in the cycle of creation and destruction.
Chinmoyi Patel
www.chinmoyipatel.com
Chinmoyi Patel is interested in the quest for personal identity by ascertaining a sense of her reality. These ideas unfold through exploring fantastical spaces and make-believe in storytelling, adopting different personas or through repetition and re-enactment. Patel finds a need, almost a compulsive urge, to escape into the world of fantasy and imagination, which in a paradoxical way, gives her scope to assess and control her reality. It becomes a way of metabolizing reality or one's experience of it. Conversely, she is trying to explore how an artist can take this very personal search for individuality and translate it to something larger, which is recognisable to a broad group of people.
Hetain Patel
www.hetainpatel.com
Hetain Patel's work explores various sensory forms of visual, spoken, and movement languages, communication and cultural identity. Often using his own body as a site for these discussions, he strives to find a connection with his heritage through self imposed rituals and mathematical structures within Indian classical music. Employing techniques ranging from fashion photography to vocal percussion, he believes that these processes often make the work less culture specific and more about the general communication and relationship between bodies.