"We decided to choose three of the artists who we considered to be the most important."
Three leading Indian artists have been exclusively featured as part of the Winter Monsoon Exhibition at Osborne Samuel Gallery in London.
Headed by Peter Osborne and Gordon Samuel, the London Gallery is known for celebrating contemporary Indian art in all its innovative and creative forms, and has a long history of showcasing art pieces from a range of Indian artists over the years.
The Winter Monsoon exhibition features work of prominent Indian artists, Balraj Khanna, Manisha Parekh and the late Avinash Chandra across three separate rooms.
These three artists signify the extraordinary talent to be found in contemporary art, through the use of bright colours and unusual textures.
In an exclusive Gupshup with DESIblitz, co-founder of the gallery, Peter Osborne explains: "My gallery has a long history of exhibiting Indian art. We decided to choose three of the artists who we considered to be the most important, and give them a showing in the gallery."
The first room displays Delhi based artist, Manisha Parekh who manipulates 3D materials on her canvases to offer very abstract textures.
Fellow Indian artist and writer Balraj Khanna tomments on Parekh saying: "Her work is very abstract, these swirling shapes she creates travel around the surface.
"Textures in 3D are very effective, she has a great command over her own language – the language that she has created for herself."
Her distinctive style stands out immediately. One particular piece named 'Longing Desire' sees pieces of handmade paper and cord extrude from the board.
Another is 'The Red Work' which is made of 16 pieces altogether and sees Manisha experiment with watercolour and gouache on paper to create an earthy and natural texture:
"Each and every artist develops his or her own technique which is distinctly their own. For instance, Avinash used the colour of pinks which was a medium he perfected."
"I use a spray on my canvases, sometimes up to 50 different layers of spray to get that special effect, you know that translucence," adds Balraj.
Balraj's own collection of paintings fills the middle room of the gallery and audiences can enjoy a vision of colour and vibrancy in his great canvases: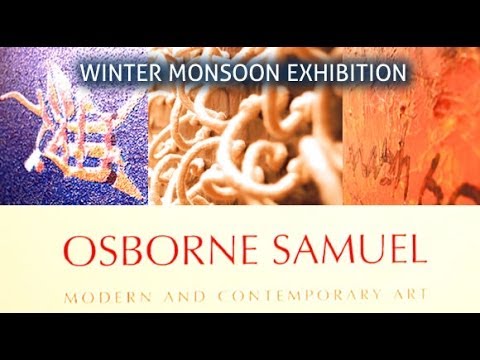 "Balraj Khanna is a very eminent Indian artist. He's got the middle room in the gallery. Also extremely well know, has lived in London for a very long time. We've showed his work for the last 20 something years here in the gallery," says Peter.
An established painter and writer in London since the 1960's, Balraj's works display an intuitive portal into life and nature. Most of his paintings experiment with oil on canvas, and particularly in the case of 'The African Queen', his works stand out through the use of symmetric patterns and strokes.
Instantly recognisable, Balraj's style experiments with moving shapes. Hints of natural life forms and animals can be picked out but they remain blended into the background. In this way, life exists in a completely unrestricted form while still maintaining a perfect harmony with their surroundings.
Of the three artists includes the late Avinash Chandra who passed away in 1991. The gallery recently acquired the artist's estate and has selected some outstanding pieces to display.
These pieces attempt to highlight the vast range of Chandra's portfolio and see a definite evolution from landscape paintings to figure based pictures which he began later in his career.
Speaking about the style and technique of Chandra, Balraj Khanna explains: "He was a very great colourist. Watercolours were his medium. He used coloured inks. He had that very unique ability to capture the human figure in elegant and flowing lines, which he would then fill with brilliant colours."
Balraj also mentions another Indian artist, Francis Souza, who made a similar impact on Indian art in Britain like Chandra: "There was another artist here at that time, an Indian artist Francis Souza who was also hugely successful. These two were the first Indian artists to have made a niche, made a name for themselves.
"They were both my mentors and I think I owe them a great debt, because I learned from them that I had to rely on myself and remain determined, dedicated."
Contemporary Indian art has grown in prominence over the years, with more and more artists coming to the West to develop and evolve their creative talents. While galleries like Osborne Samuel distinctly pick out notable artists from South Asia to represent, there is still a lack of Indian art to be found in the West in general. As Peter Osborne admits:
"[In South Asia there is a] massive amount of talent, and still not nearly as well known as it should be. Not enough galleries outside South East Asia are actually exhibiting art from those parts. For such a big country, India for example, is very underrepresented in the Western art market."
But with critically applauded artists like Avinash Chandra and Balraj Khanna, this hurdle is gradually being overcome and more and more artists are being encouraged to express themselves on canvas in Britain, and in turn this is widening the interest of local British Asians visiting such galleries and seeing art that they can connect to.
The Winter Monsoon Exhibition is currently showing at the Osborne Samuel Gallery in London until 5th April 2014. For more details about the exhibition, please visit the gallery website.