"Since childhood, I have been a fan of Spider Man"
A Flying Jatt is bringing the superhero genre to Bollywood. The film sees India's first Punjabi superhero donning the cape and making mistakes along the way.
Tiger Shroff plays the star Sardar who gains superhero powers. Equipped with a blue body suit, he takes on his foes.
With the tagline 'Hope has a new name', we can safely assume that this is an ambitious project for the Indian film industry, which is still finding its way when it comes to superhero films.
A Flying Jatt is not the first of its kind to screen in Bollywood. India has enjoyed numerous superhero characters in recent years, from Ra.One to Krrish.
But with this latest release, ABCD 2 director Remo D'Souza really aims to raise the bar for superhero films in India:
"The film will see the first Punjabi superhero. It is a big subject. It is something I have to prove it again," D'Souza says.
"With ABCD 2, I had to prove that dancing could be of a certain level and with this film I have to show that a superhero film can be made in India like this.
"Like we always see Avengers, Spider-Man, Superman and I want to take this film on that level so that Indian people think that we also have our superhero film. It is my answer to the foreign superhero movies," he adds.
A Flying Jatt has already been compared to the 2016 hit Deadpool because of its humour and the fact that as a film, it doesn't take itself too seriously.
Some have also compared it to Batman due to the surprisingly dark nature of the second half of the trailer. Sardar has to overcome his weakness and become stronger in order to defeat a terrifying villain.
But many will recognise A Flying Jatt as a mix of Akshay Kumar's Singh is Kingg and Hrithik Roshan's Krissh. Essentially the film is about a comical superhero who will fight baddies amidst a foot-tapping song number.
Watch the trailer for A Flying Jatt here: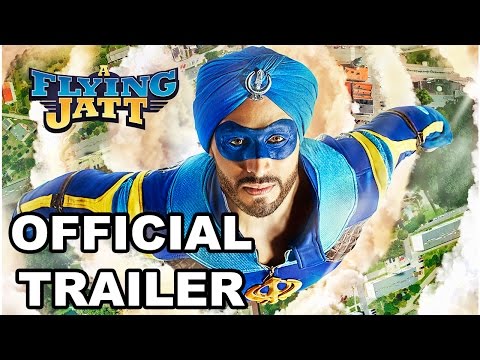 The villain played by WWE star Nathan Ross also looks a lot like Bane, which could be either a good thing or a bad thing, depending on the film itself.
Lead actor Tiger also admitted that he took a lot of inspiration from Jackie Chan for this role in the film. At the music launch, Tiger said:
"Jackie Chan was one of my references because he uses comedy so effortlessly with action."
"Since childhood, I have been a fan of Spider Man because, according to me, he has the maximum humanity; he is very human, very mortal. So he even gets hurt. He has a poor background, but when he wears the costume, he forgets all of that, all the pressures of the society on him."
This Flying Jatt is an extremely clumsy hero and from what we've seen in teasers and trailers fans are in for an entertaining journey.
Sardar finds himself bullied by his stereotypical Punjabi mother, burnt whilst saving a woman from a fire and even chased by dogs. But in a glorious and obligatory training montage, he will up his game and take being a superhero more seriously.
Baaghi star, Tiger Shroff really excels at the action and dancing aspects and watching the Bollywood element of A Flying Jatt will be a real treat.
Director, D'Souza adds: "I know Tiger before he came into films. I wanted to launch him but he got launched in Heropanti, which was good as well.
"Then I thought I would do second film with him but his second is Baaghi. I am happy his third film is with me."
Like all Bollywood films, there will be a romance element to it, with Jacqueline Fernandez playing the female lead.
Despite the light-hearted and comical nature of the film, A Flying Jatt has received a lot of criticism on social media, with many unconvinced by Bollywood's latest superhero.
Flying Jatt is going to fly out of the theatres as soon as it releases, trailer looking pretentious

— Gaurav Upadhyay (@gbupadhyay) August 4, 2016
The film has also faced considerable backlash from key members of the Sikh community. The Shiromani Gurdwara Parbandhak Committee (SGPC) objected to the 'hero's turban, attire, and Khanda sign on the back'.
But producer Ekta Kapoor has countered these complaints, insisting: "From the script to the film, in each and every level of the film we have taken approvals and we have seen to it that no sentiments get hurt.
"In fact, it's the most pro-Sikh community film ever. I will not show anything that's against the Sikh community."
Many others have commented that Tiger Shroff looks too skinny for the superhero costume that he wears.
Mukul Pathak wrote: "When the hero is built he can wear whatever he likes. There isn't any costume which won't make them look good.
"On the other hand, if the superhero is skinny, you can't let him wear what he wishes to there are certain guidelines to follow to make them kickass."
Despite the negativity however, there has been a lot of support to match it.
Who cares about lesser films like #JusticeLeague when more important & attention-catching superhero films are coming up ie.Flying Jatt

— Himachali Tweeter (@TweeterHimachal) July 24, 2016
I'll be watching A Flying Jatt for sure. ?

— S?n??n? ? (@SunainaAyushi) July 22, 2016
This action comedy may have created a lot of mixed feelings amongst fans, but it's safe to say that it has sparked a lot of interest. By merging superheroes with Bollywood it could potentially be a game changer for the industry of Indian cinema.
Tiger believes: "I think my character is a different kind of superhero, a superhero with a twist basically."
Despite comparisons to Deadpool, Batman and Spider Man, the protagonist of A Flying Jatt has his own personality.
He faces issues unique to an Indian hero and will sing and dance along the way.
Fans can look forward to a very funny and entertaining film experience. A Flying Jatt releases from August 25, 2016.