There is a distinct lack of Indian and Asian representation
It has been five years since Deus Ex: Human Revolution (2011) was released.
The game displays a highly thrilling dystopian future, but left many questions unanswered.
Deus Ex: Mankind Divided, the sequel to the cyberpunk action game, looks to answer those questions.
Both games deal with issues of diversity, racism and technology, but how well are they addressed?
Synopsis
Human Revolution introduced players to Adam Jensen, an ex-police officer who works for a company specialising in augmentations. These augmentations are artificial organs or limbs implanted on the body.
A large percentage of people now have these augmentations and are nicknamed 'Augs'. Adam Jensen attempts to thwart a plot that would lead to these augmentations being used for a destructive event.
Mankind Divided is set in Prague, 2029, two years after the events of Human Revolution. 'Augs' are now second class citizens, and hated and feared by most of the population.
This is due to The Incident, where a hack made all 'Augs' violent and uncontrollable. 'Augs' now live separately from the wider population and have no legal rights.
Jensen is now a special agent at Interpol, focusing on anti-terrorism, whilst also dealing with the after effects of The Incident.
Gameplay
Mankind Divided has a strong emphasis on choice. Making for a game with a large variety of elements: exploration, shooting, conversation and stealth. The player can choose how they proceed through various missions.
The player could hack through a building and use non-lethal weapons to spare lives, or go in all guns blazing.
Jensen has various augmentations to help the player and affect gameplay. Tools to become a living tank, increase strength or affect emotion are just a few.
Controversy
Although Mankind Divided is only science fiction, sci-fi often mimics the society and concerns of the present day. In the wake of political turmoil in Europe and America, it seems topically on point.
Racial tension is at an all-time high in all corners of the globe. Mankind Divided shows a potential future of increased discrimination.
The game's developers describe the story as a 'mechanical apartheid'. This caused some controversy due to its relation to the apartheid in South Africa in the 20th century.
In response, the executive art director Jonathan Jacques-Belletête says:
"Obviously we're not condoning it, it's an analogy for how sucky humanity is and showing how it can happen in the future with the technology we're dealing with."
Racist comments, signs and graffiti litter the game, giving an overall tense atmosphere. Documentation checks and subtle details create a troubled yet visually beautiful world. However this social commentary does not really hit home as it does in the trailer.
The prejudice and hate towards 'Augs' only provides a backdrop. The bulk of the game focuses upon the journey of Adam Jensen and his battle against terrorism. This makes the heavy themes presented feel rather lackluster, even with the current societal issues.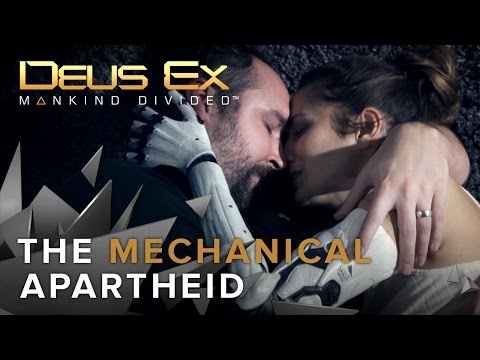 Diversity
However it's not all bad news. Though aspects of the story deal with discrimination, the cast of characters in Mankind Divided is quite diverse. Well, as diverse as seems possible for the rest of 2016.
The game developer Eidos Montreal introduced a subtle but important detail into their action game – female NPC's. And not just NPC's, these women are in combat roles that the player can interact with.
This is an important step for action games, where females are rarely seen wielding weapons or battling with the player.
There is still a way to go. Like most action games there are countless villains, citizens and team members to interact with. However the main cast can usually be narrowed down to about ten individuals.
In the case of Mankind Divided, European, American, and Mediterranean characters of different ethnicities all make an appearance.
However there is a distinct lack of Indian and Asian representation in the main cast. Though you may see the occasional NPC wandering about the streets of Prague.
The Real World vs The Game World
Though the Czech Republic has an incredibly small Indian community currently, as well as a low black population, it continues to expand. Therefore its only common sense to believe the population would grow expediently by 2029.
In the Prague of Deus Ex: Mankind Divided, this is represented by a rich community of both Caucasian and Black individuals. Therefore where is the Indian and Asian representation?
This is a huge oversight by the developers Eidos Montreal, who also developed Thief. Their attempt to authentically portray diversity in Mankind Divided is admirable but is not taken far enough.
This pattern will continue into 2016 with major game developers. Games such as Gears of War 4 and Watchdogs 2 will showcase different nationalities, but not enough to represent the world we currently live in.
Until games such as Deus Ex: Mankind Divided showcase the true demographic of real world locations, we will never achieve true diversity in gaming.