"I sincerely hope our love for the culture comes across in the video."
Despite clocking 14.5 million views for their new music video, Coldplay and Beyoncé have been accused of cultural appropriation.
The Grammy-winning British rock band released 'Hymn For The Weekend' on YouTube on January 29, 2016.
Set in India, the 4-minute long video shows an array of cultural symbols representing India, such as the Holi festival, Bollywood, henna, and some religious symbols.
Chris Martin and his band are seen embracing the Holi colours, whilst Beyonce takes the role of a Bollywood actress, dressed in gold embroidered designer gown by Abu Jani Sandeep Khosla.
However, the internet has expressed split views over the music video, directed by Ben Mor.
Angry and frustrated netizens, who ferociously slam the singers for patronising India, are not hard to find.
That Coldplay video treats India so stereotypically I was surprised Russell Brand didn't have a cameo.

— Dave Besseling (@davebesseling) January 30, 2016
Nishita Jha of The Wire challenges: "It's fair to wonder why Martin, Coldplay or Ben Mor resorted to a bunch of lazy clichés to depict India.
"In the time he spent here as ambassador for the Global Poverty Project, Martin met members of Oxfam India, Prime Minister Modi, Delhi's chief minister, Arvind Kejriwal and various NGOs.
"He also hung out at a bar, listened to Raghu Dixit, and visited Kalyanpuri's slums and the trash pickers at Madanpur Khadar. Why did none of these people feature in his head full of dreams?"
Twitter user Nia Carnelio, though appreciates the video for its artistic beauty, says:
"From the kids on the streets, the fire breathing guy, from Sonam Kapoor to Beyoncé decked out as Bollywood heroine, #HFTW is full of all the stereotypes I've spent precious time trying to dissipate among my friends who live in the US/UK. Lovely vid, but…sigh."
The less-than-five-seconds cameo of Bollywood actress and fashionista, Sonam Kapoor, also spark viewers to question the real purpose of involving a top Bollywood star in the music video.
Speaking to BBC Asian Network, Miss Malini shows support for the video as the vibrant Holi colours convey a positive image of India and any promotion of the country in such light is a good thing.
But she also draws attention to many more important issues in India that are worth paying attention to and need to be urgently addressed, such as rape and intolerance.
Indeed, the debate does reveal the way foreigners often perceive India. Bollywood is a frequently used element to portray its culture. Rich in history and tradition, it can be easily argued India is so much more than just its film industry.
What may also make viewers wonder is that many local Indians are featured in the video – dancing on the streets, going to the cinema. Did they at any point suggest a portrayal that would steer away from stereotypical representation?
Nevertheless, there are many opinions being expressed in defence of Mor's artistic concept and direction over accuracy.
Cultural appropriation is about power structures just as with racism. How is Beyoncé, a black woman, offensively appropriating? — nygma (@Seauxmali) January 29, 2016
Writing for The Indian Express, Aditi Anand comments: "I agree Holi is a cliche for foreigners trying to depict India but its not the worst thing. But even so, it continues to be an indispensable part of our culture.
"Martin's video shows India in all its glory. The peacocks, the periscope, the puppets, the behrupiyas, the yellow and black cabs with colorful interiors, everything shouts India.
"For anyone getting their shields up to fight for India's image to be more than that rural-ish image, look at the kids locking and popping their way through the video."
YouTube user Big Nik says: "This is amazing video. Wish more Indians like myself would appreciate the vid instead of take offense to it."
Mor has in fact explained his vision and ambition for the music video for Coldplay's second single from the band's seventh album, A Head Full of Dreams.
He says: "I wanted to spark people's imagination and curiosity as they watch just a small fraction of what India has to offer.
"I sincerely hope that our love and respect for the culture and people of India comes across loud and clear in the video."
Watch the full music video here and let us know your view in the poll below: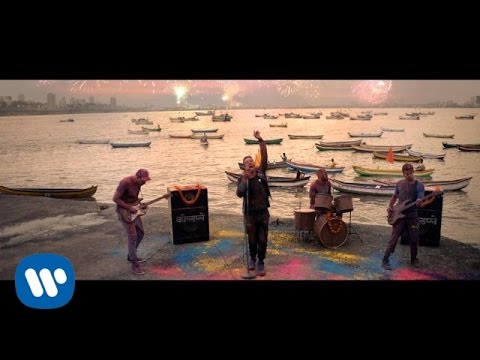 Do you think Coldplay's 'Hymn For The Weekend' video is cultural appropriation of India?
Loading ...