"the team is taking steps to unite the community."
Call of Duty: Modern Warfare is the sixteenth instalment in the highly popular first-person shooter franchise.
While it is the fourth Modern Warfare game, it will not have a four in the title. That is because it will serve as a reboot of the classic Modern Warfare sub-series.
The developer Infinity Ward has called the upcoming game a "re-imagining".
The original game was released in 2007 and it was remastered in 2016.
With this new version, Infinity Ward intends to create a realistic world featuring events that feel "ripped from the headlines".
Fan favourite characters such as Captain John Price will return for this new game, making it all the more anticipated.
Unlike Call of Duty: Black Ops 4, this new game will have a single-player campaign as well as the usual multiplayer modes and co-op missions.
With a gritty appearance that looks to appeal to the modern-day gamer, Modern Warfare seems to be an anticipated 2019 release.
We look at more of the details and what to expect when it comes out.
Release Date
News of the game leaked just before E3 2019 but a trailer provided a first glimpse and a variety of details for the game.
It included the release date which is set for October 25, 2019. Modern Warfare will release on PlayStation 4, Xbox One and Microsoft Windows.
One thing that is sure to entice gamers is that it will support cross-platform multiplayer.
For the first time in the franchise's history, cross-platform play between PC and consoles is set to happen. This will allow friends using different devices to play with and against each other.
In a statement, Infinity Ward said: "With the launch of Modern Warfare, the team is taking steps to unite the community.
"First, the team plans for Modern Warfare to be played together across PC and console through cross-play support."
The decision by Infinity Ward to include cross-platform play may prove to be a good one. If it is a success, other developers may choose to include it for their future releases.
Gameplay
The new Modern Warfare will be more tactical than it's predecessors as players face moral choices.
Choices are then evaluated and players are given a score at the end of each level. Players have to quickly decide whether a person is a threat or not.
It incorporates elements from the original Modern Warfare and is repackaged in the modern-day war environment.
Depending on the choices the player makes the dialogue changes.
Tactical decisions involve using a sniper rifle in a large environment to approach objectives in an unconventional order and shooting out lights in favour of using night-vision goggles during breaching and clearing.
For the first time, players will be allowed to reload weapons while aiming down the sights of the gun at the same time.
As with most games these days, the graphics are immense and Modern Warfare is no exception.
While it is visually stunning, efforts have been made to create immersive audio.
Modern Warfare will use ray tracing so sounds will constantly change as it coincides with the geometry of the game. That means with weapons, different sounds are played based on the point of impact.
As a reboot, fine details have been looked at to bring the 2007 original into 2019.
Multiplayer
While not much has been revealed, Call of Duty: Modern Warfare will have a classic multiplayer experience and a new cooperative mode.
One talked-about mode is Gunfight which pits two teams of two with randomised load-outs against one another which take place on very small maps.
They are so small that players have 40 seconds to kill the opposing team otherwise the rules change.
After 40 seconds, it may bring a capture the flag element or decide a win based on the team with the most health.
Gunfight features no reviving or healing so matches are likely to end before the 40 seconds are up.
Multiplayer in Call of Duty games tend to be fast-paced. Gunfight may be the fastest yet.
However, while the inclusion of Gunfight is intriguing, the popular Zombies mode will not be in the game. It will be the first game since 2013's Call of Duty: Ghosts not to feature the mode.
Instead, the Spec Ops mode will feature. It shares it's narrative with both the campaign and multiplayer.
The mode was in Modern Warfare 2 and Modern Warfare 3. Spec Ops received a lot of praise for the excellent missions so its return could bode well for the new release.
One thing which has been talked about is the lack of a season pass, meaning that players don't need to pay for post-release content.
The publisher Activision said: "The team is eliminating the traditional season pass so that they can deliver more free maps and content as well as post-launch events to all players."
It was a refreshing decision to make and one which is a positive among Call of Duty fans.
Single-Player
It is not just multiplayer which has been revitalised, single-player for Call of Duty: Modern Warfare has also been developed.
But single-player is not for the fainthearted as the missions look to be as realistic as the ones seen on the news. Civilian damage is also certain but it goes hand-in-hand with war.
The campaign will feature missions which take place in several European cities as well as the Middle East.
As well as playing special forces soldiers armed with high-tech combat gear, players will also play as "rebel freedom fighters" who use improvised weapons to defeat enemies.
Some gaming experts were treated to a demo of one mission which took place in London following an attack in Piccadilly Circus.
SAS units infiltrate a townhouse to defeat enemies while also searching for their leader, known as The Wolf.
There are moments which are unsettling but they only add to the vast detail that has been included as well as creating an environment which mirrors the real setting of war.
Another mission which is more controversial will see players take on the role of a child soldier whose home was invaded a destroyed by Russian military forces.
The exploration of such topics implies that the missions will be more emotional than before and far more immersive.
The story is still being improved but Taylor Kurosaki, Narrative Director at Infinity Ward said it will be between five and nine hours long.
It doesn't sound long but at least there is a story campaign that players can enjoy.
Watch the Call of Duty: Modern Warfare reveal trailer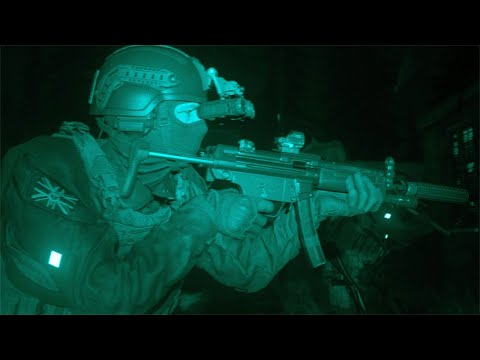 Even though it is a reboot, the 2019 release will be entirely new. The storyline is new and it is set in a different timeline.
It is separate to what was seen in the previous games. Gamers will still follow Captain Price and it may mean returning characters may feature.
The reimagined game means it will be enjoyable for new visitors of the series to pick up the game, but it is likely there will be several nods to the original Modern Warfare that die-hard fans will notice.
Call of Duty: Modern Warfare looks to be a promising release which brings the foundations that the series was known for into the modern-day.