"A great understanding of the style Anita, that was lovely."
It's Week 12 of Strictly Come Dancing and 5 dancing couples have made it to the semi-finals.
The professionals and celebrities face two dances this week to secure a place in the final, and the pressure to get both perfect is on.
First up are Anton and Katie who perform a Charleston to 'Too Darn Hot'. Sadly Katie falls out of sync with Anton and is off-time with a lot of the steps.
With the judges being extra picky this week, they face a bit of grilling. Len says:
"The song was hot. You were hot. But the dance was not. You looked as though you were out of your comfort zone."
Craig adds that it was awkward and stiff looking and adds: "I can't see that dance getting into the final." The pair score only 25.
Next Strictly couple are Jay and Aliona. They perform a Viennese Waltz to 'Have You Ever Loved a Woman'. Bruno calls it, 'simply beautiful'.
Craig adds that he loved the opening sequence but is annoyed that Jay still didn't smile and remained unemotional throughout. The pair score 34.
Georgia and Giovanni take on a disco cha-cha to 'I Will Survive'. Georgia has been ill all week which means she's only had two days to learn this routine.
Craig says he 'adored the number' despite Georgia losing some hip action.
Len agrees saying: "It lacked polish and hip action but you did great with your limited time."
They score a respectable 33.
Next in semi-final are Anita and Gleb who take on a Foxtrot to Frank Sinatra's 'New York, New York'.
Anita looks hot in a pink dress and the dance oozes classic elegance.
Darcey says: "A great understanding of the style Anita, that was lovely. The extensions, everything I could see you were thinking about it."
Len adds: "I don't know what happened, it sort of went into an American smooth version. You forgot all about being in hold.
"The American Smooth you did was lovely, but I was looking for a Foxtrot. So the start was great but the rest of it not quite to my taste, but well done."
Bruno says: "Look at you my darling, refined, refitted and empowered. You understood what this dance required, not just as a dancer but as a performer.
"At times there was a problem with the top line, but otherwise my darling, I think it was wonderful."
Craig is unhappy with Anita's extensions and adds that the extra steps should have been cut out by Gleb:
"If you can't do it then don't do it, is what my advice is actually. But I loved it, I thought it was a beautiful dance."
The pair score 32 points for their first dance.
Kellie and Kevin take on a Rumba, and it lacks a bit of chemistry and romance, but the judges can't get enough of it.
Len calls the dance: "Lovely, lyrical, light and shade but there was a wobble."
Bruno is sad that there was not enough heat: "It was more like a brother and sister dance, not hot enough but content fantastic apart from the slight mistake." They score 34.
It's time for round two of dancing and Katie and Anton are back with a slow ballroom waltz to 'O Mio Babbino Caro' by Puccini.
While better than the Charleston, the dance doesn't set Bruno alight who says: "It had to be perfect but it wasn't."
The rest of the judges disagree however, with Craig saying Katie has 'redeemed' herself. They score 31 for dance two.
Jay and Aliona attempt a fun Charleston inspired by Dr. Who. Jay's quick footwork is incredible and there are some great lifts throughout.
Craig says: "That was ber-ill-iant, darling!" Darcey adds: "Energetic and full of style, loved it." They score 37.
Georgia and Giovanni take on the Viennse Waltz which Darcey calls a 'breath of fresh air'. Len adds: "Full of rotation, content and lyricism, I am full of admiration."
Craig provides the biggest compliment of the night, and indeed the entire series, saying: "I could watch you dance all night." They score 38 points.
Back again are Strictly couple Anita and Gleb with a high-tempo Salsa. They turn on the disco with an energetic routine to 'Feel This Moment'.
The judges love it, but admit that it lost some of its Salsa rhythm. Len says: "This was very athletic. It was full on, plenty of attack."
Bruno adds: "I feel like a cheerleader," commenting that some of the moves weren't even legal!
Craig says: "You are certainly one brave woman. It was like watching the Olympics, darling. Strangely, I really enjoyed that."
Darcey adds: "How did you learn all of that in one week with another dance as well?! I am so impressed … phenomenal."
Watch Anita and Gleb's Salsa here: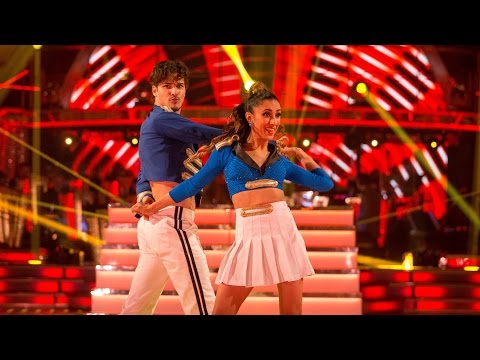 With 8s all around, they score 32 in total.
Finally, it's Kellie and Kevin who end the night with an American Smooth. The Ginger Rogers/Fred Astaire throwback is stunning and Bruno calls it 'absolutely delicious'.
Darcey adds that it had a 'heavenly Hollywood quality'. They score an incredible 39 points that take them to the top of the leaderboard, with two brilliant dances.
Katie and Anton trail at the bottom. Could this be the end of the happy-go-lucky Strictly pairing?
Find out which Strictly dancing couples will make it to the final on December 13, 2015 at 7.20pm on BBC One.