"If it wasn't for that, I don't think I would have been inspired to do something like this."
Britain's favourite Pakistani on TV has returned for a fourth series of Citizen Khan.
The affable Mr Khan, played by Adil Ray, takes over BBC One's prime time Friday evening slot, and will be back to his usual antics in Birmingham's Sparkhill.
Steadfast and self-assured, Khan continues to his quest to be a prominent figure of the community, all the while dealing with his traditional but dysfunctional Pakistani family.
Co-starring alongside Ray in the sitcom are Shobu Kapoor, who plays wife of Mr Khan, Krupa Pattani who plays daughter Shazia, and Bhavna Limbachia who plays the not-so-innocent younger daughter, Alia.
Abdullah Afzal plays the dopey yet lovable son-in-law, Amjad.
Citizen Khan first debuted on our TV screens in 2012. Shot in Manchester's Media City, the show is created by Adil Ray, and produced by Anil Gupta and Richard Pinto.
The TV series has been a hugely successful sitcom for the BBC, particularly because of its notable universal appeal to both Asians and non-Asians, highlighting the growing diversity of multicultural Britain.
In honour of the new series, Mr Khan aka Adil Ray spent Tuesday 27, October 2015 visiting some of the big sites of Birmingham City Centre.
Khan even took control of the announcements at Birmingham New Central station, to the amusement of thousands of commuters passing through the popular railway station.
Later on, the Khan family enjoyed an evening out to attend the premiere of Series 4 at Cineworld Broad Street. The red carpet saw the likes of Sunny and Shay, Adil, Adlyn Ross, Abdullah Afzal, and Krupa Pattani.
Here is our exclusive gupshup with the one and only Citizen Khan: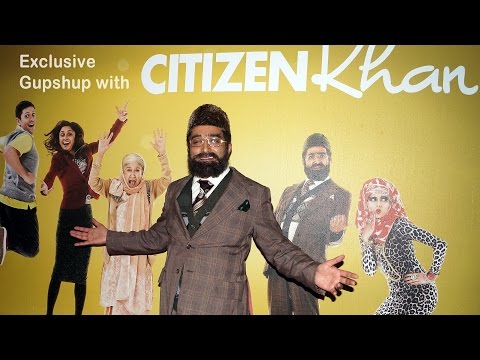 In a special Q&A session post screening, Ray spoke about the inspiration behind the character:
"There was just this thing called 'community leaders' on the telly, and I was convinced that the local news would just get the guy with the longest beard and put him in front of the local mosque and ask him about something happening 5,000 miles away.
"Now really this guy has just come out for a pint of milk, he should just get his milk and go home but instead he goes, 'No, I tell you what, I'll enjoy this…', so he buttons up his top shirt and enjoys his five minutes of fame."
"So it was a satirical character really, but then eventually I had a meeting with Richard Pinto and Anil Gupta, and we started thinking about his family.
"It was obvious to me that he should have daughters not sons, and suddenly you get this fully rounded character."
Ray adds that the charm of Mr Khan is not because he is so undeniably Desi, but because he is so relatable as a dad:
"Initially I was thinking Pakistani father, but when I was sitting with Richard and Anil, we realised it's all dads who would do that. So really we ended up with this universal sitcom."
Adil also took a lot of inspiration from his Birmingham upbringing:
"The greatest thing Birmingham has is its diversity. We know have over 250 nationalities here, and it's just huge. You see the vibrancy in a city like Birmingham, and if it wasn't for that, I don't think I would have been inspired to do something like this."
At the premiere, audiences were treated to the first two episodes of Citizen Khan. In the first episode, Khan takes Amjad, Alia, Shazia and Naani to visit a grand Stately Home. Khan hopes to talk his way into a Gala Dinner with the Mayor.
Ex-police officer Amjad is hoping to become a tour guide, and Naani hopes to trace her family ancestry at the Home's special India Collection.
They come across a washing pot or lota that was once owned by Shah Jahan and has since been preserved. Of course, Mr Khan can't help but make fun of the toilet utensil, commenting on how it's commonly used to clean the 'buttocks'!
Episode 2, which reunites the entire family cast, sees the young and self-absorbed Alia start her own beauty vlog, which is continually interrupted by father, Mr Khan.
Shazia and Amjad are looking forward to their first family photoshoot with baby Mo, and are already looking to enrol him at the prestigious Woodfield Primary School.
At the mosque, Khan finds that there is a job for a lollipop man going near the school and applies for it alongside the mosque's funeral director, Riaz.
As expected, Khan makes a mess of the interview process, but could he also endanger baby Mo's admission?
After watching the TV sitcom on the big screen, Adil hinted that there could even be a possibility of a Citizen Khan movie in the future, something that is sure to excite fans!
The cast also recalled some funny moments on set, and Abdullah, who plays Amjad, spoke about a scene with on-screen mother-in-law, Shobu Kapoor:
"Shobu cracks up, Mrs Khan, she laughs at everything for some reason. A little change in my eyes, or my eyebrows and she's laughing through the scene.
"So we had a lot of scenes which dragged on a bit because Shobu Kapoor decided to roll around on the floor laughing."
With such a great cast line-up and lots of Desi-inspired slapstick comedy, Citizen Khan promises a hilariously unmissable new series.
Catch Series 4 of Citizen Khan from Friday 30th October 2015 on BBC One at 8.30pm.