"I got knocked down twice in that fight and knocked him down three times."
From the late 90s, British Asian boxers have tasted success, competing with the very best in the sport.
Despite there being no limitations, from a desi perspective, British Pakistani fighters have dominated the boxing scene.
British Asian boxers are also not confined to any one particular region of the UK.
Jawaid Khaliq was one of the first fighters to make an impact in boxing. However, Amir Khan had a more instrumental role in popularising the sport amongst the Desi communities.
Demonstrating their own uniqueness and skills, British Asian boxers have secured many English and World titles.
DESIblitz presents 6 British Asian boxers who have shown their class in the ring.
Jawaid Khaliq MBE
Jawaid Khaliq is a former welterweight professional and the first British Asian boxing champion.
He was born into a Pakistani-Kashmiri family in Reading, Berkshire on July 30, 1970. But the family later made the move to Nottingham.
Jawaid's boxing journey started just when he was around sixteen, with his first fight coming up at seventeen.
He credits Albert Tandy (GB) and Des Spence (GB) as his early amateur trainers. He clinched the England Boxing National Amateur Championships when he was twenty-six.
Jawaid became a professional a little later on August 18, 1997. Speaking about his nickname, 'Too Sleek' he tells DESIblitz:
"Those that used to spar with me would say, 'oh he is too sleek for me. You can't hit him.' I kind of like it and it stuck."
During his career, he had held many titles. In 1999, he became the WBF Inter-Continental Light Middleweight champion.
He picked up the Commonwealth Welterweight title in 2000. From 2001, he also successfully defended the International Boxing Organisation (IBO) welterweight title seven times.
Jawaid states his most memorable match was against Jan Piet Bergman (RSA):
"They called me over to South Africa, expecting to get my belt off me. There was very tough training. But I prepared perfectly.
"I got knocked down twice in that fight and knocked him down three times. I came back. So, that was probably one of my best fights."
During his peak, Jawaid's footwork and timing, especially his right hand were his main strengths. His right hand was precise, hitting the target powerfully.
Following retirement, the five-foot, nine and half-inch orthodox boxer went on to establish the Jawaid Khaliq Boxing Academy.
Recognising his services to the community, Jawaid received an MBE.
Akaash Bhatia
Akaash Bhatia was a featherweight (57 kg) professional boxer from the United Kingdom. He is the first-ever British Sikh athlete to make the limelight in boxing.
Akash was born in Harrow, London on May 1, 1982. He went on to live in Loughborough, Leicestershire.
Nicknamed, 'Kash the Bash,' Akaash had a short amateur career before turning professional.
He was triumphant in his first fourteen professional fights, after making his debut on May 30, 2006.
He went on to claim Southern Area Feather title, overcoming Marc Callaghan (GB) with a knock out in the second round.
Akaash became champion in his 13th fight on November 7, 2008, at Robin Park Centre, Wigan.
Earlier, Akaash was honoured with the  2007 'Asia Sports Personality of the Year Award' by Sony Entertainment Television. The orthodox boxer has a height of five-foot-seven inches.
Adnan Amar
Adnan Amar is a former British Asian professional boxer, contesting at various divisions.
Also known as 'Nanito,' Adnan was born in Nottingham, Nottinghamshire on February 17, 1983.
With former Irish boxer Brendan Ingle being a huge influence on him, he took up boxing at the age of fifteen. Prince Naseem Hamed and Muhammad Ali (late) were also his boxing heroes.
He was active in professional boxing from 2001 to 2016. From June 11, 2001, he had twelve successive victories.
He has several accolades to his name. This includes the 2008-2009 English Welterweight titles. Adnan who has previously sparred with boxer Amir Khan had a fight night appearance on ITV 4.
The five-foot ten-inch boxer has an orthodox stance. He has twenty-six wins out of twenty-nine fights.
Amir Khan
Amir Khan is a British Pakistani welterweight (66-69 kg) professional boxer and philanthropist from the United Kingdom.
He was born as Amir Iqbal Khan in Bolton, Greater Manchester on December 8, 1986.
At the age of eleven, he began boxing competitively. After winning several titles at the junior level, his fame to claim came at the 2004 Summer Olympic Games.
Representing Great Britain, he won a silver medal in the lightweight (57-60 kg) competition.
On July 16, 2005, Amir made his professional debut, defeating David Balley (GB), courtesy of a technical knock-out.
The first round fight win against Balley took place at Bolton Arena, Bolton.
He has many other big achievements to his name. These include the Commonwealth Lightweight title (2007-2008) and the WBC Silver welterweight title (2014-2016).
Despite his many accomplishments, many believe his progress has been hampered for various reasons.
The five-foot, eight and a half inch orthodox boxer always had a good speed. However, his defence was not as solid.
The President of Pakistan gave him the Pride of Performance Award in 2014.
Adil Anwar
Adil Anwar is a former professional boxer, fighting in the welterweight (66-69 kg) division. Familiar as the 'Platinum Kid,' he was born in Leeds, Yorkshire on July 6, 1987.
At the age of thirteen, he began boxing when his dad took to the gym for learning self-defence.
At fourteen-years-old, he had his first fight. He went on to win the England Boxing National Amateur Championships at the junior level.
He also represented England at global competitions. Despite suffering from a broken collar bone, he became professional on June 14, 2006.
His boxing attainments include the 2011 English Welterweight and 2013 British Super Light titles. Adil's main strengths in the ring included his positive attitude, good footwork and excellent left hook.
Recalling some of his best bouts and accomplishments, Adil told DESIblitz:
"The one good fight was down south in London. That was at York Hall against Nathan Graham.
"My best achievements include winning the Prizefighter: The Light Welterweight final in 2012 and the English title at four days notice."
He took inspiration from Prince Naseem Hamed. The five-foot-nine and half-inch boxer had an orthodox stance.
Adil has featured in a fight that was broadcast on the premium channel, Sky Sports.
Qais Ashfaq
Qais Ashfaq is a British super-bantamweight (54-55kg) professional boxer. Born in Leeds on March 10, 1993, Qais resides in Yorkshire's largest city.
He made an early impression at the amateur level, collecting a silver medal at the 2014 Commonwealth Games.
Following his successful professional debut on February 25, 2018, Qais has had a further seven consecutive wins.
He has already had a number of knock-outs to his name. On November 2, 2019, Qais became the World Boxing Association Continental Super Bantam champion.
He beat Joe Ham (GB) in the seventh round due to a technical decision at Manchester Arena, Manchester.
Qais is a very talented and humble boxer, both inside and outside the ring.
He has a southpaw stance, with a height of five-foot and seven inches. Qais has a good team behind him too.
Watch an exclusive interview with Qais Ashfaq here: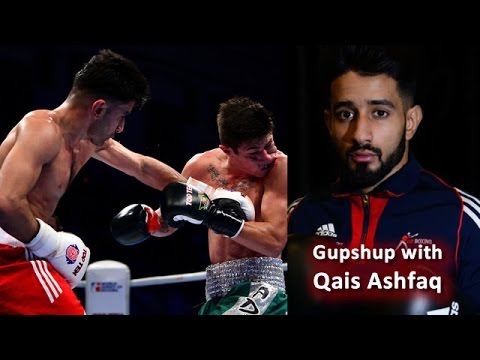 There are many other British Asian boxers that have enjoyed success, They include Usman Ahmed and Nadeem Siddique.
These British Asian boxers have definitely paved the way for future young fighters.