"It's took my mind off of what's been going on in the outside world."
In the wake of COVID-19, The John Costello Professional Ringside Boxing Gym in Birmingham and their respective boxers are positively fighting it out.
The management of the boxing gym, which includes renowned coaches, along with some sensational boxers have made the most under COVID-19 circumstances.
Whilst open, the gym has continually run classes for its members, be it with reduced numbers at times and social distancing.
Despite not being able to feature in boxing bouts, boxers have kept training at the gym as and when possible under the guidance of various coaches.
The boxers are staying ready for when the dust settles down. The fighters and the gym management are working closely together, adhering to certain guidelines.
Boxers and coaches from the boxing gym exclusively share their thoughts on the impact and fight against COVID-19.
Limitations and Effects
Co-founder of the John Costello Professional Boxing Ringside Gym, Talab Hussain, said there have been restrictions for the club during COVID-19.
Talab, also a reputable boxing coach says they had to reduce numbers due to the pandemic:
"The capacity of the gym itself [is] 40 to 50 people. But of course, you're down to 15 people per class.
"And that is down to the restrictions."
Professional Boxing Coach and co-founder, John Costello acknowledges the limits.
However, he  highlights the benefits, especially with more effort and class variations from strength coach Imran Ghafoor:
"We're putting more hours in the gym.
"So to be honest, I think the lads are benefiting from that rather than not benefiting from it because they get more one-on-one time with Talab, myself [and] Imran."
"If Imran is doing strength conditioning class, and he's got four or five lads spread out, it's not 15 lads he's got to keep an eye on. It's four or five.
"So it actually benefits them. But then we'll have to do that class another two times."
Bright future star Ehsan Mahmood admits that COVID-19 has "affected him.
Though, he claims to be marching on with his training at the gym, hoping the virus will go away soon.
Professional boxer Ben Edwards also found it difficult initially, but moved forward positively:
"It was hard at first because I was a week out of my pro debut but I've looked at the positives."
"I've just used the time to try harder and everything happens for a reason."
Super exciting boxer Troy Jones confesses that COVID19 "affects" him, occasionally, but training is the perfect remedy:
"It's took my mind off of what's been going on in the outside world."
Despite the difficulties, the coaches and boxers have kept their spirits up.
Training Enthusiasm and Keeping Fit
All the boxers and coaches have been enthusiastic, paying attention, particularly to
training and fitness:
Ben Edwards tells us that motivation comes through him, with a good reminder:
"I seem to be good at motivating myself anyway. I've got a tattoo on my arm.
"It says, 'if you train hard, winning is easy and if you train easy, winning is hard'."
Ben emphasises that winning is the driving force behind his mentality to train.
Though, he does concede that training has become harder without pads and sparring from a distance. He describes this as "shadow boxing."
A pumping up Troy Jones understands the importance of training, especially when others may neglect it.
He is also using training to play catch up for a lost time:
"The thing that motivates myself is the fact that I know that other people aren't training through it.
"I come back late to the boxing world. I come back to boxing when I was 19. So I've had some catching up to do.
"So I'm using the time to be at the Ringside Gym constantly to catch up where others aren't."
"The fact that some people aren't staying ready, I am staying ready. And when the time comes to fighting again, I'll be ready."
For Ehsan Mahmood, motivating is not difficult, considering he has a big goal to achieve:
"I motivate myself during COVID-19, by reaching my goal to be a world champion."
Imran Ghafoor has come up with a routine during the coronavirus outbreak to help members that train at the gym:
"I have devised a program, which consists of preps, chains and tools that they need to utilise in order for them to be physically fit."
"We have circuits that we've designed here, especially for them.
"So, it doesn't necessarily mean that they would be sparring.
"There would be coming in and doing a circuit session, for example consisting of chains kettle belts and various other equipment that we provide for them."
It is quite clear that everyone that has a connection with the gym continues to focus, with good things ahead in mind.
Procedures, Measures and Social Distancing
From the very outset, boxers and the gym management have been following rules to keep themselves and others safe.
Talab Hussain who runs the day to day affairs at Ringside has everything in place:
"Every apparatus is sanitised. Every time somebody leaves that station, it's sanitised again.
"So basically it's a safe as possible as we can to adhere for them to come in here and use his facility."
John who is frequently in and out of the gym states that they are "sticking to the guidelines."
He points out that they have social distancing tape markers on the floor.
Besides sanitising gloves, bags, bars and the ropes of the boxing rings, he also mentions:
"We wear facial masks when I'm in the ring or wear a face mask. So, we're doing everything we can."
"And obviously we're limited by the numbers we can bring in because you have to have two-metre space all the time."
Troy Jones, Imran Ghafoor, Ben Edwards also emphasise the sanitisation of equipment and keeping a distance.
This includes when having sessions with John in the ring and during any classes. Furthermore, Ehsan Mahmood says:
"I keep myself and others safe, by when I enter the gym, I sanitise my hands.
"I keep a social distance with people training with me and my coach."
Imran makes a clear distinction of where they can be flexible, especially if people are from the same household:
"When there's people from the same family, from the same bubble, so to speak, there is flexibility within that.
"They can come and they can train and have close quarters if it's sparring or pad work.
"But if they are not from the same bubble or from the same family then, 'no', it's not allowed."
Talab says that even for professionals sparring, they have to be COVID-19 negative before they can get into the ring.
He goes on to say that anyone who is COVID-19 positive cannot enter the gym for two weeks.
Boxers, The State of Play and Online
All the main boxers at the gym have had their fights come to a halt.
The coaches are also thinking and providing guidance digitally in addition to the gym.
Talab Hussain mentions that Ben Edwards was "seven days away" from his debut fight.
He says despite Ben training for a year, fight venues got shut down, with COVID-19 getting worse.
John Costello states that Troy Jones is entering an exciting journey from a professional perspective.
"Troy, he's moving on to the next phase of his career."
Job adds that they have made the most with Troy. John believes that both Ben and Troy are very gifted and the audience is in for a surprise.
Being in the midst of COVID-19, Imran Ghafoor recognises facebook, facetime and zoom to train individuals and families. He feels digital training is all-round:
"It's fun. It keeps them fit and it's safe."
Imran reveals people can use equipment at home such as resistant bands, kettle belts, chains, and so forth and train under his guidance.
Talab tells us that despite COVID-19 regulations, members are coming to Ringside.
He said they are visiting the gym as it helps them "physically" and "mentally".
However, the forward-thinking Talab has also other plans up his sleeve. He is collaborating with another club to train boxing online.
Watch Exclusive Video Interviews with Boxers and Coaches from Ringside here: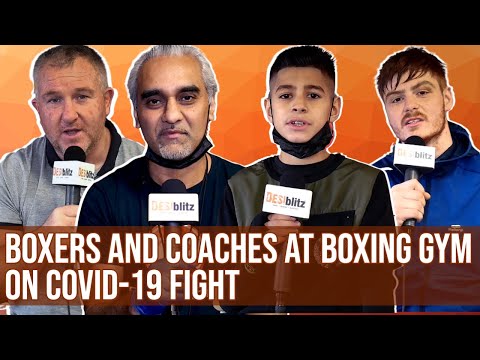 The boxers are in safe hands under reputable coaches such as John, Talab and Imran.
Besides, Troy Jones and Ben Edwards, young Ehsan Mahmood is one to look out for in the future. He has 265 fight wins.
His achievements include  10 times European champion, 19 times world champion, 17 times British champion and 16 times English champion.
Ringside Boxing Gym in Birmingham and their respective members, as well as in-house boxers, have shown true resilience and determination.
They have risen above all challenges and ready to conquer the boxing world. Victory is near for them.