"I'm in the sport to be the best. So my ambitions are world titles."
Young, exciting and talented British Asian boxers are making huge inroads within the sport.
Man of these rising stars are on course to become either world champions or attain success in their respective weight division.
Whilst boxers from a British Pakistani background are dominating and packing a punch, there is also a promising fighter of Indian descent.
Most of these promising British Asian boxers began their careers at the amateur level, representing GB. Though one fighter turned professional from the very beginning.
All these boxers from the Desi community have trainers working with them, with many also signed with management and promotional companies.
DESIblitz showcases 15 rising British Asian boxers from all corners of Great Britain, including exclusive reactions from them and their team.
Watch an exclusive interview with Hakeem Ali Hussain and his team here: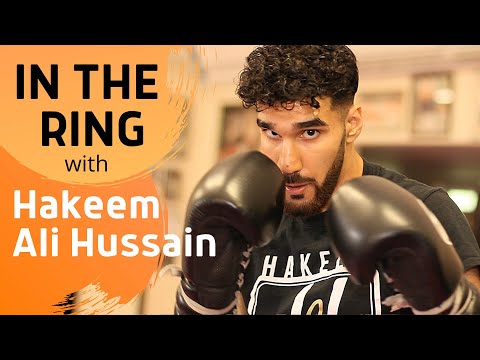 Muhammad Ali Zahid
Muhammad Ali Zahid is a professional boxer that fights in the super welterweight division (70kg). He was born on February 14, 1993. His residence is in Rochdale, Lancashire, England.
At the amateur level, Muhammad was a gold medallist from the Haringey and Celtic cups respectively.
On May 9, 2018, Muhammad became the first type 1 diabetic to attain a professional license from the British Boxing Board of Control (BBBOfC).
Muhammad's professional debut fight was against Andrej Cepur (LITH), registering a points success in the fourth and final round.
This bout had taken place at Victoria Warehouse, Trafford Road, Manchester on September 15, 2018. Muhammad who has the alias, 'The Diabetic Kid' went onto claim five further professional victories on points, after going the distance.
Muhammad who is an ambassador for Diabetes UK has the potential to become a world champion. The orthodox fighter is on the books of MTK Global, a professional management company.
Ammir Fiaz
Ammir Fiaz is a boxer who has fought at the professional level, fighting at the middleweight division (70-73 kg).
He was born in Telford, Shropshire, on December 15, 1995. His father Mohammad Fiaz is Head Coach and founder at Wellington Boxing Club.
Mohammad was training Ammir during the early days. John Pegg is Ammir's manager and promoter, with Spence McCracken being his trainer.
At the amateur level, Ammir was Midlands and Yorkshire champion. He was also a top-three boxer at the England Boxing National Amateur Championships.
Ammir made his professional entry in 2018. His first two fights were against experienced opponents.
He beat Christian Hoskin-Gomez (GB) on points for his professional debut fight. This match took place at the Holte Suite, Villa Park, Birmingham on November 10, 2018.
A few months later, he was victorious on points against Chris Jenkinson (GB). This match also was held at the same venue on February 23, 2019.
Just when things were looking good for Ammir, he lost his boxing license after being involved in a street attack.
Having learnt his lesson, he is moving ahead positively. Providing he gets his license back, he is a future star and can be amongst the top British Asian boxers.
According to Ammir, his style is orthodox, using his right hand going forward. But he can switch his hands also using the South Paw technique. Speaking about his strengths, he tells DESIblitz:
"My main strength is my speed and footwork. Also, my left hook is part of my signature combo. But speed. I mean, I'm quick with the weight I'm at."
The six-foot Ammir is looking beyond England and aims to become a world champion. He was ranked 17th in Great Britain for the British title. That's how good he is.
Humza Ali
Humza Ali is a professional boxer with one fight under his belt at the featherweight (57 kg) division.
He was born in Walsall, West Midlands, the United Kingdom on December 26, 1995. Whilst Humza is a British Asian, he comes from a traditional Pakistani family.
He was the Midlands champion on eights occasions, six times at junior level and twice in the seniors. Humza made his professional debut versus Anwar Alfadil (GB) on May 5, 2017.
He won the best of four rounds fight on points at the Stadium Suite, Banks's Stadium, Walsall. His opponent had eighty plus fights going into this boxing match.
Humza had been inactive due to a shoulder injury. Nevertheless, he is fighting fit again and raring to go. In reply to a question about his ambitions, Humza told DESIblitz:
"I'm looking to have one fight and then step up from there. I'm in the sport to be the best. So my ambitions are world titles."
Humza is an orthodox right handed boxer.
Humza reveals, he has gone from being a counter puncher to an aggressive counter puncher.
Shabaz Masoud
Shabaz Masoud is a professional boxer who fights in the super bantamweight division (54-55 kg). Cousin to Ammir Fiaz, Shabaz was born in Rochdale on March 4, 1996. Though his residence is in Stoke-on-Trent.
His family belong to the city of Kallar Syedan, Punjab, Pakistan. At the amateur level, he was national champion in 2018.
At the time, he was also the number one seed in England. The five-foot seven-inch Shabaz made his professional debut on May 12, 2019.
Familiar as the Maverick, he has won his first seven fights, courtesy of points and one technical knockout. Shabaz believes he is world champion material due to the support he has received:
"The difference between me and these other guys is I am with the right team."
Professional boxing coach Ben Davison is his full-time trainer. Frank Warren is his promotional company, whilst Dubai based MTK Global co-manage him.
Shabaz states his role models in boxing include Billy Joe Saunders, Tyson Fury and Prince Naseem Hamed. His strengths in the boxing ring include intelligent moves and punch variations.
Sahir Iqbal
Sahir Iqbal is a welterweight (70 kg) boxer from England. Born on May 9, 1996, Sahir lives in Bolton, Lancashire.
With his elder brothers boxing, Sahir also caught the sporting bug at the age of nine. Taking a love to boxing, Sahir also familiar as Saz began fighting from Bury Amateur Boxing Club.
Sahir was very successful at the amateur level. He was a national champion five-times. Sahir was also a European silver medallist, along with collecting a gold medal at the Haringey Box Cup.
He made his professional debut, facing Matthew James Hall (UK) at Guild Hall, Preston on March 31, 2018.
Sahir won the contest on points after the fourth and final round. He has gone onto complete seven more consecutive wins at the professional level.
During the COVID-19 pandemic, he bagged the World Boxing Council Youth World Welter title.
He came through a tough battle over eight rounds to see-off Maredudd Thomas (GB) on points.
Production Park Studios, South Kirkby, Yorkshire, United Kingdom was the location for this bout on August 12, 2020.
The six-foot one-inch boxer who has an orthodox stance is signed with MTK Global. Feeling strong as ever, he has the motivation to fight for further world titles.
Muhammad Ali
Muhammad Ali is a super bantamweight (54-55 kg) professional boxer that can reach peak heights. He was born in Keighley, Yorkshire on June 20, 1996.
His father Shahid Salim discloses that he was always an avid boxing fan. However, he was unable to take up the sport, coming from a strict family.
At the amateur level, Muhammad clinched the 2015 ABA Championships. In 2016, he picked up a gold medal at the European Boxing Olympic qualification event.
Just when things were going well for him, Muhammad received a two years ban after failing a drugs test. Though he had not taken anything intentional, Muhammad's time away from the sport was tough.
Upon return, Muhammad became a professional, signing with Frank Warren's Queensberry Promotions stable. Frank's son, Francis Warren manages Muhammad.
Muhammad has been under the wings of recognised trainer and former WBU Middleweight champion Anthony Farnell.
He had his professional debut fight against Stefan Sashev (BUL) just before the COVID-19 lockdown in the UK on February 22, 2020.
The match at York Hall, Bethnal Green finished in the second round, with Sashev being disqualified.
Shahid told us that his son prioritises "fitness and aggression" as part of his strategy.
Inder Singh Bassi
Inder Singh Bassi is a professional boxer who fights in the super welterweight (70 kg) division. He was born in London, England on December 28, 1996, to a famous family of fighters.
In the 1960s, his grandfather Major Singh Bassi became the first Asian boxer to fight. His father Kamaljit Singh Bassi was also a boxer.
It was only natural for Inder to follow the footsteps of his family members. He became a boxer, training at Gator Amateur Boxing Club under qualified coach Keith Markham.
Under the guidance of trainer Sab Leo, Inder also spent time at Hoddesdon Boxing Club. At the amateur level, Inder was six-time London conqueror and a Haringey gold medal winner.
The six-foot boxer was the victor in his first two professional boxing fights. His first opponent was Gelboord Omier (ESP), overpowering him on points in the fourth round.
His debut fight was held at Brentwood Centre, Brentwood on December 14, 2019. He went on to celebrate his second win, fighting off Zygimantas Butkevicius (LIT).
York Hall, Bethnal Green was the centre stage for his points triumph after four rounds. Inder is signed up with MTK Global.
The biggest attributes of Inder include his smartness, speed and strength. Whilst Inder has an orthodox stance, he can switch to South Paw.
Inder trains with WBO European middleweight champion Danny Dignum (GB).
Mohammad Sameer
Mohammad Sameer is a British Asian middleweight (70-73 kg) professional boxer. He was born in Peterborough, Cambridgeshire, the United Kingdom on December 6, 1998.
From the age of twelve, Sameer commenced boxing. He first attended a boxing club after school. Falling in in love with the sport, he then trained at Stamford Boxing Club for six-years.
His first coach was Rick Green, with Mark Artherton taking on coaching duties later on. Besides Amir Khan, his boxing idols include late Muhammad Ali (USA) Floyd Mayweather (USA) and Prince Naseem Hamed (GB).
His first opponent at the professional level came in the name of Scott Hillman (UK). It only took Mohamad three of the four rounds to dismantle Scott with a technical knock out.
Brentwood Centre, Brentwood played host to this bout on December 14, 2019. Sameer has a naturally orthodox stance. However, he can swiftly switch to box, brawl and attack.
The six-foot fighter made it to the MTK Global roster as well.
Ibrahim Nadim
Ibrahim Nadim is a professional boxer, fighting in the super bantamweight (54-55 kg) division.
He was born in Steeton, Yorkshire, the United Kingdom on February 28, 1999. Ibrahim has since moved to Keighley.
Ibrahim has won the 2019 England Boxing National Amateur Championship in the 59-61 kg division.
He was also the 2019 Three Nations Champion (56kg), a county competition featuring England, Ireland and Scotland. This proves that he is one of the best young British Asian boxers around.
Ibrahim turned professional, with his first fight taking place at York Hall, Bethnal Green on December 19, 2019. He saw off Misael Seledon (ESP) on points in his debut fight.
Nicknamed Ibby, he was also a decisive points winner in his second bout against Stefan Nicolae (ROM). The Manchester Arena in Manchester hosted this important fight for Ibrahim.
Ibrahim has a very good team that looks after him. Paul Speak professionally manages Ibrahim with former world welterweight champion, Ricky Hatton training him.
Highlighting a fast speed and stamina as Ibrahim's two main strengths, Paul adds:
"In the train, we say he has got a good engine. Ricky is slowing him down and being more selective about his punches.
"And he is trying to get more power behind his punches."
Paul further mentions that Ibrahim has a bit of Amir Khan in him. The five foot ten inch Ibrahim is an exciting boxer, who likes to come forward. Ibrahim comes into his zone as he progresses through the rounds.
The sky is the limit for Ibrahim as he can achieve big heights in the sport. His style in the ring is orthodox.
Hamzah Sheeraz
Hamzah Sheeraz is a professional boxer from England, competing in the light-middleweight division.
He was born Mohammed Sheeraz in Slough, Berkshire, on May 25, 1999. He comes from a boxing family, with his grandfather and father also being British Asian boxers – His family is of Pakistani descent.
Hamzah began training at the gym from the age of eight and had his first fight at twelve. Unlike other boxers, he became a professional in 2017 – a decision, which has been very fruitful for him.
Signing with Frank Warren Promotions, Hamzah has become triumphant in his first eleven bouts. This includes wins on points, knock-out and technical knockouts.
He made his professional debut on September 16, 2017, defeating Duane Green (ENG) by a technical knockout out in the second round.
Copper Box Arena, Queen Elizabeth Olympic Park, Hackney Wick hosted his first fight. He has the 2019 and 2020 WBO European Junior-Middleweight titles.
He won the vacant belt, beating Ryan Kelly by a technical knock out in the sixth round. Arena Birmingham were the hosts of this match on November 30, 2019.
The six-foot three-inch Hamzah went onto retain his title, overcoming the retired Paul Kean (ENG) in the sixth round. BT Sport Studio, London was the venue for this bout.
Like so many other British Asian boxers, Hamzah also has an orthodox stance.
Hakeem Ali Hussain
Hakeem Ali Hussain is a gifted young boxing prospect at the amateur level in the welterweight division (63-66 kg)
Ever since the age of seven, the Birmingham born Hakeem has been boxing regularly. Hakeem also familiar as H.A.H is a four-time Midland Regional champion.
His father and boxing coach Talab Hussain has had a huge influence on his career so far and is a big driving force.
Hakeem has been trained by the world-famous Frank O'Sullivan. Professional coach John Costello is taking him to a level, where he can be one of the best British Asian boxers of all time.
Hakeem was fortunate to train and spar with professional boxers Khalid Yafai (ENG), Jamie Cox (ENG) and Chad Sugden (ENG).
The humble boxer has the 2022 Commonwelath Games and becoming a professional boxer in his sights.
Hakeem looks up to boxers such as late Muhammad Ali (USA) and Sugar Ray Robinson.
Inside the ring, Hakeem is a very smart boxer, along with having an explosive and powerful right backhand. Hakeem has all the hallmarks of being a great boxer, both in and outside the ring
Hakeem is also helping John with his Ringside Gym in Birmingham, with the support of Talab and strength and conditioning coach Imran Ghafoor.
Aqib Fiaz
Aqib Fiaz is a super featherweight (57-59 kg) professional boxer from England. He was born in Oldham, Lancashire to a Pakistani family on September 23, 1999.
Being overweight at the age of nine, Aqib took up the sport in pursuit to reduce his weight.
Aqib had a successful stint at the amateur code, representing his nation twice at the senior level. He had a total of seventy-five matches at the amateur level.
Aqib was nine times area title winner and the 2017 National Youth champion at the 60 kg category.
He made his professional debut, toppling fellow British Asian Ibrar Riyaz on points in round four. This bout took place in his hometown at the Oldham Leisure Centre on March 16, 2019.
Subsequently, he came on top during his next four professional bouts, winning on points. All his five fights went to the wire, entering the final round.
The orthodox boxer dreams of becoming a world champion. Jamie Moore and Nigel Travis train Aqib. He has a link up with Matchroom Boxing, which is a world-leading promoter in the sport.
Khalid Ayub
Khalid Ayub is a professional boxer from Mytholmroyd, near Halifax, Yorkshire, England.
With his father Gohar Ayub being a former national title-holder, Khalid put his boxing gloves at the age of three. His first fight came seven years later at the young age of ten.
At the amateur level, he has had a lot of success. Khalid is a four-time national champion and has two Great Britain titles to his name
He was competing for England at the 2016 European Championships in Croatia.
Khalid stands tall with a height of six foot. He trains five days out of seven, focusing on swimming, running and conditioning.
His two inspirational figures inside and outside the ring are late Muhammad Ali (USA) and Tyson Fury (GB). The orthodox boxer wants to emulate their success in the ring.
Khalid has become a professional, signing up with MTK Global in mid 2020.
Hassan Azim
Hassan Azim is a boxer fighting from Slough, Berkshire, United Kingdom. He was born in Kotli, Azad Kashmir, Pakistan on October 27, 2000.
Hassan takes his boxing craft to the professional level, after signing with MTK Global in 2020. Amir Ban from TA Promotions manages him.
Hassan made his amateur debut on December 29, 2017. He got the better off Oliver Ollenberg (DEN) with a unanimous decision after the third and final round.
He has many other amazing accolades. This includes six national titles and a silver medal at the European Youth Championships.
At the 2018 Summer Youth Olympic Games, he won a bronze medal for Great Britain in the light-welterweight (64 kg) division.
He defeated Mohammed Boulaouja (MOR) by a technical knock-out. The third-place match was held in Buenos Aires, Argentina.
Hassan was also the closing ceremony flagbearer for Team GB, which was a big honour for him.
The sensational boxer can certainly shake his opponents. Hassan has a South Paw stance, with the perfect combination of power, explosiveness, timing and great upper body movement.
Adam Azim
Adam Azim is an incredible boxer to look out for in the professional boxing circuit. His achievements are second to none.
Adam was born in Slough, the United Kingdom on July 21, 2002. At the schoolboy and youth level, Adam has won almost every title that was up for grabs.
He was also leading the rankings in the Youth Amateur circuit across the world in the welterweight (63-66 kg) division.
By the age of fifteen, he was breaking records after winning the England Boxing National Junior Championships three times.
Adam leaves behind a phenomenal amateur career. His sensational accomplishments include ten national titles and being a European silver medallist.
Signed up with MTK Global and managed under TA Promotions, Adam has world titles on his mind in the lightweight (59-61 kg) division.
Adam is a brother of professional boxer Hassan Azim. With his dad training him and being in the corner, boxing is truly a family affair for Adam.
The American style boxer has a bright future on the professional level.
His strengths inlcude reflexes hand speed and being slick with his movements.
Many other terrific British Asian boxers are rising the ranks. These include Umer Khan and Mohammad Bilal Ali.
Umer Khan has signed up with Frank Warren at the age of eighteen. Mohammed is also under the wings of the same promotion.
It is quite evident that there is no shortage of Britsh Asian boxers.
Under the guidance of top trainers and management companies, most of these British Asian boxers are destined for success.