"Really that has got to be the ball of the series."
Pacers and slow bowlers from India have bowled some spectacular unplayable deliveries, particularly during the post-millennium period.
Some of these unplayable deliveries have surprised the best batsmen in world cricket. Many global television viewers have also had the pleasure of watching them LIVE.
Indian bowlers have got the better of batsmen, with some clever, lethal and surprising balls.
Both fast bowlers and spinners have utilised all the different varieties under their disposable. A slower ball yorker and in-swinger, make up some of these unplayable deliveries.
Bowlers have had help from the pitch, along with their own artistry and executions.
DESIblitz highlights 6 top unplayable deliveries, that show the skills and precision of talented right and left-handed Indian bowlers.
Zaheer Khan – India vs Pakistan (2006)
Left-arm fast bowler Zaheer Khan got into the mix, delivering a magical ball to Inzamam-ul-Haq during India's tour of Pakistan.
This peach of a delivery came towards the back end of Pakistan's 1st innings in the 2nd Test of the series.
India was desperate to get rid of Inzamam when batting on 119. Zaheer was the man who finally did the job at the Iqbal Stadium on January 22, 2006.
Even a set batsman such as Inzi was unable to handle this ball. Zaheer streaming in from around the wicket, bowled an unplayable delivery.
After pitching on off, the ball quickly went away from the right-hand batsman. Cutting Inzi in half, he got an inside edge, which wicketkeeper Mahendra Singh Dhoni comfortably took behind the stumps.
Former West Indian fast bowler Michael Holding on commentary was quick to praise the delivery:
"Wow, that was an excellent delivery. Not a lot you can do about those."
Sharing similar sentiments, former Indian batsman and commentator, Arun Lal said:
"Really that has got to be the ball of the series."
With both India and Pakistan scoring big totals, hero Zaheer had to settle for a Test match draw.
Watch Zaheer Khan turn Inzamam inside out here: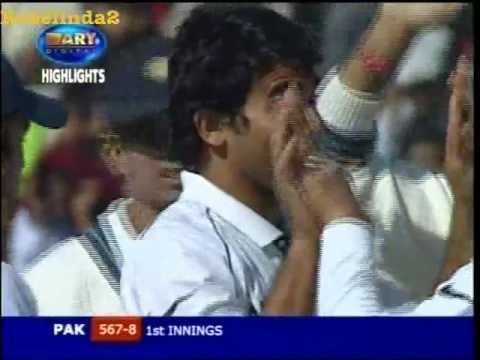 Irfan Pathan – India vs Pakistan (2006)
Left-arm fast-medium bowler Irfan Pathan made history with a beautiful in-swing delivery to dismiss Mohammad Yousaf (PAK).
Pathan clean bowled Yousaf (0) in the Green Shirts 1st innings during the 3rd Test of India's tour of Pakistan.
With this wicket, Irfan became the second bower from India to claim a hat-trick in Test cricket. He completed this amazing feat at the National Stadium Karachi on January 29, 2006.
The most interesting aspect is that this all took place in an eventful first over of the match. He sent Salman Butt and Younis Khan packing, after removing them on consecutive balls.
On his fifth delivery, the ball went sharply from off to hitting Yousaf's middle stumps. Yousaf had no answer as the ball rapidly went through his bat and pad.
Recalling the plan for the Yousaf dismissal, Pathan told the media:
"I thought, Yousuf is front of me, the ball is turning in air, and pitch is helping me, so it was a great opportunity to take a hat-trick.
"I tried to hit him in the pads, it turned in the air, and got inside, and hit the stumps.
"That day, whatever I planned, I was able to do."
It was a memorable moment for Pathan, but not for the team, with Pakistan winning the game by 341 runs.
Watch this outstanding delivery to dislodge Mohammed Yousaf here (02:13):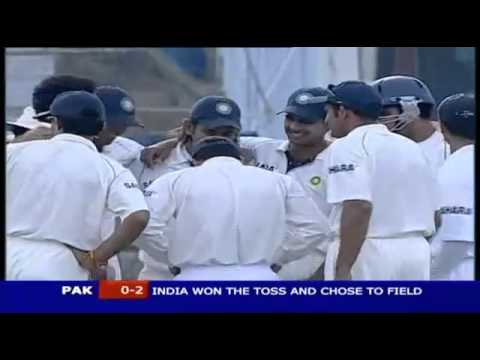 Harbhajan Singh – India vs Australia (2008)
A ripping doosra from Right-arm off-spinner Harbhajan Singh was enough to fox Michael Hussey.
Harbhajan came to the party during the 1st Test of the Border-Gavaskar trophy at the Chinnaswamy Stadium, Bangalore, India.
Hussey became the second scalp of the Turbanator during Australia's second innings on October 12, 2008. The ball to Hussey went from outside-off to beautifully turn in and hit his timber.
Despite it being an error of judgment to leave the ball, it was a beauty from Harbhajan also known as Bhajji. The ball did hit one of the cracks on the pitch, aiding the sharp spin and bounce.
It was one of the very times that cricket fans saw Hussy being completely clueless. Lifting his shoulder arms was clearly not the way to play this delivery.
Bryton Coverdale writing for the Bulletin describes the ball as a leg-spinner:
"Michael Hussey fell to a top spinner that hit a crack, transformed into a Shane Warne-like leg-break, and hit his off stump."
The gruelling Test match saw India just about holding on for a draw.
Watch this amazing ball from Harbhajan Singh to remove Michael Hussey here: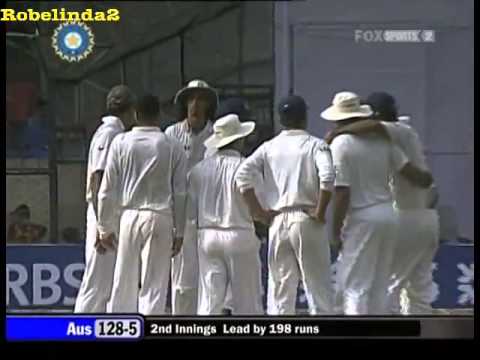 Shantakumaran Sreesanth – India vs South Africa (2010)
A bouncer from medium-pacer Shantakumaran Sreesanth to Jacque Kallis (RSA) is unforgettable. It is one of the balls of the century.
The brute ball from Sreesanth came during the 3rd day of the third Test on December 28, 2010. The action took place during South Africa's second innings in Kingsmead, Durban.
Kallis was unable to handle this ripper from Sreesanth. It was short of a length delivery, which jagged in and leapt up rapidly. The ball was virtually impossible to deal with.
A fending attempt from Kallis (17) saw the ball smacking his gloves and lobbing to Virender Sehwag at Gully. Fondly remembering that delivery, Sreesanth says:
"I treasure the delivery that got Jacques Kallis. The ball rose sharply and he had no choice but to play at it.
"The ball hit his glove and went to Viru paaji (Virender Sehwag) at gully."
Chasing a shade over 300, South Africa fell short by 87 runs. Hence, India was victorious on day four. But many will cherish this Test match for one of the most unplayable deliveries one can witness.
Watch this destructive delivery from Sreesanth to oust Jacque Kallis here: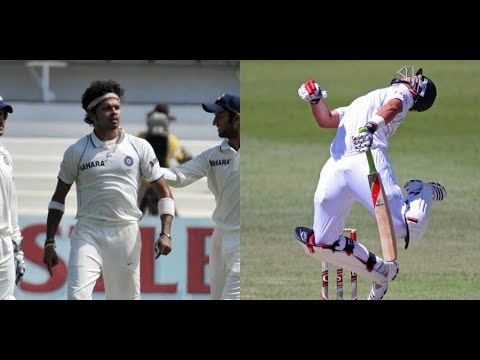 Ravichandran Ashwin – India vs South Africa (2014)
Indian off-spinner Ravichandran Ashwin bamboozled Hashim Amla (RSA) with a carrom slider.
It was a superb delivery by Ashwin against South Africa during the semi-final of the ICC World T20 in Dhaka on April 14, 214.
Rolling his fingers, the ball pitching well outside leg, spun a lot to peg Amla's (22) off stump. Whilst Amla did play the ball, the turn was just too much for him.
Former Australian wicketkeeper, Adam Gilchrist in a tweet hailed it at the time as the "T20 Ball of the Century."
Talking to Hindustan Times, Ashwin himself cites this delivery as his best moment in cricket's shortest format:
"For T20s, it was surely my ball against Hashim Amla."
Many have made comparisons of Ashwin's ball to a Shane Warne (AUS) delivery.
The incredible ball that saw Mike Gatting getting out in Test match probably has the edge as it had a very unique curve and spun a lot more.
Nevertheless, Ashwin's wicket of Amla was special. Ashwin finishing with figures of 3-23, along with an uneaten seventy-two from Virat Kohli ensured India's victory by six wickets with five balls to spare.
Watch Hashim Amla miss this mystery ball from R Ashwin here: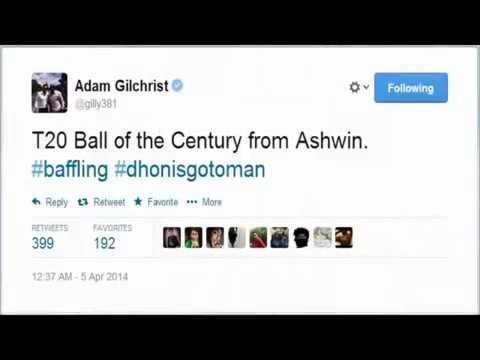 Jasprit Bumrah – India vs Australia (2018)
A slow yorker from right arm-pacer Jasprit Bumrah to Shaun Marsh is another standout delivery on India's tour down under.
Marsh was adjudged lbw to Bumrah (19) as Australia were all out for 151 in their 1st innings. This was during the third boxing day Test at Melbourne Cricket Ground on December 27, 2018.
After bowling five successive balls over 140kmph, Bumrah deceived Marsh with an excellent change of pace.
Bowling at 111kmph, Marsh was late to this unbelievable slower dipping yorker delivery from Bumrah.
Marsh was clearly very late to the ball that Bumrah bowled from around the wicket. Even the replays were showing that the impact was in line, with the ball hitting the stumps.
Bumrah explains the wicket came after Rohit Sharma gave him the idea:
"When I was bowling there, the wicket had become really slow and the ball had become soft. Nothing much was happening.
"So, last ball before lunch, Rohit was there at mid-off and he told me 'you can try a slow ball like you bowl in one-day cricket.'
"I thought yeah, I could give it go. Nothing is really happening and maybe a slower ball there and some of their guys play with hard hands.
"So, I wanted to try that, the execution was good on the day. I tried to bowl a slower one, a fuller slow ball.
"Maybe it will dip or go to short cover. So that was the plan and it worked."
The Baggy Greens were out for a modest 261 in the second innings as well. Thus, India went onto register a convincing win by 137 runs.
It was a double celebration for Bumrah, collecting the player of the match award. He was the pick of the bowlers. He took 6-33 in the first innings, whilst claiming 3-53 during the second.
Watch this intelligent ball by Jasprit Bumrah to trick Shaun Marsh here:
The likes of Kapil Dev, Manoj Prabhakar and Javagal Srinath have also at their peak bowled several unplayable deliveries against different oppositions.
Cricket fans will enjoy the aforementioned 6 balls, which are quite majestic in their own right. Take some time out and reminisce these golden moments of cricket.