"Those two deliveries were unplayable. It was perfect reverse swing."
Cricket history is no doubt full of many unplayable deliveries courtesy of some great Pakistani bowlers.
There have been some deliveries, which did not only surprise the batsman, but even television viewers watching on their screens.
The swing in the air and movement from the pitch are two key observations from unplayable deliveries bowled by fast bowlers.
The spin department has also got into the act, especially after inventing a mystery ball, which was unplayable too.
Most of these unplayable deliveries are amongst the best from the 20th century, leading into the 21st.
The Pakistan bowlers themselves have fond memories of their most unplayable deliveries.
We take a close look at 6 top unplayable deliveries balled by Pakistani bowlers of all kinds.
Watch the best unplayable balls delivered by Pakistani bowlers here: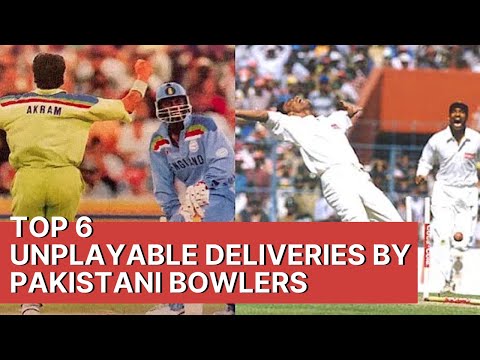 Wasim Akram – Pakistan vs England: 1992
Left-arm fast bowler Wasim Akram delivered the first of two unplayable deliveries in the 1992 ODI Cricket World Cup final against England.
The Sultan of Swing was at the peak of his career during this match that was held at Melbourne Cricket Ground (MCG) on March 25, 1992.
This delivery to Allan Lamb was a game-changer for Pakistan to win the maiden world cup. Pakistan was in a slight spot of bother, with Lamb and Neil Fairbrother at the crease.
But in the 35th over, the mastermind came to the party. He bowled a magnificent delivery, which artistically angled in before going away late to hit Lamb's (31) off-stump.
Lamb was in a state of disbelief, thinking where did this come from. It was reverse-swing of the highest quality.
In the context of this delivery, an English cricket fan sharing his thoughts about Wasim on YouTube posted:
"I'm a BRIT but what a bowler unplayable at his best."
In the end, Pakistan comfortably beat England by 22 runs, with skipper Imran Khan fulfilling his dream of winning the world cup.
Watch Wasim Akram bowl a gem to Allan Lamb here: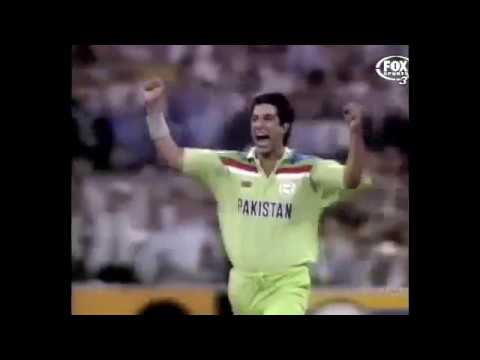 Wasim Akram – Pakistan vs England: 1992
Wasim got into the swing of things, bowling his second consecutive unplayable delivery during Pakistan's 1992 Cricket World Cup triumph.
He gave England the killing blow when he bowled out Chris Lewis (ENG) with a ball, which came back in massively after being pitched wide on off-stump.
Lewis who took a big stride was too late on the ball, dragging it to his middle stump.
Wasim's former teammate, Aqib Javed who also played the final, summarised the Lewis and Lamb wickets, saying:
"Those two deliveries were unplayable. It was perfect reverse swing.
"Wasim will remember that unique spell all his life."
Wasim had earlier in the match took the wicket of Ian Botham, caught behind by wicketkeeper Moin Khan for zero.
With Wasim taking a double and being on a hat-trick, he was named man of the match in the final.
Watch Wasim Akram trap Chris Lewis here (08:55):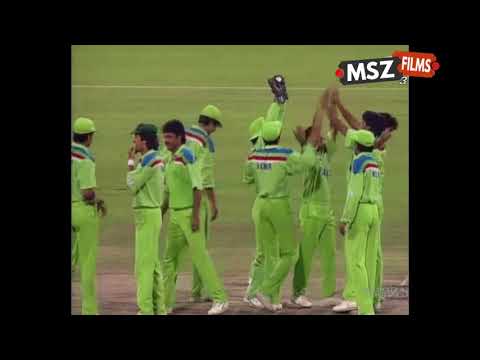 Waqar Younis – Pakistan vs West Indies: 1997
The toe crushing Waqar Younis bowled an unforgettable delivery to Brian Lara in the 2nd Test of a three-match series.
Waqar let loose in the match that was held at the Rawalpindi Cricket Stadium from November 29 to December 3, 1997.
In West Indies first innings, Waqar delivered a deadly yorker to Lara (15), which swung heavily, crushing his wickets.
Lara ended up on the floor, as he was unable to cope with the ball deviating so much.
Many described it as the best yorker of the century. One YouTube fan shared similar thoughts, writing:
"best yorker in the History of Cricket. no doubt at all because its against the best defence."
Pakistan were victorious in the match by an innings and twenty-nine runs.
Watch Waqar Younis deliver a stunning yorker to Brian Lara here: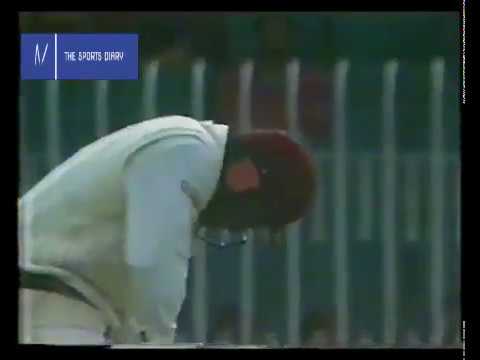 Shoaib Akhtar –  Pakistan vs India: 1999
A young fast Shoaib Akhtar had his dream come true after bowling the perfect in-swinging yorker to Sachin Tendulkar for a golden duck.
The memorable ball came off the first delivery that Shoaib had ever bowled to Tendulkar in the 1st match of 1999 Asian Test Championship.
The match was held in front of a packed crowd at Eden Gardens, Kolkata between February 16-20, 1999.
Leading into this match, Tendulkar had almost played 100 matches and was never out for nought.
Shoaib regards this as one of his greatest delivery. Reliving the memories of that ball, Shoaib told Crictracker:
"I ran in and as I was approaching the crease, I saw that the gap between Sachin's bat and his pads was opening. And then when I bowled outside off-stump, I knew he would miss it.
"As soon as it hit the middle stump, it was an amazing moment for me."
Facing him for the first time, Tendulkar had no answer to the great dipping in-swinging yorker from Shoaib. There was hush silence in the stadium, following the wicket.
Pakistan went onto win this match on the fifth day by forty-six runs.
Watch Shoaib Akhtar bowl a devastating yorker to Sachin Tendulkar here: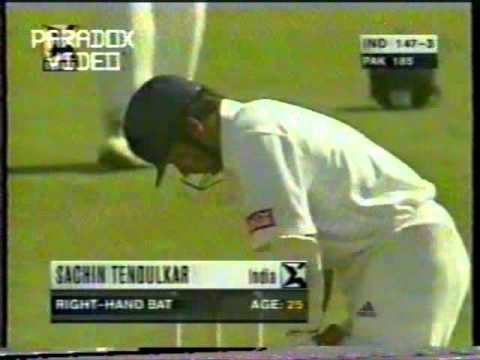 Saqlain Mushtaq – Pakistan vs Australia: 2001
Cricket fans will never forget this magical delivery by Saqlain Mushtaq to Damien Martyn (AUS).
The super spinner from Pakistan unleashed his 'Doosra' during the eighth-match of the ODI series. Trent Bridge Nottingham was the host of this day-night game.
The ball to Martyn was an invention of his own. Delivering with an off-spin action, the ball turning like a leg-spinner, took a thick inside edge to Azhar Mahmood at first slip.
The Saqlain delivery had a nice drift as it came into Martyn before going away. The Australian batsman had no answer to the ball, leaving his crease, out on 2.
Complimenting the ball, an excitable David Gower on-air echoed the words:
"That's absolutely gorgeous. That's an extraordinary delivery."
Pakistan were triumphant by thirty-six runs, with the Aussies only managing 254 all out. Pakistan had earlier made a mammoth 290-9 in their fifty overs.
Watch Saqlain Mushtaq bowling an amazing 'Doosra' to Damien Martyn here:
Mohammad Asif –  Pakistan vs India: 2006
Mohammad Asif bowled an in-coming delivery to VVS Laxman during India's second innings of the 3rd Test.
The match took place in Karachi between January 29 and February 1, 2006. During this series, the fast-medium bowler was very lethal, surprising fans and analysts.
The ball specific to Laxman (21) hit the pitch on-off, before beautifully moving between bat and bat to dislodge the stumps.
The delivery was virtually impossible to play for any batsman in the world, let alone Laxman. Praising the off-seam delivery, Arun Lal from the commentary box said:
"Oh goodness me, that was an absolutely unplayable delivery."
With India all out for 206, Pakistan won the Test match by 341 runs, sealing the series 1-0.
Watch Mohammad Asif bowl beauty to VVS Laxman here (0:44):
There are many more unplayable deliveries, which have dismissed world-class batsmen from around the world.
One of them is by former Pakistan leg-spinner, Mushtaq Ahmed who bowled a peach off delivery to Graeme Hick during the 1992 Cricket World Cup final.
Mushtaq who is also known as Mushy bowled a sharp spinning googly to Hick. Not reading the ball, Hick was out lbw for seventeen.
For all the cricket lovers around the world, the six aforementioned deliveries are absolute rippers. Enjoy watching them and relive those wonderful moments.