"they are the reason for what I am today"
Indian male weightlifters have started to share the limelight for the last few years.
By breaking records and winning medals they have built up a great following in India, thus garnering more attention for the sport of weightlifting in general.
Many have taken part in many international competitions such as the 2014 Commonwealth Games in Glasgow, Scotland, and the 2018 Commonwealth Games that took place in Queensland Australia.
The interest in weightlifting, keeping fit and bodybuilding has exploded as of late even with influences from even Bollywood stars like Salman Khan, John Abrahams and Aamir Khan.
Some of the male weightlifting stars have been on the rise recently while others have been consistent in their presence, competing on a regular basis.
The evolution of the Indian men's weightlifting team through the years has highlighted through the personal and world records they have broken along with gold, silver and bronze medals that they have won as competitors.
We present seven of Indian male weightlifters who have broken records in their weightlifting careers.
Sathish Sivalingam
At the peak age of 26, Sathish Sivalingam is coming to prominence. During the 2014 Commonwealth Games, he won gold in the men's 77kg category.
His lift of 149kg in the snatch set a new games record.
Sathish did not take the momentum he gained from the Commonwealth Games into the Olympics two years later in Brazil.
He, unfortunately, finished 11th. But he did revive success, two years later in Queensland.
"I had no hopes of winning a medal after I injured my thighs during the while attempting 194kg in the clean and jerk. It's a quadriceps problem, even now I am competing at less than ideal fitness but I am glad it was enough to get me a gold."
He lifted 149kg in a snatch, another record and 179kg in clean and jerk lifts, winning another gold medal.
Sivalingam will no doubt be looking to perform much better on the world stage with the 2020 Olympics to look forward to in Tokyo.
Vikas Thakur
Born in Ludhiana, Punjab, and a year younger than his compatriot Sathish.
Vikas Thakur is another of India's star weightlifting performers, as his exploits at the Commonwealth Games demonstrated.
After having a successful Commonwealth Games in Glasgow, Scotland, There had won the silver medal in the 85kg weight category.
Thakur had hoped to go one better in Gold Coast, Australia, considering he was named as one of the competition's gold medal prospects.
Unfortunately, it wasn't to be for Vikas. He actually ended up finishing third and settling for the bronze medal. Some would still deem that a success.
This should not detract from the success he has enjoyed in weightlifting outside of the medals he has received.
Thakur has broken numerous records that on another competitive day could have seen him win gold.
At the World Championships, a year prior to the 2018 Commonwealth Games, he held the record in clean and jerk lifts at 196kg.
It's worth mentioning that he broke another record in the snatch by lifting 159 kg.
His name will still go down in the history books and it's an achievement he can be proud of. But winning a gold medal is the target for Vikas.
Gurdeep Singh
Gurdeep Singh Dullet was born in Punian, Punjab in 1995.
Gurdeep Singh is the rising star of the male Indian weightlifting team. He broke three records at three different levels in the past year.
Ir helped him win gold in the national championships in the 105kg weight class category.
In Anaheim, at the World Championships, Gurdeep lifted a mammoth total of 388kg.
Then at the national level in Karnataka, Gurdeep clean and jerked 217kg sending another record tumbling.
If that wasn't enough, he only went and took the snatch record too with a lift of 175kg.
Far from possessing the natural physique of a weightlifter, he epitomises what strength is all about.
Where bodybuilders have ripped and bulging muscles, Gurdeep tends to have a more fat orientated body.
But weightlifters that focus on simply building up strength do not care about how good they look.
Their focus is on how heavy the weights are that they can lift and how much strength is needed to pick up those weights.
To break records weightlifters have to push the boundaries in terms of what their bodies can cope with.
Gurdeep Singh is a weightlifter through and through. There are no doubts that he can make a legacy for himself in this sport.
The future is clearly bright for him after taking the national stage by storm.
Pardeep Singh
Pardeep Singh hails from the land of Jalandhar, Punjab.
At the age of just 23, he has competed in numerous competitive tournaments around the world.
He won a silver medal in the Gold Coast through his impressive weightlifting performances.
At the Commonwealth Games, Pardeep never got off to the best of starts. Some onlookers observed his nervousness when attempting the snatch lift.
It was his second attempt at 148kg which ignited his momentum in the competition.
By the end of the round, he was comfortably sitting second.
From lifting 152kg, Pardeep set records in the clean and jerk by lifting 200 kg, followed by 352 kg in total lifts.
Singh was rewarded for his toil and endeavour with a silver medal.
That did not prevent Pardeep from going for gold with an attempted lift of 211kg. Ultimately he came up just short.
Pardeep will no doubt be looking to build upon the foundations he managed to lay competing in the 105kg weight class.
He is one of the known weightlifting stars flying the flag for the Indian weightlifting team around the world.
Katulu Ravi Kumar
Katulu Ravi Kumar is, without doubt, remembered very fondly for his exploits in weightlifting. He hails from Berhampur, Odisha.
Prior to his conversion to becoming a fully fledged weightlifter, Kumar was a bodybuilder.
In a remarkable turnaround, he decided to act upon the advice of his then trainer Narayan Sahu and pursue a career in professional weightlifting.
"I always thought he had the desire to achieve something great and to break records." Narayan's observation turned out to be prophetic. Katulu did just that.
With solid strength to begin with from his bodybuilding days, Katulu was primed for weightlifting.
He still needed to go through an adaptation process, despite competitions looming both nationally and worldwide.
He had to prepare rapidly. His success was immediate.
The novice had become the master, winning three gold medals at the Commonwealth Games in front of his home crowd in New Dehli, India.
In the 69 kg weight category, Katulu's snatch lift was 146 kg and his clean and jerk was 175 kg, giving him a new record and combined total lift of 321 kg.
Four years later, he won silver after losing out to fellow Indian competitor Sathish Sivalingam, who of course set the record for the weight class.
Watch Katulu Ravi Kumar compete against Sathish Sivalingam at the 2014 Commonwealth Games for India.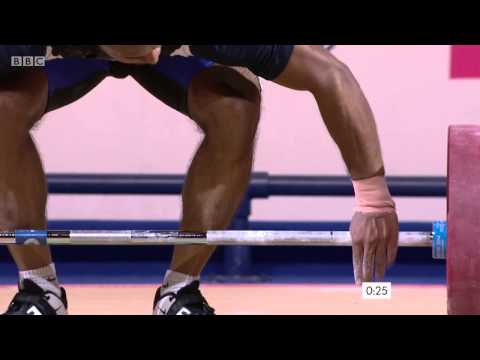 Ragala Venkat Rahul
Ragala Venkat Rahul is only 21 years old but he is definitely one to keep an eye on.
Rahul was born in Stuartpuram, Andhra Pradesh. Unlike some of his fellow Indian weightlifting competitors, he has a sporting background.
The promising weightlifter went to a sports school in Hyderabad. He also works for SCR.
He has the unique accolade of being the first ever Indian to win a medal of any colour at the Youth Olympics. This was won in the 77 kg category in Nanjing.
Rahul was one of the few stars that managed to transfer his promising potential into unfettered success on the global stage.
He won the gold medal at the 2018 Commonwealth Games lifting a total of 338 kg, making it the fourth for India in weightlifting.
Upon winning the gold, he dedicated it to his parents, especially to his late mother Neelima, who he has a tattoo of on his chest.
After his victory, Rahul said:
"They worked very hard for me and they are the reason for what I am today. My coaches also supported me a lot,"
Deepak Lather
This baby-faced Indian weightlifter looks as if he has just left school.
Deepak Lather is the youngest male to ever hold an Indian national record in weightlifting.
At the tender age of fifteen, he shocked the Indian weightlifting world by breaking the men's national record.
That record in the men's 62kg category has remained ever since.
Three months short of his sixteenth birthday, he was already lifting in the national championships.
Many wonder how such a young man has conjured up the strength to maintain such heavy lifts.
The answer lies in how he was raised. Born in Shadipur in Haryana, Deepak grew up working on his father's farm.
Toiling away, he would lift and carry heavy equipment and farm produce, building strength in his forearms.
His rise, as a result, has been nothing short of remarkable.
He managed a snatch lift of 126 kg in the 62 kg weight division. It was not long after setting a national record he was entering international competitions.
Here is where he made a name for himself on the weightlifting stage.
Prior to that, he won the Gold at the Youth Commonwealth Games in Samoa. He broke a record there too.
Added success came in the form of a bronze medal from his recent participation in the Commonwealth Games held in Australia.
Watch Katulu Ravi Kumar compete against Sathish Sivalingam at the 2014 Commonwealth Games for India.
Future of Men's Indian Weightlifting Team
There's no doubt about the continuous improvement of Indian male weightlifters.
Some of the aforementioned stars will be working hard to compete in future competitions to improve their potential and achievements so far.
Newcomers will look to replicate the form and build on the foundation laid by stars such as Sathish Sivalingam and Vikas Thakur.
The positive trajectory that weightlifting is on in India; it is predicted more gems will be unearthed as the sport becomes more popular, not just for men but for Indian women too.
The hard work of these contestants should help take India's success to a higher plateau. Breaking more records and winning more gold medals in the process.