"There are no doubts or fears. I will be victorious."
The heart-warming Hakeem Ai Hussain (H.A.H) is a gifted British boxer who begins the dawn of a new era in the sport.
Under the influence of his father and boxing coach Talab Hussain, Hakeem has one prime goal.
Hakeem wants to become a champion and reach the summit of boxing across various weight divisions
The welterweight division boxer was born into a British Pakistani family of Kashmiri origin in Birmingham on July 27, 1999.
His boxing journey goes back to when he was just four-years-old.
As a young lad, Hakeem practically grew up and trained with the boxing brothers, Khalid Yafai (ENG), Gamal Yafai (ENG and Galal Yafai (ENG).
Hakeem Ali Hussain went on to train with some of the very best in boxing.
Hakeem is an all-round package having completed his studies from the University of Birmingham with a 2:1 degree.
Watch an Exclusive Rendez-vous with Hakeem Ali Hussain and his team here: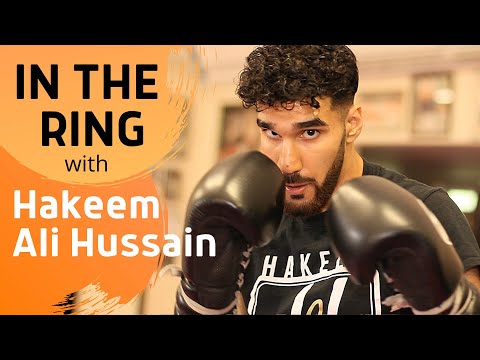 Inside the ring, the left-handed boxer has the intelligence, ring craft and ability to manipulate his opponents.
In an exclusive conversation with DESIblitz, Hakeem Ali Hussain and influential individuals from the boxing world share their thoughts about his journey.
Humble Beginnings
Hakeem Ali Hussain and his boxing originates from the very young age of four. His father Talab Hussain had a major part in driving him forward into boxing.
Hakeem discloses his father was a boxer from the 70s, leading into the 90s. Even his uncle was an amateur boxer, competing at the national level.
Hence, this is where he gets his boxing touch. For Hakeem, the kind family environment he came from, definitely had an impact on his destiny:
"I guess I was kind of predestined. It was my own pathway to just go and follow in those footsteps being brought up around.
"It was really intriguing and I was indoctrinated in it. I was fascinated by it. And always used to be like, wow, I really want to be like the, I want to do that."
Hakeem explains by the time he got to five, heading into six, he began learning from his father.
On and off, his father was specifically teaching him the basics about boxing, stance, guarding up, movement, balancing and momentum.
Following some persistence, Hakeem says at the age of seven he went to a boxing gym for the first time.
For Hakeem, this was a big turning point, especially with Advanced ABA coach Frank O'Sullivan not normally allowing someone so young to train at his gym.
Hakeem remembers the condition that Frank had laid out to his dad:
"He said to my dad, 'Look if he's going to train he has to keep up with the rest, even at this age'."
Despite Hakeem's first outing at the gym being naturally testing, he made a promise with his dad that he was "going to do it properly,"
Thus, this is how the boxing journey commenced for Hakeem Ali Hussain.
Boxing Influences
The biggest influence on the boxing of Hakeem Ali Hussain was naturally his dad and coach Talab Hussain. He describes his coaching as being very "unorthodox."
Hussain said he occasionally finds his father's modus operandi a little strange.
Nevertheless, he has full trust in him, particularly as he is always pushing his boundaries.
Hakeem speaks of many other high profile athletes that inspire him and depict perfection.
The greatest boxer of all time and heavyweight champion Muhammad Ali (late) is amongst them.
However, in term of artistry in the ring, Hakeem singles out American professional boxer, Sugar Ray Robinson:
"Sugar Ray Robinson is the epitome of the perfect fighter."
Over 200 fights and 170 wins. He was an absolute animal and he was really artistic about the way he moved his defence
"He could knock out people going backwards, sideways, forwards. Defensively, he was very masterful.
"Technically he'd pick down his opponents and psychologically, he was a gentleman."
Hakeem on Sugar continues: "For me, that's what we should strive for as a boxer."
Hakeem is correct in his analysis of Sugar, particularly about being able to switch it on and being one of a kind.
Fights and Victories
Hakeem Ali Hussain conveys that his first-ever fight was in an exhibition context against a gypsy lad.
He was ten-years-old at the time. The fight took place at the Birmingham Amateur Boxing Club in Birmingham founded by Frank O'Sullivan.
It was a dream come true for Hakeem to be in the spotlight:
"I'd seen a lot of shows and just pictured and imagined myself to be in that centre ring and compete in front of an audience.
"That was my main dream to just compete in front of an audience and just be cheered on by the crowd."
His father gave a friendly reminder of the fight approach in the changing room:
"He said to me, 'keep to the plan, stick to strategy on the jabs, break him down with the jabs.
"'In the second and third round, that's when you use your full arsenal. Right hands, left hooks. So make sure you use your reach'. I was like, 'okay, dad'."
Hakeem elucidates that he did exactly what his dad had told. Subsequently, he won the match inside thirty seconds in the first round.
Whilst it was only an exhibition match, Hakeem did show how he can destroy his opponent in the ring.
Summarising his other key victories, Hakeem comments:
"So from 2012 onwards to about 2015, 2016, I was a four-time Midlands regional champion."
Additionally, Hakeem was the N.B.A.G.C 2018 Boxing Championship West Midlands Winner.
Hakeem in his defence has had to prioritise other things such as completing a Sports and Physical Education Science degree.
As Hakeem puts it, he was unable to put all his eggs in one basket. Otherwise, he would have certainly had many more triumphs.
Training and Mindset
Hakeem Ali Hussain suggests that he is fortunate to have trained with professional boxers Jamie Cox (ENG) and Chad Sugden (ENG).
Chad Sugden is a professional boxer who Talab trains. He is Hakeem's sparring partner.
Hakeem specifies that he trains every day of the week with an element of flexibility, and taking into account his body.
"I try to let things flow naturally as much as I can, from the way I diet to my sleeping schedule, to when I want to train when my body feels like training.
"It could be in the night, could be in the morning. It could be two, three o'clock in the morning I go for a run.
"It's up to me whenever I feel like it. I kind of usually listen to my body."
Hakeem cites he likes to mentally prepare by being in his own space:
"I like to be myself and like to be secluded. I don't really like a lot of people around me or, in that room with me, because I feel like I have to kind of do an imagery script."
It is quite evident that Hakeem wants to keep his composure and not waste all his efforts.
Hakeem claims mentally the fire in him ignites when he visualises his opponent in the ring. After warming up with the pad work, Hakeem makes his final stage preparations:
"I go inside the dark closed corner away from everybody else. I put a towel over my head and then just focus on what I've been doing those last four or five weeks."
At this point, he contemplates on his own plans, approaches and limitations of his opponent.
Strengths and Speed
Hakeem Ali Hussain recognises his "explosive" and "powerful" right backhand as his signature punch. Explaining the method, Hakeem uses an example from another sport:
"The technique is kind of like a baseball catching it. So when you see them throwing the ball or a fastball, I kind of emphasise it on that because there's a lot of velocity and momentum behind the punch.
"It's not necessarily the power or the strength behind it. It's the speed and the momentum of the movement. That's what gives me that driving force to put the other guy on the ground."
Hakeem goes on to talk about some of the strengths that other boxers have also come to note:
"A lot of fighters who have come against me. I've said that my uncanny will and my boxing smarts inside the ring is just unprecedented.
"It's very psychologically stressful for them to come up against me."
"I always know what I'm going to do three or four steps ahead of them. And I can counteract what they're going to do with milliseconds. You know, that's the name of the game."
Hakeem admits he has learnt most of this from his father including being "adaptable" to all situations.
Hakeem also confesses that speed derives from the explosiveness of his power. Therefore, he is quite "heavy-handed."
Boxing Road Map and Professional Route
Hakeem Ali Hussain declares that he is keeping an open mind in terms of staying amateur or going professional.
Whilst Hakeem is looking to compete at the Birmingham 2022 Commonwealth Games, he may consider other options:
"I am going to try to reach Birmingham Commonwealth 2022. I believe I have the talent to get there.
"A lot of other fighters do believe that I will be on the podium when it comes to 2022. It's just up to me how much I want to get there. There's alternate course, obviously."
"So the professional rankings would be a really highly considerable thing to do. But yeah, we'll just have to see how it goes."
However, Hakeem does concede that his style of boxing is more suitable to the professional circuit. This is something, which many people have also told him, keeping his pace in mind:
"I do prefer my fights to be more slow pace so I can perfectly execute and dictate the pace of the fight.
"It's just all around, more suited towards me. I can punch, I can box."
"I think the main thing in the professional rankings is to sit down in your punches, look a bit more, slow down the pace.
"And just really strategically drive and destroy your opponents."
In comparison at the amateur level, the pace is much faster, with a points orient system.
Though Hakeem asserts that he continues to evolve at the amateur level and being "a bit more fluid," along with reacting faster with his upper body movement:
"We have to be very, very nimble and supple to do so and pull off a really quick reaction within fractions of a second. So I'm really trying to work on that."
He has had a taste of professional boxing as well. During September 2017, he was there in the camp of Jamie Cox, as a sparring partner for the WBA title against George Groves (ENG).
He has the same responsibility when Jamie had his fight against John Ryder (ENG) during May 2018.
Humility and Champion
Hakeem attributes his humbleness and inner beauty to wonderful parents who have given him a very good upbringing. This has had a major contribution to his character building.
Regardless of  successful outcomes and financial gains, Hakeem affirms that he will never forget his background:
"It does not matter how much success I have or where I go to down the line, and how much money I accumulate over my career. I'll always remember where I come from.
"And then I'll always remember the people who told me right from wrong and always told me to be humble."
"It's an old school motto and it's an honourable call I live by, you know.
"I think living in that way and giving back to the world in that way things really do come around and you do earn the rewards."
Hakeem has a firm belief that he will be a boxing champion whether it be at Birmingham 2022 or as a professional:
"That gold medal will be mine. That's my mindset. There are no doubts or fears. I will be victorious.
"Regarding the professional rankings and being a world champion, I will not just be a single weight world champion.
"There's that drive to achieve more. I'll be a multiple world champion in multiple weight divisions."
"We've kind of always sculpted my body and sculptured my mind and made those goals. Me and my dad we've sat down and we've open mapped it all."
It appears as if Hakeem is only fighting himself, with the world being at his oyster.
Talab Hussain
Talab Hussain has been the chief coach to son Hakeem Ali Hussain. He is always there for Hakeem when it comes to direction, training, as well as steering that fire and flame in him.
Talab does not think it is difficult to motivate or manage Hakeem:
"It's not very hard. He's driven, he's determined. He's very set in his mannerisms at the end of the day. So if he puts his mind to something it's just straightforward."
When it does get tough, father Talab is the one who reassures his son, describing it as "journey" or being on the road:
"I say to him at the end of the day look where you were a year ago. Look where you were two years ago. I basically document everything.
"So if he said something to me, I just got go back to a DVD or a journal and say look what you did here a year ago. And then he understands.
"He's been doing it since he was six it is second nature."
Talab is confident Hakeem can get to the top after training for more than twelve years and studying simultaneously.
Talab reveals Hakeem is not the "end product" just yet but he can achieve to be the very best with his "will power."
His father expresses that Hakeem is very fortunate to have a good team around him, They are always there for him to give the necessary guidance.
Talab also tells us that it is in Hakeem's hands as to how far he goes – be it at the amateur or professional level.
Additionally, Talab highlights Hakeem as being a very smart boxer who is ideal long-term for the professional format.
Frank O'Sullivan

Hakeem Ali Hussain was lucky that he has had the best Amateur boxing coach in Frank O'Sullivan MBE. He is also working with Hakeem as a mentor.
Frank is famous for training many Olympic and world champions that made the highest professional ranking.
Boxers that were under the tutelage of Frank include Robert McCraken MBE (ENG) and Khalid Yafai (ENG) to name a few.
He has been teaching Hakeem the fundamentals of boxing, especially technique and strategy. Elaborating on this Frank mentions:
"I've helped Hakeem more or less with the basics and the normal procedures."
Frank is of the opinion that Hakeem has the potential, but will have to work immensely hard.
"He's got the makings of being good. In order to achieve what he has to achieve, then he has to sort of go through certain procedures.
"For instance, the Commonwealth Games that are coming to Birmingham in 2022
"Because he's looking at the Commonwealth Games, in order to achieve that, then he has a very high hill to climb."
Hakeem will have to make the various squads, should he wish to make it for Birmingham 2022.
Franks alludes to the fact that Hakeem has a good education. This will give him the edge following his "sweet life" of boxing.
Jamie Cox
Boxer Jamie Cox has had an instrumental part in teaching Hakeem Ali Hussain to become a world champion. Jamie was training with Hakeem a lot when living in Birmingham.
He has always been an elder brother figure to Hakeem.
He holds the opinion that Hakeem has had good exposure, especially when sparring with him ahead of his world title fight.
Jamie states Hakeem has begun to understand the structure at the world level and dealing with it.
So, Hakeem has the advantage of gaining a lot of experience before even turning professional.
Shedding light on the aggressive nature of their sparring sessions together, Jamie says:
"Yes, it is full out. Inspiring in a good way to push each other, bring each other on. Hakeem gives me enough for my troubles. Don't worry about that."
Jamie recalls that Hakeem was always in the gym training every day for the last 12-20 years.
Jamie identifies the potential and talent that Hakeem has to become a successful world champion:
"I think he can go on to do whatever he wants to achieve."
"He knows what his take is, but he's already done it before it's even needed to be done."
Jamie points out that he has been part of the setup and camps with world level fighters. He further adds:
He's ahead of the game of my view. He's got his feet on the ground, Hakeem. He can box, he's strong, nice and fit.
"And he's humble as he's very disciplined in his mindset. And I think that's what creates the difference at the top level.
Jamie certainly has a lot of confidence in Hakeem going forward with his boxing career.
John Costello
John Costello is a professional coach and adviser who has been introducing Hakeem about the professional circuit on a world stage perspective.  He is the former trainer of Jamie Cox.
Under his wing, his son Joe Costello became the youngest ever European medallist in the history of UK amateur boxing.
When Hakeem was sixteen years of age, for the first time his fight had to be stopped. Hence, Hakeem had to up the game.
John took Hakeem down the Butcher Gym, teaching him how to sit down on his boxing punches.
John's advice for Hakeem was to become more of a brawler than a boxer. Speaking more about this John said:
"It was just touching his force a little bit more on the inside and being comfortable boxing on the inside.
"That means shorter in his punches. It is an area where I believe we can improve on."
According to John, Hakeem having a good education, along with his intelligence will benefit his route into professional boxing. He continues saying:
"Putting that time in conditioning, Hakeem will definitely improve.
"We want Hakeem to be the best."
John believes Hakeem has the honesty and integrity to succeed in the sport.
He also feels, having graduated, Hakeem can fully focus on boxing, which will increase his confidence and belief.
Hakeem Ali Hussain symbolises the healer, the awesome champion and the handsome.
With these three qualities, he is destined to elevate at the highest level in the sport.
To keep updated with Hakeem Ali Hussain, follow him on his Instagram and other social media networks.