"You have to beat the best to be the best."
Former butcher Farakh Ajaib is flowing in excitement after graduating from Q School 2020.
Farakh was in fantastic form at the Institute of Sport in Sheffield, fulfilling his lifelong ambition of achieving professional status.
The player originally from Accrington was fortunate to receive amazing support from members of his family and close friends.
Farakh will be featuring for the first time on the main professional World Snooker Tour.
His only previous TV appearance was against Luca Brecel (BEL) at the Snooker Shoot Out ranking event on February 22, 2019.
By becoming professional, Farakh will have the freedom to fully concentrate on snooker, leaving the butchers table behind for good.
Watch our Exclusive Interview with Farakh Ajaib here: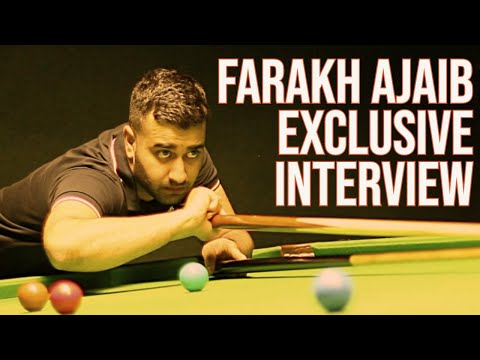 Jason Ferguson, Chairman of the World Professional Billiards & Snooker Association (WPBSA), welcomes Farakh Ajaib to the main tour. He exclusively told DESIblitz:
"We are absolutely delighted to see Farakh join the pro tour for the first time.
"We have known about his talent for some time so it will be fascinating to see him try to make his way against the best players at the biggest tournaments.
"The opportunities for new professionals now are massive, and very lucrative if they are successful.
"Our ambition is to develop snooker all over the world so it's fantastic to see a player of South Asian heritage join the tour."
In an exclusive conversation with DESIblitz, Farakh Ajaib fluently sheds light on becoming professional, his goals, who he wants to defeat and the future of snooker.
Turning Professional
Farakh Ajaib is the only British-born player of South Asian descent that will be playing on the main professional World Snooker Tour for the 2020/2021 season.
Farakh feels on top of the world after becoming a professional on August 9, 2020:
"I have been buzzing ever since I turned pro. It did not quite sink in that night [Sunday], but when I work in the morning, I felt like a different man."
Farakh held his nerves against Brian Ochoiski (FRA) in the all-important quarter-final match during Event 3 of Q School.
Upon returning home late in the night, his wife Halima Matlub Ajaib and daughter Aiyva Noor were still awake.
According to Farakh, he had not informed Halima about his Q-school successful outcome from Sheffield. However, his wife had a gut feeling that his late return was a blessing.
The family were clearly in a joyful mood at their Blackburn home as they slept quite late on that night. His father who only came to know about Farakh's heroics on August 10, 2020, was also ecstatic:
"My dad – he's my biggest fan. So he was very happy. [He] even came home early from work to congratulate me."
Farakh mentions that as a young snooker player, he had the belief of becoming a big snooker player one day:
"I always had a dream of becoming a professional snooker player."
His patience and frequent visits to Q School finally paid dividends in 2020.
Pro Tour, Ronnie O'Sullivan and Pakistan
Farakh Ajaib believes he is not on the main professional World Snooker Tour to just fill the numbers. Farakh reveals that he wants to make an instant impact, eventually flourishing on the circuit:
"My first target is to win the early matches and hopefully by the end of the year, get into the top 64. And that will keep me on the professional circuit."
From a long term perspective, Farakh states that his focus is on winning a ranking tournament.
It may sound a little far-fetched at the moment. However, he has the potential to become the first-ever British Asian player to accomplish this feat.
Farakh tells us that he is confident about his ability to compete at snooker's highest level. Naturally, discipline and a determined attitude will be the key for Farakh.
In reply to a question about who he wants to beat the most, Farakh said:
"Definitely Ronnie O'Sullivan because he's the best out there. You have to beat the best to be the best."
Farakh added that he had always been inspired by Ronnie O'Sullivan over the years.
Farakh says he is keeping a flexible approach about continuing to represent England or waving the flag for Pakistan.
Though a sourced revealed to us that Farakh's dad would be over the moon if he went onto play for Pakistan.
Former professional snooker player Shokat Ali, the first cue gold medallist and maternal relative of Farakh also competed for Pakistan at the Asian Games.
On the Green Baize and Barry Hearn
On song, the average shot time of the gifted Farakh Ajaib is twenty seconds. Analysing his play, he prefers a more attacking open game in comparison to tactical
The right-handed player explains he has an all-round game, which comes very natural to him. Though there is also room for improvement:
"I find break building easy and long potting, other than that safety, which I need to work on a little, but definitely break building."
When probing his performance with the rest, Farakh admits that he can fine-tune on that aspect too. But he is spending a lot of time with this piece of accessory.
On the question of the miss rule, Farakh points out that he did face a situation where the referee had used his discretion correctly"
"I actually had my opponent in a snooker and I got nearly fourty points off it in the Q school. He did carry on missing it, but the ref didn't call a miss in the end because he was only a millimetre off it."
Farakh is of the opinion that in this instance the referee using his discretion when interpreting the rules made the correct decision.
Farakh singles out temperament as being a very important asset for any snooker player. He considers that he himself has a positive and strong mentality– be it in a humorous tone.
Farakh is very optimistic for the future of British Asian players, particularly with Barry Hearn spreading the game.
When asked about Barry's expansion of snooker and how it is beneficial for the players, Farakh replied:
"Well, for one there's more money in the game now than there was ten years ago."
"We went from six tournaments a year to nearly twenty tournaments a year now. So it's more like a full-time job where it was part-time before."
Nevertheless, Farakh advises young aspiring snooker players to keep working hard. Merely relying on talent is not enough.
Farakh looks forward to his professional journey with much fervour. He will be competing from September 2020 onwards. He is hoping to become a frontman in the snooker world.