"I look forward to flourishing on the main World Snooker Tour."
Accrington butcher Farakh Ajaib has become a professional snooker player after qualifying through Event 3 of the World Snooker Q School 2020 tournament.
Farakh has earnt a two-year card, after winning four consecutive best of seven matches on August 10, 2020.
Leading up to Q School, which began on August 3, 2020, Farakh was also working full time as a butcher.
In addition, prior to Eid-Ul-Adha, and on the day of the festive occasion, Farakh was extremely busy with Qurbani meat distribution at his dad's shop.
The former under-21 Belgium Open champion had to play six matches in Event 3 to achieve his life-long ambition.
He was fortunate to have a bye in Round 1, courtesy of Jordan Brown (ENG) not dropping off the main tour.
We take a closer look at his glorious Event 3 triumph, along with exclusive reactions.
World Snooker Q School 2020
Farakh Ajaib made a Round 2 exit from Event 2 on August 5, 2020, after losing 3-0 to Mateusz Baranowski (POL).
Whilst the frame score suggests a clean sweep, it was not like that. According to Farakh, his opponent had the run of the balls:
"It was just so much bad luck today."
Mateusz apparently had a fluke or two during the match, which had a huge impact on the final result.
Two days later, Farakh also lost to Leo Fernandez (IRE) 4-1 in Round 5 of Event 1 on August 7, 2020.
Farakh gave it all his best, but fell short in the same round as he did during World Snooker Q School 2018:
"I tried my best, but it was not just meant to be."
Farakh went into Event 3, knowing he had one last bite of the cherry to qualify for the main professional tour. Acknowledging to give it his all, Farakh stated:
"Of course will try my best."
It was a very early start for the 2018 East Lancashire Open winner on Sunday, August 10, 2020.
In Round 3, Farakh beat his long time friend Simon Blackwell comfortably 4-2.
Farakh had to work hard in Round 4, but he eventually came through 4-3 against Jenson Kendrick (ENG).
From 2-0 up, Farakh missed a black and Jenson went ahead 3-2. However, Farakh came up trumps, taking two consecutive frames to get across the finishing line.
Round 5 was a nail-biting game, which Farakh also won 4-3 versus young Welshman Dylan Emery.
In the deciding frame, Farakh was fourty odd points behind and in a snooker.
Miraculously escaping from it, Farakh put Dylan back into a snooker and then eventually cleared up to seal the match.
Upset by the loss, Dylan went on Facebook to unleash his feelings and thanking everyone:
"In all my time playing snooker, I have never seen or lost to something so cruel."
"Absolutely devastated. Cheers for support all, means a lot x."
In the quarter-finals, Farakh cruised to a 4-2 victory over french rookie Brian Ochoiski just after midnight on Monday, August 10, 2020.
Farakh successfully overcame all his hardships to become a professional, after winning his final match at the English Institute of Sport, Sheffield, England.
Thus, Farakh claimed a place on the World Snooker Tour for 2020/2021 and 2021/2022.
Post-Event 3 Reactions and Thoughts
Spare a moment for Farakh who particularly had undergone the most gruelling test on one very long day.
Following his win, Farakh and his bestie Simon Blackwell drove back together to Accrington, reaching home just after 2 am.
Despite being so tired, Farakh was elated by his accomplishment and already thinking ahead:
"I am thrilled to have come through such a big hurdle. It is everything that I had ever wanted. To become a professional is also dream come true.
"I look forward to flourishing on the main World Snooker Tour. It is a fantastic opportunity for me to showcase my ability on the world stage."
Mohammed Nisar, owner of Oldham Snooker Academy and a very close mentor to Farakh was equally in a jubilant mood.
Nisar is a very trusted advisor to Farakh and has been there for him all the time. Farakh was practising at Nisar's snooker club, prior to Q School 2020.
Nisar, himself was inundated with congratulatory messages from Pakistani players, including former professional cueist Hamza Akbar (PAK).
Nisar summarising his humble snooker journey expressed:
"I have known Farakh Ajaib since he was 16 years of age – approximately 12-13 years. He is a very talented player indeed.
"Farakh has also had to put his snooker on hold due to his uncle's death in Pakistan, which resulted in him in helping with his family business.
"He is a very popular lad in Lancashire and well respected by players in the North West.
"He has had to fight hard to attain his Professional status. It is time to show the world how exciting he is.
"His parents and family must be extremely proud of his achievements given his circumstances."
Continuously supporting him, Nisar added:
"Oldham Snooker Academy has and will fully support his goals."
The world governing body for the sports of snooker and billiards, the World Professional Billiards and Snooker Association (WPBSA) also put out a Tweet confirming his Tour Card:
"Farakh Ajaib of England has secured a place on the World Snooker Tour for the first time following a 4-2 win against Brian Ochoiski at #QSchool Event 3!
@WeAreWST."
In reply to this tweet, former professional snooker player Chris Norbury also complimented the talent of Farakh and highlighted where he came from:
"Farakh deserves this chance, as he's been knocking on the door. Very talented player and good to watch.
"Another professional snooker player from the little town of Accrington."
Considering that Farakh was only playing and practicing on a part-time basis, this is a phenomenal achievement.
Here is a full list of who came through the three events during Q School 2020.
Tour Card Winners
Event 1
Lee Walker (WAL)
Simon Lichtenberg (GER)
Peter Devlin (ENG)
Fan Zhengyi (CHN)
Event 2
Jamie Jones (WAL)
Zak Surety (ENG)
Oliver Lines (ENG)
Ben Hancorn (ENG)
Event 3
Farakh Ajaib (ENG)
Rory Mcleod (ENG)
Jamie Wilson (ENG)
Steven Hallworth (ENG)
Watch Farakh Ajaib pot all the colours here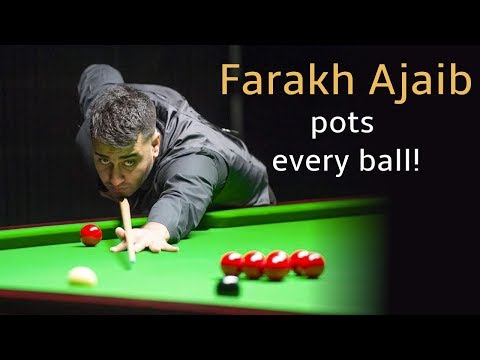 It seems standing up as a butcher for long periods, also gave Farakh the stamina and concentration to withstand the challenges of Q School.
Farakh can choose to represent Pakistan for the 2021 Snooker World Cup in China through his parentage. That will make for a very strong Pakistan team.
DESIblitz congratulates the snooker player, his wife Halima Matlub, their beautiful daughter Aiyva Noor and the entire family on fabulous Farakh attaining professional status.