"Sachin is a technical boxer, whilst Bilal is a rough and tough boxer."
Muhammad Bilal from Pakistan will take on Sachin Dekhwal of India for the WBA Asian super lightweight title.
The boxers from arch-rivals will fight it out on September 12, at 7 pm in Dubai, United Arab Emirates (UAE).
The boxing bout will take place at the famous La Perle Theatre, Habtoor City, Dubai.
The fighters will be vying to crown themselves as the lightweight (61kg) champion in the Middles Eastern desert of UAE. country.
Benjamin Esteves Jr from the United States of America will be officiating the match as referee.
The fight is a ten rounds contest, but obviously, it may not last the distance. Former Pakistan boxing legend Abdul Rasheed Baloch believes Muhammad can win this fight early by knocking out his opponent.
Roshan Nathanial, the coach of Sachin shared his thoughts about the two boxers, exclusively telling DESIblitz:
"Sachin is a technical boxer, whilst Bilal is a rough and tough boxer. The best boxer on the day will determine the final result.
"The fight is a very good one. Sachin does have a height advantage and has fast legs with good power. But Bilaltoo has strong pwer."
Dunstan Rozairo is the promoter of this high-voltage match, under the management company DJMC Events.
Leading up to the fight both boxers are preparing hard for this high octane clash. Naturally, both fighters will have tremendous support from Pakistani and Indian fans.
Let's preview both fighters, along with some exclusive reactions:
Muhammad Bilal
Muhammad Bilal is a professional boxer who resides in the Steel Mill area of Karachi. He was born Muhammad Bilal Mehsud in South Waziristan, Pakistan on September 7, 1995.
He specifically belongs to the Badr Valley in South Waziristan. The orthodox stance boxer who began professional boxing in 2017 has a good boxing record, winning many fights, courtesy of knockouts.
In reply to a question about if he was ready for the fight, Bilal said:
"I am more than confident and my morale is skyrocketing. We cannot reveal our plans and strategy, but everything is in place. I will raise the flag of Pakistan in victory."
"Everyone will get to see even a more fierce Muhammad Bilal in this fight.
"I will bring this belt back home as the victorious boxer."
Bilal travels 42km twice daily on a motorbike to train at the Zubair International Martial Arts Academy.
He is training under former boxer and coach Zubair Khan. Zubair himself was a student of legendary Olympian boxer, Jan Muhammad Baloch. Bilal will have Zubair in his corner for this all-important bout.
Bilal who is the pride of Pakistan has a powerful punch and is working on his speed. He is hoping to nail the killer hit on his opponent. His good defence and ability to dodge will also help Muhammad in his quest for victory.
Bilal is a wushu and kickboxing champion and specialist. So, this fight will test his boxing mettle. His supporters have been sending him best wishes for the fight on his Facebook page.
Bilal is travelling to the Maldives via Dubai on August 29, 2021, and will be training there until September 8, 2021. He will then arrive in Dubai a few days before the fight.
Fans of Bilal can keep updated via his Instagram page here:
Watch Highlights Video of Muhammad Bilal boxing Knockouts here: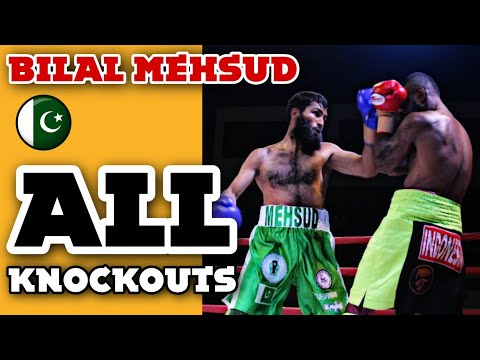 Sachin Dekwal
Sachin Dekwal is an international Indian professional fighter with an unbeaten record going into this fight. He was born in the city of Faridabad, Haryana, India. However, he lives in the Budhiana Village.
He started his pro boxing career in 2018, with several successful knockouts to his name. As a boxer, he has a southpaw stance.
Sachin is known to have some all-round qualities, describing them as "hardwork, patience and consistency."
As part of his preparations, he has undergone training at the Team Roshan Sports Promotion, a club in Delhi, India.
And then from August 15, 2021, Sachin and his team have set a camp in the Maldives. Sachin is undergoing a gruelling training schedule in the Indian Ocean island until August 29, 2021, and then will head for the UAE.
In the ring, Sachin is a good attacker and has a good defence. Speaking about his mindset and the outcome. he says:
"My confidence level is full. I will beat him in the 4th or 5th round with a knockout."
Sachin has been rallying support from everyone in India, posting on Facebook:
"I need your support or blessings to make history for India and make India proud."
In response to his post, coach John Williams highlighted the significance of listening:
"Stay calm listen to your coach and you're the champ!"
Sachin fans can follow the boxer and what he is up to on his Instagram page here:
Watch a video on Fighter, Sachin Dekwal here:
Sachin seems somewhat leaner than his opponent, but both fighters are a close match-up. Both fighters know that a win for either will seem them become a hero in their respective country.
Whilst it's only another fight, one can sense the tension that builds in both camps. Keeping calm and delivering on the day is the key for both boxers.
Urvashi Singh who is a female fighter and ranked 30 in the world will also fight on the same date. She will be competing for the WBO International continental fight versus Casey Mortan (USA).
The all women's match will be a super flyweight bout (52kg).
Meanwhile, DESIblitz wishes both Muhammad Bilal and Sachin Dekwal the very best for their big fight and may the best man win.
Equally, best wishes to Urvashi Singh also, the first WBC Female fighter champion.