"It was really a hard process for me to get the prosthetics done."
Robot 2.0 starring Rajinikanth, Akshay Kumar and Amy Jackson releases on November 29, 2018.
The film is a sequel to the 2010 movie Enthiran (Robot), featuring Aishwarya Rai Bachchan alongside Rajinikanth.
The estimated budget of the film is Rs 543 crore (£60 million), making it the most expensive Indian film till date.
The film has brought superstars Rajinikanth and Akshay Kumar together for the first time, a delight for both Tamil and Hindi film fans.
There is tremendous hype surrounding the film, making it one of the most highly anticipated films of 2018.
Fans will be flocking to the cinemas in big numbers to watch this science fiction action film.
DESIblitz presents 5 key things about the film prior to its release:
Star Team
2.0 comprises a fantastic line up of stars, including Rajinikanth, Akshay Kumar and Amy Jackson in lead roles.
Rajinikanth who plays the dual characters of Dr Vaseegaran and Chitti is one of the biggest and richest stars in the Tamil film industry.
The Bengaluru born actor has predominantly featured in Tamil films. But he has also ventured out to Telegu, Hindi and Kannada Cinema, making him one of the most celebrated actors in India.
Akshay Kumar playing a villain in 2.0 is a big name in Bollywood, carving a successful niche for himself in films.
The year 2018 has been a great year for Akshay, having delivered back to back successes with Pad Man (2018) and Gold (2018).
The British actress Amy Jackson performs the important role of Nila in the film. She has starred in season 3 of superhero television series Supergirl (2017-2018).
2.0 also stars Sudhanshu Pandey, Adil Hussain, Kalabhavan Shajohn and Riyaz Khan in supporting roles.
After Enthiran, S. Shankar once again is the director for 2.0.
Famous composer AR Rahman completes the perfect team as he has scored excellent music for the film.
Enthiran Sequel
2.0 is a sequel to the 2010 film Enthiran (Robot), releasing 8 years after the original came out.
Rajinikanth starred in the first film alongside former Miss World 1994 Aishwarya Rai Bachchan.
In Enthiran (2010) Rajinikanth also plays a double role, in the form of scientist Vaseegaran and android Chitti.
On the other hand, Aishwarya Rai Bachchan portrayed the role of Sana. She was Vaseegaran and Chitti's love interest in the film.
In addition to the film receiving positive reviews, fans greatly appreciated Rajinikanth's performance.
Enthiran became the highest-grossing Indian film of 2010. It reportedly did Rs 280 crore (£31 million) business at the box office worldwide.
Rajinikanth is back to reprise his roles as Vaseegaran and Chitti in the sequel.
According to the director, Aishwarya was not part of the sequel as it has a completely different storyline.
Film Plot
2.0 sees scientist Vaseegaran (Rajinikanth) bring Chitti back to life. He creates a new improved version of the robot Chitti called 2.0.
The primary purpose for creating Chitti is to combat and defeat Dr Richard/Crowman (Akshay Kumar).
Dr Richard morphs into Crowman and has an extraordinary ability to turn into any shape and size using the captured mobile phones from across the earth.
The character of Dr Richard causes mass destruction and vows to eliminate the human race.
What ensues is the battle of all battles between 2.0 and Crowman.
The trailer shows the spectacular fighting sequences between the two, promising a battle of epic proportions.
While Amy Jackson does play a pivotal role, the makers of the film have not revealed much about how she fits into the plot.
Despite Sana (Aishwarya Rai Bachchan) not featuring in 2.0, reference will be made to her in the storyline.
Characters Look
Producers of the film released special promotional videos that showed the making of Rajinikanth and Akshay Kumar's different looks in the film.
In one video, Rajinikanth is visibly sitting in a chair, with a mould being made of his face. To appear authentic, the Tamil star wears a heavy body for the role of robot 2.0.
Similarly, Akshay's Crowman look had moulds created for it.
The actor wears prosthetics, with spikes coming out of his head and body. Revealing the procedure, Akshay told IANS:
"It was really a hard process for me to get the prosthetics done. For almost three and a half hours, I had to sit down quietly and do nothing.
"Three people used to work on my body and I had to stay patient…that was tough.
"I would say that the whole process of prosthetics made me a much calmer and patient person."
Crossover Motion
2.0 brings together two of the biggest stars from Tamil and Hindi cinema, with Rajinikanth and Akshay Kumar.
Besides the two popular actors coming together, the film releases in 15 languages, across 7,000 screens in India.
Not only the actors but makers and technicians from various industries and nations have worked together to create 2.0.
When asked about the crossover movement for 2.0, co-distributor Karan Johar from Dharma Productions said:
"We have to encourage those crossover movements.
"Films in all languages whether it is in Marathi, Bengali, Tamil, Telegu, Malayalam, Kannada, have to work all across because that should be the true vision eventually."
Everything you need to know about 2.0:
Virtual Camera Technology is used in making the film. 2.0 is the first Indian film to be shot entirely in 3D. Hence audiences will enjoy the film for its 3D effects.
This reinforces the point that South Indian Cinema has always been miles ahead in terms of technology, budget and scope when it comes to filmmaking.
This is a positive sign for Bollywood as it keeps pushing the industry to produce more quality content, raising the bar along the way.
The film has a massive buzz surrounding it, with the trailer amassing over 37 million views on YouTube.
The trailer and songs composed by AR Rahman were unveiled earlier in November 2018.
Watch Official Hindi Trailer of 2.0 Robot 2 here: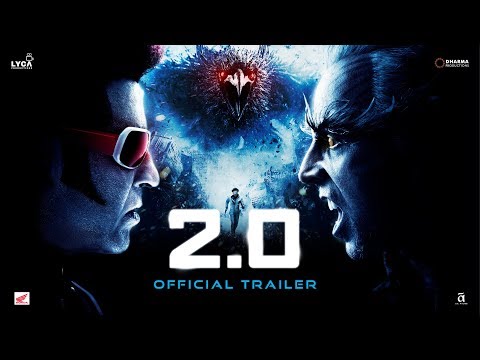 There is a trailer version for the film also in Tamil. Being made on a massive budget, 2.0 is a big Bollywood release of 2018.
2.0 releases in India on November 29, 2018. Fans will we hoping that Rajinikanth and Akshay Kumar come together with all guns blazing.