"I see His Highness is a conscientious objector."
Iftikhar Ali Khan Pataudi is the first and only cricketer to have represented India and England in Test cricket.
He was born as Nawab Mohammad Iftikhar Ali Khan Siddiqui Pataudi in Pataudi, Pataudi State, Punjab, British India on March 16, 1910.
He came from a family of royal lineage and thus was the 8th Nawab of Pataudi.
Pataudi completed his education at Chiefs' College (Aitcheson College), Lahore, and Balliol College Oxford.
He always had an Oxford connection, as he received coaching in India from cricketer MG Slater.
English first-class cricketer Frank Wolley later coached him in England.
After successful outings with Oxford Univerisity, he was selected for England in international cricket. Pataudi also went on to make history by playing for India as well.
We zoom into the international career of cricketer Iftikhar Ali Khan Pataudi.
England
Iftikhar Ali Khan Pataudi earned his first call up for England against Australia in the 1st Test of the 1932-33 Ashes series.
He made his Test debut down under at the Sydney Cricket Ground on December 2, 1932.
The Test match was a great success for Pataudi, both on an individual level and for England.
He made a very resilient 102 in India's first innings of 524. His score was pivotal in giving India a lead of 164 runs after the first innings.
He hit six 4s in his innings, which came at a strike rate of 26.84. It was a typical Test innings. History TV  on their official Facebook page write about his hundred, stating:
"[He] became the sixth Englishman to score a hundred on Test debut.
"He also became the third Indian prince to score a hundred on Ashes debut."
The tourists comfortably won the Test match by ten wickets.
Despite Pataudi's heroics in Sydney, he made England captain Douglas Jardine angry after refusing to follow his bodyline strategy.
In reply to a remark, Jardine said:
"I see His Highness is a conscientious objector."
As the tour came to a finish, Pataudi responded to Jardine for his earlier jibe, saying:
"I am told he has his good points. In three months I have yet to see them."
Pataudi played three Tests in total for England, with 102 remaining his highest ever score in five-day cricket.
He finished his very brief England career, with an average of 28.80.
Watch Highlights from the Bodyline Series here: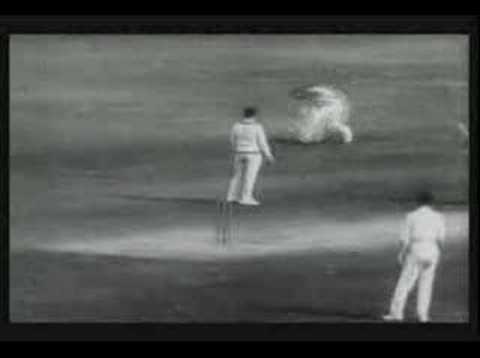 India
Iftikhar Ali Khan Pataudi made his Test debut for India captaining the side for the tour of England in 1946.
He was leading India as the third captain of the team, a year before its partition at the age of thirty-six.
Ironically, his Test debut for India came against the very first international team he had represented.
He played for India on 22 June 1946.
His highest score of 22 came in the second innings of the 1st Test that took place at Lord's Cricket Ground in London.
India lost the 1st Test match by ten wickets. However, India did manage to draw the next two games at Old Trafford, Manchester and The Oval, London.
He had an average of 11.00 for India.
His overall batting average was 19.90 which was fairly good for someone who only played 6 Test matches overall.
He made 199 runs in total for both England and India.
The most interesting fact is that in his 10 Test innings, he never was out for a golden duck.
Iftikhar Ali Khan Pataudi sadly left this world on January 5, 1952.
The tragic fate of the cricketer came due to a cardiac arrest at the age of 41, whilst playing a game of polo.
His death came on the 11th birthday of his son Mansoor Ali Khan Pataudi. He was the paternal grandfather to Bollywood actor Saif Ali Khan.
As a cricketer, Iftikhar Ali Khan Pataudi had a huge impact on his son Mansoor.
The Pataudi junior had a successful career for India and similar to his father captained the Men in Blue.
Whilst not impossible, the likelihood of another Indian Test cricketer to play for England as well is highly unlikely.