"Definitely, I am very happy, because my team win." 
Fast bowler Mohammad Sami is the only Pakistan cricketer to take a hat trick in the three International formats of cricket. He was also the first player in world cricket to claim hat-tricks across cricket's three international formats.
Sami was born in Karachi, Sindh, Pakistan on February 24, 1981. He has played for Pakistan in all formats of the game between 2001 and 2016.
Despite having a topsy-turvy career, he has had some magical performances for the Green Shirts.
Sami has hat-tricks in international Test and ODI games against West Indies and Sri Lanka. He also has hat-tricks in franchise cricket.
Ever since his first hat trick against Sri Lanka in 2002, Sami has achiev3d four more across the different formats.
Out of his five hat-tricks, one features also in a domestic T20 game in 2019. Interestingly barring the 2019 Pakistan Super League, all of his hat-tricks have included either lbw or hitting the wickets.
Besides the 2002 Asian Test Championship final, he ended on the winning side with all his remaining hat-tricks.
Let's take a look back at some of his hat-tricks each in Test, ODI and T20 cricket:
ODI Hat-trick – Pakistan vs West Indies: 2002
The first, hat-trick for Mohammed Sami came eleven months after making his international debut.
On the UAE tour, he achieved his maiden hat-trick versus West Indies in the 2nd ODI at the Sharjah Cricket Stadium on February 15, 2002. Despite a  superb 111 from Shoaib Malik, Pakistan was all out with an over to spare.
Hence, the Green Shaheens were up against it, with Windies only requiring 233 to win. Even though the West Indies were plain sailing at 101-1 after 14 overs, they had a sudden collapse.
After taking an earlier wicket of Runako Morton in the thirteenth over, Sami struck big in the 35th over. He took three wickets off consecutive balls.
His first victim was wicketkeeper-batsman Ridley Jacobs who was adjudged lbw for 1. His next delivery saw Corey Collymore (0) being clean bowled. He completed a hat-trick when his next hit the stumps of Cameron Cuffy (0).
With the help of the Sami, West Indies were all out for 181. Pakistan won the game by 51 runs, registering their ninth successive ODI victory.
The final bowling figures for Sami were 4-44 in 7.4 overs.
This win saw Pakistan claiming a 2-1 series triumph against the West Indies.
Watch hat-trick of Mohammad Sami in ODI cricket here:
Test Cricket – Pakistan vs Sri Lanka: 2002
Following his West Indies heroics, three weeks later Mohammad Sami accomplished another hat-trick during the Asian Test Championship final. His second hat-trick came against Sri Lanka at the Gadaffi Stadium in Lahore on March 8, 2002.
Put in to bat first by The Islanders, Pakistan's dismal performance in their first innings saw then all out for  234. In response, Sri Lanka was aiming for a big total, courtesy of a double century from Kumar Sangakkara (230).
During the 1st innings of The Lions, the last recognised batsman Tilakaratne Dilshan handed over the strike in the 140th overs bowled by Sami.
Whilst Sri Lanka were in a good position, Sami yet again took three wickets in successive deliveries. Charitha Buddhika was the first to go, being trapped lbw for 7. Next Nuwan Zoysa was out for a first-ball duck, given lbw by the umpire.
Finally, Sami hit the timber of Muttiah Muralitharan for a golden duck.
With Sri Lanka finishing on 528 all and taking a first-innings lead of 194, they went onto the win the Test match comfortably by eight wickets.
Although Pakistan lost, it was a great achievement to bag his second hat-trick within a short space of time.
T20 Cricket – Duronto Rajshahi v Dhaka Gladiators: 2012
Mohammad Sami completed a hat-trick in each format during the 2012 franchise based Bangladeshi Premier League at the Sher-e-Bangla Stadium in Dhaka.
His first hat-trick in T20 cricket came when representing Durotnto Rajshahi in the 14h group phase match of the BPL on February 16, 2012.
Duronto posted a modest total of 144-9 in their twenty overs. Dhaka had to take regular wickets for them to win the match.
Whilst Pakistan cricketer Imran Nazir reached his fifty, wickets were tumbling over at the other end. Sami had the task to defend twenty in the final over, with dangerman Nazir still on the crease.
But Nazir took a fatal risk, by taking a single off the first ball. From then on it was the Sami show.
Giving himself room, Darren Stevens (England) saw a sharp inswinging delivery smashing his wickets. Another in-swinging delivery from Sami went onto rattle the stumps of Aftab Ahmed (BAN), without scoring.
A length ball from Sami hit the top of the middle stump to send Pakistani bowler Rana Naved ul Hasan back to the pavillion for a golden duck also.
Speaking to former New Zealand legend and commentator Danny Morrison, Sami was delighted with the hat-trick"
"Definitely, I am very happy, because my team win."
Producing another hat-trick, Sami ended with figures of 3-23 as Rajashah won the match by fourteen runs.
Watch hat-trick of Mohammad Sami in the BPL here: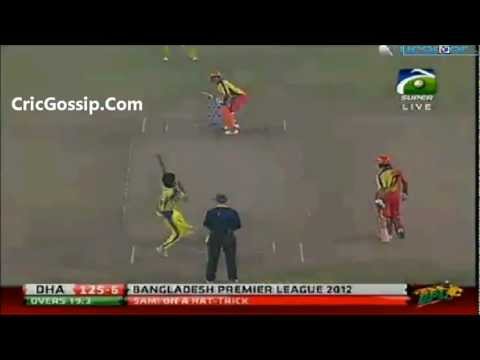 Mohammad Sami has had two further notable hat-tricks, both in T20 cricket.
In the 18th match of National T20 Cup 2018-2019, Sami had another hat-trick for Karachi Kings in the 19th over. This was against Lahore Blues at Multan Cricket Stadium on December 18, 2020.
Sami bowled out Mohammed Irfan (9) and wicketkeeper Farhan Khan (0) and then pinned Aizaz Cheema (0) in front of the stumps for his hat-trick.
In this match, Sami picked up 5-14 in 3.4 overs as Karachi Whites won by thirty-eight runs.
Mohammad Sami also went onto claim a hat-trick for Islamabad United in the 2019 Pakistan Super League (PSL). This came up in the eleventh match of the PSL versus Peshawar Zalmi at Sharjah Cricket Stadium on February 22, 2019.
With Sami having to protect nineteen runs in the final over, he took the wickets of Wahab Riaz (20), Umaid Asif (0) and Hasan Ali (2). Wahab and Hasan were caught in the cover regions (Sahibzada Farhan), with Umaid finding long-off (Fahim Ashraf).
Sami claimed 3-22 in 3.4 overs, with Islamabad United winning by twelve runs.
At his best and peak, the yorkers, swing and pace of Mohammad Sami were a delight to watch. He has 85 wickets in Test Cricket and 121 in ODI cricket.