"It was massive last year, and I think this year it is even bigger."
Sexhibition 2016 the show beaming with sexy fashion, erotica and all things sex, took over the Victoria Warehouse in Manchester between the 19th-21st August 2016.
In its second year, the event had lots to offer with exhibitions, fashion shows and workshops, all targeted at the discerning connoisseurs of sex interested in learning more about their individual desires to the latest kinks to meeting like-minded people in attendance.
DESIblitz went to the event and had the pleasure of meeting and talking to the 'Face of Sexhibition 2016', the gorgeous and sexy Desi girl, Sukki Singapora.
Sukki made a special trip from Los Angeles especially for Sexhibition 2016 and was thrilled to be part of such a diverse event, which is one of its kind in the UK.
Telling DESIblitz about her enthusiasm for the event, Sukki said:
"I just feel like it keeps growing, and Cheryl, I'm so proud of everything she's done to pull this together. It was massive last year, and I think this year it is even bigger."
The Victoria Warehouse was split into three areas for Sexhibition 2016 – two levels in one building for the main stage shows and exhibitors, and a separate building for workshops.
The Friday event featured the first ever Sexhibition awards with many UK sex industry nominees being recognised for their achievements.
The Saturday agenda for Sexhibition 2016 was all about the more sensual, pretty and feminine side of sex.
This included "An Audience with Stoya", a special insight into the life of Stoya, the American pornographic actress, writer and model. Hosted by the broadcaster Nichi Hodgson.
The mainstage was the main attraction and the centrepiece of the event. It was hosted by the bold Alix Fox, the well-known sex writer and educator.
Alix kept the audiences entertained throughout as the anchor with her sexual sense of humour, open flaunting of her tasselled breasts in her gown outfit and answers to masturbation questions on this specific day.
Fox introduced the variety of fashion shows which took place throughout the day, which included collections from Jed Phoenix, Blu 83, Oh La La, Alibi Clothing, Provocation, Jaci & Cane, Wyte Phantom, Kitty O'Hara, Florentyna and Kiku Boutique.
Models celebrating all sizes of women paraded the catwalk showing off the hard work of the designers. Including appearances from Miss Deadly Red, Mosh, October Divine and Heather Valentine.
Sukki Singapora donned a gorgeous outfit by Kiku Boutique, pronouncing her curves in a lovely shade of turquoise green with all the trimmings. She looked stunning, especially with her multicoloured hairstyle and gorgeous smooth complexion.
From lush gowns to eye-catching lingerie and corsets, to skin tight latex, the event did not miss a trick when it came to erotic clothing.
Men were not left out either and wore some very intimate attire to the very minimal too.
We asked Sukki what 'Sexy' meant to her. She gave an answer you could not argue with!
"It means not being sexy for somebody else, it means being sexy for yourself. So, the way I look at sexy and sexuality is that women should feel sexy for themselves and once they do, they will exude sexiness naturally, and then people will be attracted to them."
Whiplr a key sponsor of the event presented fetish demonstrations including tying up, spanking and lots more.
Latex is something that we saw a lot of at the show and Sukki told us about the kinkiest thing she ever did, well, wore actually:
"The kinkiest thing I have ever worn is a latex cheongsam that I had made for me, which is so unbelievably tight. In order to make latex shiny, you have to lube it. So, I was walking around like some phallic cheongsam covered in lube! "
Watch our highlights video with Sukki Singapora at Sexhibition 2016
Warning – video contains adult and sexual content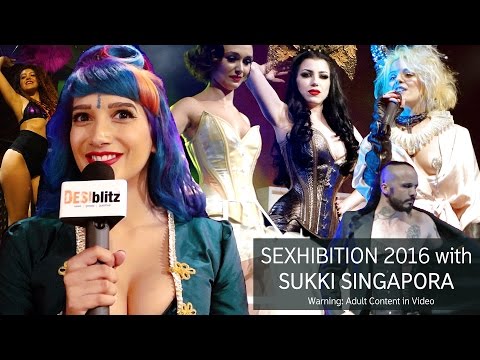 Performances on the main stage included very erotic and sensual dances by Cabaret of Sin.
Kerry the amazingly toned dancer from the duo, took a male member of the audience onto the stage for a very special and intimate lap dance, involving the squirting of baby lotion all over him with his shirt off and the loss of her breast tassels during the performance!
Upstairs at the Sexhibition 2016 venue presented a series of Burlesque performances on the 'Peepshow' stage, which was an intimate area giving audiences to be nice and close to the sexy performers such as Briar Rouge, Verity Grey and Cherie Bebe.
Exhibitors manned stalls on both floors giving the event visitors opportunities to buy clothing, sex toys, art and many other items related to erotica and sexy fun.
The Pinup Academy gave photographers attending the show a chance to shoot snaps of Sexhibition models.
Vintage style films were also shown throughout the days at the Sexhibition 2016 vintage cinema.
Workshops took place in the second building featuring free events by SMUT in the Authors corner.
Saturday night after the daytime event featured Sexhibition After Dark! Where people had tickets for a 3-course dinner and stage-based entertainment by burlesque performer Immodesty Blaize and a jazz band.
The Sunday was another jam-packed day for the final day of the event. Highlighting kink, fetishes and latex as the day's theme. Featuring fashion shows, stage shows and appearances from models like Zara Du Rose, Shelly d'Inferno, Honeyhair, Kataxenna Kova & Romanie Smith, all contributed making it a roaring success.
Sexhibition 2016 gave audiences what they came for with a good mix of sensually erotic fashion, sizzling performers, interesting workshops and a great roster of different models. The show is getting bigger and we're sure it will grow even more as interest increases in this adult and sexy side of life.
Check out our gallery from Sexhibition 2016 – Warning some images are of an adult nature.