"I was petrified and I refused to for a very long time."
Rabia Kapoor, the daughter of Indian actor and filmmaker Rajat Kapoor, tackles the struggle of being an introvert at a session with The Poetry Lounge.
The 18-year-old articulates her experience and frustration in a spoken word poem.
The teenager's charming and insightful poem speaks about the little things that introverts do to cope, like quietly sitting in corners at parties or even talking to household pets.
Reaching out to fellow introverts, she accurately describes how watching other people interact with each other can leave her feeling insecure and, in some cases, downright envious.
The footage of her bold and uplifting performance has gone viral on social media and has attracted over 75,000 views on YouTube.
Check out this remarkable piece of spoken poetry to get an insight into the mind of an introvert here: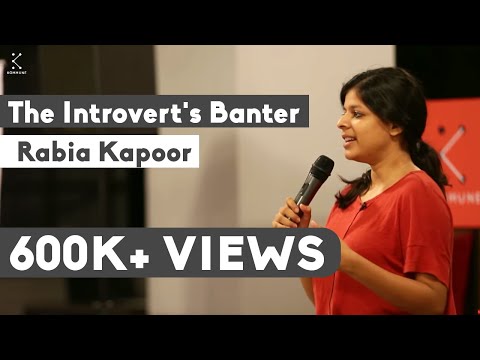 The struggle that introverts go through in situations is something most extroverts will not easily understand.
Only a few people have successfully expressed what it is like to be one.
One such as the talented, Rabia, whose meaningful performance will strike a chord with thousands of naturally shy people around the world.
Rabia says in an interview: "I don't write poems, but I wrote this when my friend convinced me to perform at Open Sky Slam. I was petrified and I refused to for a very long time.
"To know that I'd be performing on stage with a mic, in front of 300 people, and no on would interrupt me – it was a frightening thought.
"I've received messages from people about the poem, and its so overwhelming."
The Poetry Lounge is organised by The Poetry Club in collaboration with Kommune in Mumbai.
Together, they aim to dedicate efforts on discovering and creating performance art ideas, and delivering an evening of poetry exercises and shows.