"dealing with the situations that occurred in the house, it was like every day, and it tore shreds off me"
Fear, loss and hope are just some of the themes and emotions that unreservedly gush out of Lucky Roy Singh's Take A Walk in My Big Indian Heels.
'Mr Singh's Diary' is a personal retelling of the harrowing experiences of a gay British Asian man living in Manchester.
Born into a conservative Punjabi family, Laakhi Singh is a closeted gay in search of belonging and acceptance. Eventually, he meets Amrit, who shares the same secret.
Still a teenager, Laakhi falls for Amrit, and together they find they are able to come to terms with their 'forbidden' sexuality. That is until Laakhi is taken to meet Amrit's mother, a traditional Punjabi woman who appears to want what is best for her beloved son.
Initially, she welcomes Laakhi with open arms and encourages their relationship. She even offers the couple her blessing and allows them to marry. However, this is on one strict condition. That Laakhi dresses as a woman and becomes a dutiful daughter-in-law. Why? To avoid shame within the community.
Reluctantly, Laakhi agrees and finds himself in the unusual situation of foregoing his masculinity and becoming an Indian bride.
Abandoning his own home, Laakhi moves in with his husband's family and lands himself in evil hands of his mother-in-law with whom he endures extreme episodes of mental and physical abuse.
As a reader, we are witness to some terrifying ordeals in Laakhi's life – from child molestation, suicide, beatings and mistreatment as a 'daughter-in-law', to stillbirths and forced abortions.
But the book is not a work of fiction, as the author, Lucky tells DESIblitz in an open and candid interview. All of the experiences in Take A Walk in My Big Indian Heels are completely true.
Watch Lucky Roy Singh's candid interview with DESIblitz here: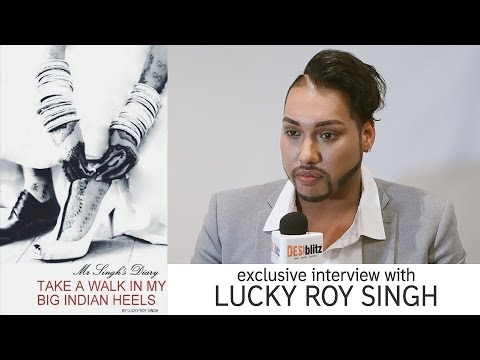 A True Story of Homophobia in British Asian Society
Where even talking about sex is still taboo amongst British Asian households, Lucky's story elevates itself to a higher taboo.
Much of the book deals with the author's struggle to come to terms with being gay. Overlooked by his traditional family, he finds himself alienated from the masses.
He reflects on how they simply ignore the fact that he is different because by sweeping the truth under the carpet they don't have to face reality.
Lucky tells DESIblitz: "This is happening, let's deal with it, and let's face that it is actually happening in our community, and let's help them. Without helping anybody, nobody gets anywhere, so you're making the situation worse."
In the book, Laakhi's best friend Ali also endures a similar torment, but rather than facing his family, he deals with his 'forbidden' sexuality in the only way he knows how – by taking his own life.
Singh recalls: "I lost my friend. He wasn't able to deal with the situation or say to himself, 'Yeah, I am gay', or tell his parents, so it was horrible."
Despite Lucky feeling that homosexuality should not be taboo, the fact that he refuses to come out to his own family confirms how it remains stigmatised by the wider community:
"I think there is more of a [gay Asian] population now, and more people are out now, but I don't think people reacting to it have changed. I still know people today who are going through what I've been through."
Take A Walk in My Big Indian Heels uncovers how pockets of British Asian society are still strict in upholding family honour and prestige through conformity.
In these situations, freedom of expression and individualism are simply out of the question. For Laakhi, it is only when Amrit enters the picture that Laakhi finds the independence to be whoever he wants to be, away from society's glaringly sinister and unapproving eyes.
It is because of this 'acceptance', Laakhi runs away from home and starts a new life with Amrit. But rather than live the openly gay relationship he so desires, he is forced yet again to live according to society's expectations – by being made to forget that he is a man and becoming a woman and a wife instead.
A Woman's Place
'After living with Amrit and his family, I learned many things. As a man, I had a right, but as someone's wife I had no rights.'
"I lost myself becoming a woman," Lucky tells us honestly. "It was quite torturous because you are put in a position that I shouldn't have been put in in the first place."
Believing that he can eventually live a normal life with his soulmate, Laakhi unknowingly enters into a new web of cultural lies and secrecy. His mother-in-law (Saas) frequently reminds him:
"A wife, a partner, and a good daughter-in-law is only as good as the heels she walks in, and to pull off all relationships, a strong balance in them is needed."
In his husband's house, Laakhi finds himself ripped of his own masculinity and as a result loses his own self-worth and identity. No longer a man, he is forced to comply to the whims of both his husband and his mother-in-law.
During his wedding, he is overwhelmed by the burdensome weights of his new gender – the heavy gold jewellery and suffocating dress that make him feel so hot and emotional.
It's empowering to see the burdens of being a daughter-in-law told from the perspective of a gay man. There is a sympathy and tenderness with which Laakhi looks at his fellow sister-in-laws and makes no arguments when it comes to doing as he his told.
But despite doing everything he can to please his in-laws, he cannot avoid his Saas' ridicule, or even society's ostracism after his wedding photos end up going viral:
"You're not my daughter in law you're a man in ladies' clothes, you're only here to serve this house as a slave and used for Amrit's sexual desires nothing more nothing less."
His rights might have diminished as a woman, but as a gay man, they seem to have completely vanished.
Laakhi's Saas is as frightening as any villain you could hope to come across in a storybook. But what makes this character more sinister is the fact that she exists in real life, and even more terrifyingly, there are more just like her hiding behind fake smiles and false compliments:
"Everybody deals with things, but dealing with the situations that occurred in the house, it was like every day, and it tore shreds off me," Lucky admits.
Take A Walk in My Big Indian Heels
"It was very emotional dealing with everything personally. But writing it into a diary and book format it was more self-healing. It helped me deal with quite a lot," Lucky tells us.
At a time when privacy in our lives has never been so important, it takes courage for someone to so honestly and unashamedly expose their painful life story for the world to see.
And the reaction to his book has been incredibly positive. Within only a short space of time, Take A Walk in My Big Indian Heels has been nominated for 'Amazon's Best Selling Book Award', something that Lucky admits that he did not expect:
"I expected a really bad backlash from it. I didn't expect the messages I received, the love and the support.
"I get mum's commenting saying, 'You've helped me deal with my children', daughter-in-law's saying, 'We're not alone, we find solace in what you've done, you've helped us deal with so many things'. I was taken aback by the support that I got."
Many readers and supporters have even called for Take A Walk in My Big Indian Heels to be made into a film, with a petition also making the rounds on social media.
Currently, Lucky Roy Singh is working on his second book, which will follow the aftermath of his separation from Amrit and how he recovers from his mother-in-law's abuse. It is set to release in July/August 2017.
Lucky may be from a typical Punjabi Sikh family but who he is and what he does defines him very much as an individual.
His story, while shocking, is truly inspirational and his bravery has empowered many others to stand up for what they believe in.