"He changed so many peoples' lives."
Eh Janam Tumhare Lekhe ('This life is dedicated to you') hit cinemas on Friday 30th January 2015, after being eagerly anticipated by both viewers and critics.
It is a Punjabi-language biopic about the philanthropist and humanitarian, the late Bhagat Puran Singh Ji. He was a rare human being who embodied the virtues of dedication, loyalty, love, and compassion.
A real-life underdog story of a man who fights against all odds to achieve his life's mission, the message of the film is sure to connect with a diverse range of viewers.
The story begins with Puran Singh's childhood, in what is now Pakistan. Raised as a Hindu called Ram, his mother tells him that there is God in all living things.
He begins to do sewa (voluntary service) at the Gurdwara (Sikh temple). Here he witnesses parents abandoning their disabled children.
When his mother passes away, he makes a vow to carry on his service to humanity. But the partition of India creates havoc and completely uproots society.
Puran Singh moves to the Indian side of Punjab. Here he finds many destitute and disabled people who have not facilities to cater to their needs.
He dedicates his whole life to the service of these people who he accepts as his family. This involves setting up the All India Pingalwara Charitable Society, which is still going strong to this day.
In the film, the role of Bhagat Puran Singh is played by Pavan Raj Malhotra. Punjabi cinema fans will be familiar with Pavan for his role as the villainous cop in Punjab 1984, in which he starred opposite Diljit Dosanjh.
He is also known for his roles in Bhaag Milkha Baag, as Milkha Singh's mentor, and in Jab We Met, as Geet's uncle.
About playing Bhagat Puran Singh, Pavan said: "It was definitely a challenging role. It was a great responsibility to act this character."
He added: "When this story was first narrated to me I was like no, sorry I cannot do this. I was then convinced by the directed Harry Singh to play the part and I accepted."
He was high in his praise of Bhagat Puran Singh. He said: "He changed so many peoples' lives and has set up something which has helped so many people.
"We all see poverty, we all see people crying for help but do we stop for them? No. We all carry on with our lives and journey. But he actually stopped and did something for people."
Dr Harjit Singh is director, and he was also involved in the story writing, screenplay, and dialogues, along with Dr Tejinder Harjit.
The soundtrack for the film reflects the rich and diverse musical heritage of Punjab, consisting of devotional bhakti sound of shabads and the earthy soulfulness of folk.
Award-winning Punjabi music artist Diljit Dosanjh sings the catchy folk tune 'Sunn Ve Poorna'. Harshdeep Kaur performs a slow emotional number, 'Lori'.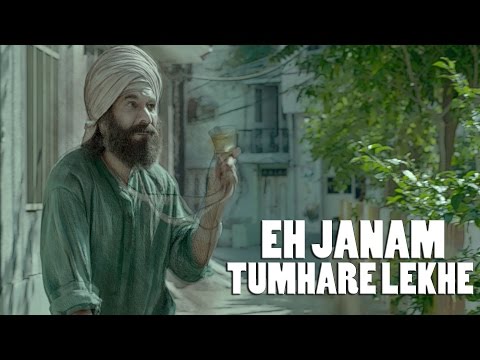 The title track is performed by Javed Ali, who also sings 'Main Prem Na Chaakhya'. Other tracks to listen out for are 'Baata' by Vicky Bhoi and 'Mil Mere Pritam' by Manna Mand.
A tribute to the life of the late Bhagat Puran Singh, Eh Janam Tumhare Lekhe is a truly inspiring tale which will guarantee to evoke a full spectrum of emotions from viewers.
Furthermore, the film will almost certainly provoke many talking points about the way that disabled and destitute people are treated.
Eh Janam Thumhare Lekhe was released internationally on Friday 30th January 2015.