"You can be whoever you want for Halloween and not feel any limits."
Wonder Woman hails as a celebrated character from comics, TV shows and films. Often a popular look for many cosplayers, but what about an Indian Wonder Woman?
Well, Deepica Mutyala did just that by dressing in an outfit on her Instagram and producing a YouTube video of this South Asian styled Wonder Woman!
The photo of her donning the Wonder Woman look but with an Indian twist has attracted a lot of interest on social media and forum platforms.
The image shows her gazing straight at the camera, with the iconic red and blue uniform. However, the starlet gives it a special Desi spin through her glamorous jewellery.
Instead of a tiara and gauntlets, Deepica dons a beautiful maag tikka, containing vibrant rubies and dazzling, chunky bracelets. For her cape, she wears a cream, sheer sari.
With her hands decorated in beautiful mehndi designs, she replicates the famous Wonder Woman pose. Crossing her arms over, as if ready to take on a superhero fight!
Deepica has created this look in a YouTube video using the #BEYOUROWNPRINCESS. Published on her YouTube channel on 26th October 2017, she explained more on the reasons behind the look and movement.
She said: "The larger picture was to get a point across that you can be whoever you want for Halloween and not feel any limits."
The starlet had originally taken to Instagram to ask her fans what type of looks they wanted to see from her. As a result, the hashtag #BEYOUROWNHERO arose. But why Wonder Woman?
Deepica explained:
"It was perfect because I was super inspired by the film Wonder Woman that came out earlier this year and everything her character stands for in it. She is strong, fierce and brave."
Watch the transformation video here: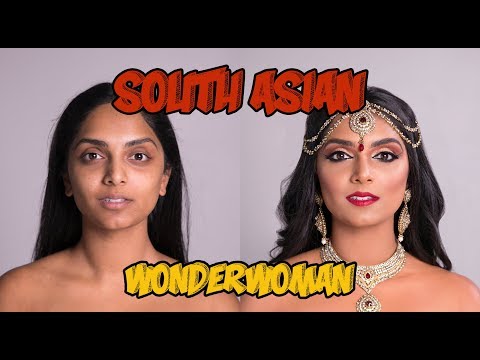 She even revealed how the transformation helped her on a personal level. Battling through depression and anxiety, Deepica aimed to build positivity in her life, finding inspiration from the 2017 superhero film.
"Be Your Own Hero was made for my followers but also for personal healing and a reminder to myself. Everyone has a little Wonder Woman in them – use that to create what works for YOU!"
This outstanding cosplay gets top marks from us. We love how Deepica has injected South Asian twists to the iconic outfit.
In addition, her message on being you who want to be is truly inspirational. Especially for those who may feel they couldn't cosplay as their favourite characters.
But we do wonder if Gal Gadot, the actress who plays the superhero herself, has seen the viral image? Or are Bollywood producers lighting up with ideas!