While we know little of him so far, many hope Bayek will hold charming traits to his character.
Let's face it Assassin's Creed fans – the main series has faced a tough time in recent years. Now, after a two-year hiatus, it finally returns with Assassin's Creed Origins.
While many appear excited about this latest arrival, others will hope it brings back the franchise to its top form. But will it create a true resurrection, or will it fail to shine like its earlier predecessors?
In the past, we've seen titles such as Unity and Syndicate sadly crash. As the former became infamous for its bugs and glitches, the latter took the dent by suffering low sales.
In addition, the franchise has suffered critiques revolving its protagonists and storyline.
The game comes at an important time for the Ubisoft-created franchise; 2017 marks its ten-year anniversary. After two long years, both casual and dedicated fans hope it will hail as a title truly worth playing. But what ingredients would it need?
DESIblitz takes a look through the Assassin's Creed history and what Origins need to bring the series back to life.
A Truly Likeable Protagonist
For some, protagonists have always felt 'hit and miss' within the Assassin's Creed series. Take the comparison between the likes of Ezio (II, Brotherhood, Revelations) with Conor (III).
One could arguably say that Ezio hailed as one of the greatest characters during the PlayStation 3 era. With an infectious, charismatic personality and his motivations lying first in his family and later with the Brotherhood, Ezio quickly became a fan-favourite. So much so, he stayed in the series for three titles.
Compare with him with Conor. A character who holds the same motivations, yet felt poorly created. Throughout the game, his cold, emotionless persona (mixed with a monotone voice) felt an abrupt departure from the likeable Ezio.
In Syndicate, we witnessed two protagonists: Evie and Jacob. But with constant alternating missions between the two, it felt hard for many to connect with them.
Ubisoft has gone back to the sole protagonist, this time featuring Bayek; "a master swordsman and trained killer". While we know little of him so far, many hope he will hold charming traits to his character.
If he hails as a truly likeable protagonist that players can connect with, Assassin's Creed Origins has a chance of succeeding.
Compelling Narrative
Ask any Assassin's Creed fan why they fell in love with the series and they'll often say the storyline. A narrative that plays around with history and religion, creating an intriguing and compelling plot players are eager to uncover more of.
In addition, earlier titles focused on the modern day narrative as well as the past. While the likes of Altair and Ezio fought Templars, assassin Desmond battled against their modern-day counterpart, Abstergo. However, Assassin's Creed III marked a significant change to this – Desmond's death.
Since then, as each new title arrives, it focuses less and less on the modern day storyline. An aspect that may not bother causals, but could certainly irk long-time fans. One could even suggest that it's affected the main narrative; with the plot losing direction in recent titles.
Judging from the title 'Origins' and the location of Ancient Egypt, it appears we will see the fruition of the Brotherhood. With figures such as Cleopatra and Julius Ceaser added into the mix.
Perhaps with going back to the roots with its plot, Ubisoft will go back to what made the franchise so popular. Once again playing with history and religion, embedding real-life figures into the plot and a focus on the modern-day, the franchise can return to its compelling narratives.
Streamline Gameplay
Ever since the original Assassin's Creed received complaints of repetition, Ubisoft has aimed to deliver riveting gameplay. With an array of weapons, techniques and traits, players can either takedown enemies as a true assassin or jump straight into action.
Developers have even added new mechanics such as operating ships in Black Flag, yet some felt disappointed with Syndicate. With some experiencing difficulty in operating horse carriages and a lack of ground-breaking mechanics, Origins needs to ramp up the gameplay.
Ubisoft has promised an overhaul on combat; giving more players better control in their position and timing in fights. The developer have also made a bigger focus on quests; instead of just simple side quests, they "will paint a larger picture of the world and its people".
If Ubisoft's promises do indeed come true and the gameplay offers a smooth, fun experience, they will be onto a winning formula. However, it's important to note there's no multiplayer, similar to Syndicate. Could this be a huge risk or actual benefit to the single-player campaign?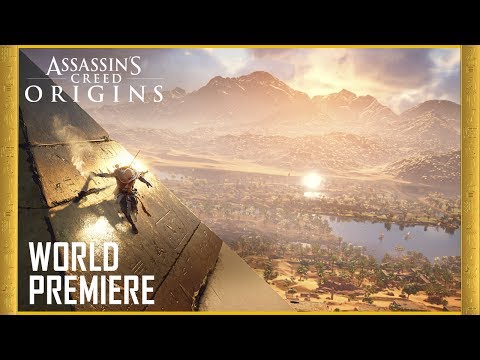 With these three ingredients, Assassin's Creed Origins could have the potential of resurrecting the main series to its top form. However, this really depends on whether Ubisoft takes these factors, which helped its success in the beginning.
As mentioned earlier, 2017 marks the ten-year anniversary, which means many will have high hopes. Surely then, after the mishaps in titles such as Unity, Ubisoft will take care to avoid a repeat of such mistakes.
The series hails as one of the most popular and best-loved franchises in modern times. This then presents the ideal opportunity for the developer to bring it back to former glory.