"I love wearing salwar kameez, especially on occasions"
One of the most popular South Asian ensembles, salwar kameez has been around for centuries and over time has evolved in style.
Typically, the outfit comprises of three parts: a salwar, a kameez and a dupatta.
The various forms of styles enhance the beauty of the ensembles from trouser suits, Anarkali suits, dhoti salwars to wide-leg salwar kameez, there is a style to suit everyone.
Not only that, but this form of the ethnic ensemble can be purchased in numerous colours, prints and cuts. The options are endless.
Made for both women and men, salwar kameez can be worn casually at home or for a more lavish occasion like a wedding or festival.
Historically, salwar kameez was worn by the Mughals during their reign in India. It was also known as the dress of the Punjab region.
Traditionally, salwar kameez is also the national dress of Pakistan since the 1960s. Its popularity has become widespread throughout the world.
South Asians in the UK, USA, Canada and more wear this Desi outfit as a means of staying in touch with their ethnic roots.
We explore the various aspects of a salwar kameez and how to wear it.
Kameez
A kameez is described as a long tunic worn with a salwar. A kameez is available in several different styles, cuts and fits which enhance the aesthetic appeal of the entire outfit.
For example, you can play around with the length of the kameez from long to above the knees to short.
A long kameez is great for any body shape as it creates the illusion of a long, slender silhouette.
However, those with a shorter top-half should probably steer clear of a short kameez as it can make you look bulky.
It is important to note that various body types will suit particular kameez styles. It is just a matter of experimenting with different styles to find out what suits you best.
Another aspect of a kameez to consider is the fit. This means you must be mindful of whether you want a figure-hugging fit or a baggy silhouette.
A kurta looks better with a baggy fit for that effortlessly chic look while a long kameez suits a tight fit.
Other details to take into consideration are sleeve styles and the neckline.
In this instance, short sleeves, bouffant sleeves, flared sleeves and more add a touch of elegance to the kameez.
Similarly, the neckline can be altered to suit your style. For example, a low neckline will add a sultry touch while a high neckline adds an elegant touch.
Speaking exclusively to Shanaz about her favourite kameez style, she revealed:
"I love wearing salwar kameez, especially on occasions like a wedding or Eid. It just makes you look good and you feel great as well as comfortable.
"My favourite kameez style has got to be a short kameez with flared sleeves and a round neckline.
"I love this style with a Patiala salwar for a complete regal look."
Salwar
A salwar is defined as trousers which cuff around the ankles and are donned with a kameez.
They can be found in an array of styles such as:
Dhoti
Palazzo
Churidars
Patiala
Slim-fit
Straight-cut
Harem
The aforementioned are just a few from many styles. Salwars make an outfit beautifully stand out.
The textures, prints, embroidery and colour combinations complement the aesthetic appeal of the entire outfit.
While a kameez can enhance the look, it is believed a salwar ties the look together.
DESIblitz exclusively spoke to Asma about her favourite salwar styles. She said:
"My favourite salwar style has got to be slim-fit trousers. This is because you can wear them with both a short and a long kameez.
"Also, I am someone who has long legs and I love the way slim-fit trousers perfectly frame my legs and accentuate them."
Naala
A drawstring, popularly known as a naala is a crucial part of a salwar, however, it is often overlooked.
Despite the naala not having aesthetic value to the overall look, it is required to hold a salwar up.
A naalas is a thick piece of string which is put through the salwar using a naala stick or even a pencil.
The trick is to fold the naala over the stick or pencil and gradually feed it through the top of the salwar until it reaches around.
This can then be adjusted around your hips and tightened as required.
Alternatively, elastic can be used as a more permanent alternative as it does not need to be removed once in.
Watch how to put a Naala through a Salwar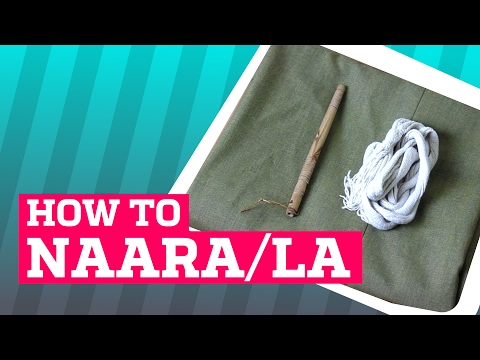 Different Styles
When it comes to considering which style of salwar kameez to opt for, there is a wide range available. We have selected some of the most popular styles which are worn worldwide.
Anarkali Suits
One of the most popular types of salwar kameez worn during the Mughal era was Anarkali suits which continues to be worn in modern times.
An Anarkali suit comprises of a long frock-style top paired with churidar trousers [slim trousers].
The beautiful silhouette cinches at the waist and flows effortlessly down the body.
Traditionally, it was considered to be a form of grandeur, power and wealth which was associated with the nobility.
The intricate embroidery and luxurious fabrics make this style one of the most opulent forms of salwar kameez.
In modern times, an Anarkali suit is commonly worn for a wedding or other lavish occasions. The beauty associated with this ensemble is truly unprecedented.
Dhoti Salwar Kameez
The dhoti outwardly resembles trousers which are paired with a kurta. Conventionally worn by men, dhoti salwar is gaining popularity in women's fashion.
A dhoti is constructed from an unstitched rectangular piece of cloth usually 4.5 metres long.
The fabric is then wrapped around the waist to form u-shaped pleats which are tied into a knot at the front or back.
Dhotis can be found in solid colours or printed patterns and are made from silk, cotton and more.
Dhoti salwar outfits can be worn casually at home, to run errands or for festivals.
Usually, South Indian men wear dhotis teamed with embroidered kurtas for formal occasions.
As time has progressed, women have also started to adopt dhoti style suits into their wardrobes.
Undoubtedly, they look stylish and sleek for women especially those who have a slender figure.
Patiala Salwar
Originating from Patiala, Punjab, Patiala suits were worn extensively by Punjabi royal families before being worn by other women across India.
The beauty of Patiala suits lies in the salwar which features pleats from the hip down to the cuffs.
The baggy salwar looks best teamed with a fitted short kameez. This is because it creates the perfect fit and flare ensemble.
This type of salwar kameez can be worn at home in a plain fashion or for a wedding with extravagant embroidery on the kameez and cuffs of the salwar.
Palazzo Salwar Kameez
This form of salwar kameez style is a perfect example of fusion outfits (Indo-Western) which look and feel amazing.
The wide-leg trousers drape effortlessly down the frame of your legs. The great aspect of this outfit option is that almost any type of kameez/top can be paired with it.
These include kurtis, crop tops, long kameez, short kameez, Anarkalis and much more.
Regardless of your body shape, palazzo outfits suit everyone as they elongate your figure.
As well as the different styles mentioned above, there are various other types worthy of mention.
These consist of Afghani salwar suits, straight salwar kameez, shararas, harem salwar and many more. With the progression of time, we are sure many more styles will come into existence.
It is important to consider all elements of a salwar kameez which will, in turn, help you select the best ensembles to wear.