So, why waste any more time?
During this difficult and chaotic time sometimes exerting a little order is extremely beneficial and what better way than to declutter your wardrobe for post-lockdown.
While many countries are currently following social distancing and lockdown guidelines, people are being urged to stay indoors.
Our daily lives have drastically changed. Despite being confined in our homes, it can appear to be a rather daunting space as we are not used to spending most of our time indoors.
In this instance, you must try to adopt a positive mindset in order to transform your house environment in an optimistic way.
A great way to do this is to think about what you plan to do once the lockdown is lifted.
It is important to remember that this difficult time will pass and normality will be regained.
Whether you are loving or hating being in your pyjamas or loungewear every day, once the lockdown is lifted, you will be rummaging through your wardrobe.
So, why not think ahead and declutter and reorganise your wardrobe, something you have probably been putting off for a long time.
Now you have the time to make this task a priority and we are here to help guide you along the way.
Take the First Step
Decluttering your wardrobe is certainly not an easy task and you will probably find items of clothing you forgot you owned.
This tends to happen as we buy newer items of clothing, the older ones get pushed to the back of the wardrobe where they are forgotten.
The most difficult part of the revamp plan is actually taking the first step and getting started.
To do this, first, remind yourself that you will be thrilled with the results and that it has to get messy before it starts to come together.
Once you have done this, grab some black bags and begin to empty your wardrobes one by one. It is advised to start small and then getting better.
This means to reach for your underwear drawer and get rid of those undergarments which have seen the last of day.
This is when the black bags will come in handy as you will certainly not need them post-lockdown.
Work your way around strategically emptying your sock drawer, pyjamas drawer and more.
After this, it is time to put the items of clothes you want to keep back in their respective drawers.
It is best to take your time with this part as you will want to ensure everything is put back in an organised manner.
Watch Video on How to Organise your Underwear Drawer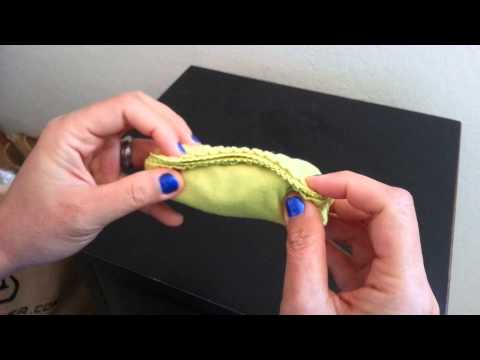 Transform Everyday Essentials
Whether you are an avid fashion lover or not, there will be particular items of clothes which you will find yourself frequently reaching for.
These include your favourite jeans, jumper, tee, perfect black dress and more.
Irrespective of what it is, everyone certainly has their own wardrobe favourites which act as the foundation of their outfit.
Even though those who are working from home, may only be getting half-dressed to attend Zoom meetings, post-lockdown, everyone will have to get fully dressed again.
Therefore, set aside your favourite everyday essentials but be strict with what you wish to keep. The rest can be bagged up ready to donate later.
Set aside your absolute favourites for the time being and grab hold of items of clothes which you do not mind reinventing.
Take a moment to think about how you can revamp your everyday essentials to create new outfits.
This may include adding lace or prints to your jeans or trousers, turning your plain tee into a brand new top and more.
This will allow your creative juices to flow with a little bit of DIY. You will surely surprise yourself.
Organise your Favourites
Alternatively, if you are not keen on restyling your clothes then another way to revamp your favourites is to build your wardrobe around them.
This simply means putting together different outfit options which you can hang up in your wardrobe.
To do this, put on your treasures and team them with different blouses, jeans and so on depending on what the item of clothing is.
This method will allow you to see what works best with your favourite pieces of clothing.
For example, grab your favourite blouse and try them on with different trousers and jeans to see which style suits best.
Do not forget about your coats, jackets and cardigans. These will make your outfits suitable for the colder months.
Hang your constructed ensembles together in your wardrobe. This will also save you time post-lockdown when you are rushing to get ready for work in the morning.
While doing this, make a note of any specific colour or particular style clothes you are missing in your wardrobe.
Once the shops reopen post-lockdown you can use your notes as a future shopping guide.
Summer & Winter Wardrobe
Whether you live in the UK or abroad, there are certain styles of clothes which will suit the weather.
During the summer, people will be more inclined to reach for their dresses, shorts, wide-leg trousers, t-shirts and cotton salwar kameez.
On the other hand, in the winter, people will opt for their chunky cardigans, coats, jumpers and thicker ethnic wear.
Therefore, it is a good idea to separate these items of clothing based on the time of the year.
This will help you organise your wardrobe making it easier for you to find the appropriate clothes based on the weather post-lockdown.
However, be sure to remember that the concept of having a summer and winter wardrobe is interchangeable, especially if you live in colder climate countries like the UK.
Make Space for Ethnic Wear
While it is great taking time out to sort our wardrobes, our ethnic wear should not be neglected as it requires more attention.
Undoubtedly, over the years you must have acquired a staggering amount of ethnic clothes including salwar kameez, sarees, anarkalis and much more.
When tackling this side of your wardrobe there are two ways of organising. You can divide your ensembles into categories such as casual, formal wear and party wear.
Once you have done this, try on and see which clothes fit well and you wish to keep. The others can once again be put into a bag to be donated later.
Hang up your ethnic wear according to colour. This will make it easier for you to identify which ensemble you want to wear.
Alternatively, you can pack away your fancier outfits into a suitcase. This is because you will occasionally reach for them post-lockdown.
It will also help you save space in your wardrobe ready for you to purchase new clothes after the lockdown is lifted.
Decluttering your wardrobe has also been a recent popular trend on social media as many Instagram influencers are sharing their tips and tricks.
So, why waste any more time? Make it your lockdown project to declutter your wardrobe. You will surely thank yourself for doing so once the lockdown is lifted.