Flamenco is famed for its descent from the ancient dances of Indian Hindus.
To welcome Autumn in Spain this October, Flamenco India brings with it a popular 'cultural extravaganza'.
This powerful music and dance showcase was held at Valladolid's Calderón Theatre on October 1-4, 2015.
Award-winning filmmaker Carlos Saura directed the performance, which beautifully tied the links between Flamenco and diverse Indian music.
Choreography for the Indian dances was put together by Santosh Nair, while France-based Ravi Prasad charmed with his electrying music.
Flamenco India exhibited 'the best of flamenco's passion and vibrancy in hand with the genius and richness of Indian dance and music traditions'.
14 Indian musicians and 14 Flamenco dancers presented stunning performances, from Rajasthani desert music to Bharata Natyam (sacred temple dance of South India).
But their unique creativity truly came through in a show that combined martial arts, such as Kalaripayattu and Chhau, with contemporary Indian dances.
All the artists had been living and working together for several months in preparation for this performance.
Their bond off stage translated on stage in the way they moved in unison and interacted with each other with sparkling chemistry.
Not only did Flamenco India entertained with dance and music, it was also an 'audiovisual feast' where 18 brief but intense hypnotic scenes explored the bonds between Flamenco and Indian dance through dialogue.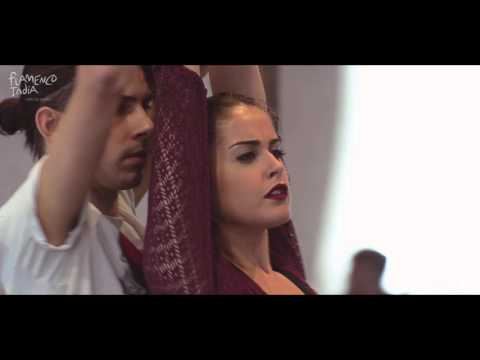 Director Carlos Saura believes Flamenco is the perfect dance style to marry up with Indian music, because of 'its rhythmic diversity and its flexibility'.
More notably is 'its oriental reminiscences, especially from the Arab world and also from Gypsies who migrated from Rajasthan to Spain'.
He adds: "Flamenco is today prepared to walk along the road to a promising future. It is that flexibility that allows for the engagement of Indian musicians with certain rhythms in Flamenco."
Sanjoy K Roy, the Managing Director of Teamwork Arts says: "We are delighted to partner with Teatro Calderón, Casa de la India and the City of Valladolid in bringing this project to life!
"The project marks the long term relationship between India and Spain."
Flamenco is a Spanish musical and dance genre that is globally recognised for its passion. It can be expressed through singing, guitar playing, dancing, hand-clapping and finger-snapping.
Just like a Spanish woman in a red ruffle dress, Flamenco is known for its emotional intensity, bold attitude and the outstanding entertainment it provides.
It is also famed for its descent from the ancient dances of Indian Hindus. Although many of the Indian features from this dance are now shed, they still have a few key stylistic moves in common.
For example, the upper body and arm movement of Flamenco are very simliar to that of Bharata Natya. The focus on rhythmic and intricate footwork is also found in both Flamenco and Kathuk.
The two complement each other so wonderfully that there is clearly room for more Indo-Spanish productions and the return of Flamenco India!