"This was one platform where everyone got a very good opportunity to showcase their best."
Elegant, contemporary fusion couture. This is what the audience of the Faisana Fashion Weekend were treated to on their 'Champagne, Canapés and Couture evening' at the Mayfair Hotel in London on May 2nd, 2014.
Bringing together India and Pakistan, the show displayed the latest designs from six of South Asia's most celebrated designers.
Pakistani designers were Nida Aswer, Umar Sayeed and Sania Maskatiya; and from India, designers included Anita Dongre, Rina Dhaka and Bhairavi Jaikishan.
Speaking to DESIblitz about this unique event, British Asian actress and model Sabeeka Imam told us: "We had designers from India and Pakistan, so it's nice to have a fashion show with both of these designers from both countries under one roof."
Organised by two distinct South Asian distribution companies, Aamna & Aisha and Radhika Hasan, Faisana also featured a performance from the legendary Kathak dancer, Fasih Ur Rehman.
Prior to opening, audiences filled up the prestigious Crystal Room, with many notable celebrities making an appearance, including Indian model Nina Manuel, Bollywood actress Madhoo, Pakistani actress Ainy Jaffri, British Asian actress Meera Syal and British Asian fashion designer, Mani Kohli.
Speaking after show, Mani told us: "I think we always get to see the best out of Asia and this was one platform where everyone got a very good opportunity to showcase their best, and what we got to see was beautiful."
Other guests included friends of Aamna, Aisha, and Radhika Hasan, who were part of the affluent expatriate South Asian population that divided their time between the UK and Pakistan or India. This reflected the target audience of the fashion show, where the organisers have the aim of bringing high end Pakistani and Indian fashion to London at local retail prices.
The fashion show began with the common dilemma faced by many British Asian women, 'Have you ever been invited for an event and thought, I have nothing to wear?' For events ranging from a casual lunch with friends to a grand wedding, there is always a desire for something new, intricate yet practical, unique but not too much of a splurge.
Doing all of the hard work for us, Aamna & Aisha and Radhika Hasan have brought to London a mixture of designers and collections that cater to every British Asian woman's need.
Rina Dhaka opened the show with her 'Jharoka' collection, influenced from the historic Awadh region in India. The collection was very original, experimenting with different patchwork and vibrant shararas demonstrated her passion for blending old with new.
Telling us about her colourful collection, Rina said: "It's like a potpourri of colour and it's wedged in between embroideries like patchwork."
Next was Sania Maskatiya, whose focus was African print in her collection, 'Kaumka: The Awakening'. The funky fusion silhouettes and quirky prints will be a sure favourite for the summer.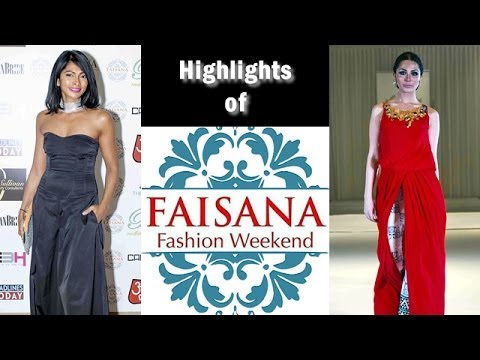 This was followed by Bhairavi Jaikishan, bringing a collection that she considered was a celebration of life, called the 'English summer'. Bhairavi had experimented with tones of beige that she had never used before. The collection ranged from daytime tunics to party lehengas, catering to every event.
The audience were then delighted by a graceful Kathak performance from Fasih Ul Rehman. Having been a disciple of Kathak maestro, Maharaj Ghulam Hussain Kathak, one would not have expected anything less than the flawless performance Fasih delivered.
After this entertaining interval, the runway resumed with Pakistani designer, Nida Aswer next on stage. Nida presented her 'Kothari Parade II' collection, that brought alive the ruralness and authenticity that underpins each of her designs through elaborate Mughal era silhouettes. Nida's designs featured Miniature embroidery, resham, zardozi and gota work.
Anita Dongre was the next designer who also brought 'gota patti' embroidery and Rajashtani influences in her 'Jaipur Bride' collection. Anita brings a traditional look that is also versatile and practical; this is a sure favourite for British Asian brides who prefer not to carry kilos of heavy embroidery with them on their wedding lehengas.
Ending the show with zest and zeal was the one and only Umar Sayeed who brought on his Spring/Summer 2014 collection. This consisted of saris and cocktail dresses in pure silks, chiffons and hand looms. Umar creates simplicity in his own form. Who would have thought simplicity could look so beautiful?
Without a doubt, alongside Indian fashion, Pakistan fashion has also changed considerably over the last 20 years that Umar has been in the business. Speaking about this new and evolving Pakistani fashion, Umar says:
"It has been changed a lot, it has been evolved a lot and it's been recognised now. We are doing very international work which is very good."
Faisana Fasion Weekend was a huge success, and the audience greatly enjoyed the 'Champagne, canapés and couture evening'. The designs are definitely what the British Asian women are looking for; a unique fusion of east meets west that carries practicality and versatility.
Aamna later said: "I think I'm relieved, it's been a lot of hard work. We've been work on this for a lot of months now and I'm glad it went well."
Fortunately these couture designs come at a reasonable cost, and not the high price tags of many top designer pieces from India and Pakistan.
If Aamna & Aisha and Radhika Hasan can make their promise of bringing such exquisite designs at affordable prices into reality, then mass popularity in the UK can most definitely be achieved.