"Though action role suited my body best but I always enjoyed doing comedy films."
So, 1+1=2 but what if 1+1=4? Legendary actor Dharmendra stars in his first Punjabi film, Double Di Trouble, with Gippy Grewal playing as his son.
The two famous actors play a double role in the film, hence the title, Double Di Trouble. The story revolves around a father and his son who discover that they have duplicates in a different city.
Manjit and Ekam meet Ajit and Fateh, and the errors, confusion and entertainment begins.
The locals and supporting cast continually get the look-a-likes confused, and the situation becomes more dumbfounded when the duos start behaving like old friends. Very confusing stuff!
Double Di Trouble is directed by Smeep Kang, who has also directed successful Punjabi movies such as Carry on Jatta (2011) and Lucky Di Unlucky Story (2013).
Double Di Trouble is produced under the banner Mukta Arts and the movie is to be distributed internationally by B4U.
The producers of this film, brothers Ashok and Subhash Ghai, are well-known for their film making abilities in Bollywood, with movies such as: Khalnayak (2013), Ram Lakhan (1989) and Yaadein (2013).
Based on one of Shakespeare's early plays, The Comedy of Errors, the new adaptation has been interpreted with a Punjabi twist. The movie was mostly filmed around Chandigarh, and Dharmendra and Gippy take on these challenging roles to produce an entrancing comedic movie.
Gippy Grewal has already established his space in his acting career with blockbuster hit Punjabi films like Mel Karade Rabba (2010), Singh Vs Kaur (2013), Best Of Luck (2013), and Lucky Di Unlucky Story (2013).
Gippy has proven not only to be an incredible singer but also a very talented actor. He is now acting alongside yesteryear's Bollywood movie star Dharmendra who is now debuting into Punjabi Cinema as a main lead instead of a guest role.
Dharmendra adds that he was keen on starring in a Punjabi film for a long time, and was waiting for the right script to come along:
"I was looking for a good script in Punjabi film and when I got this film, which is based on one of my favourite comedies by Shakespeare, I readily agreed to be a part of it."
The legendary actor also added that while comedy is his favourite genre, it is a difficult one to get right:
"It's tough to make people laugh. You can make people emotional easily but you can't make them laugh that easily. Though action role suited my body best but I always enjoyed doing comedy films," he explains.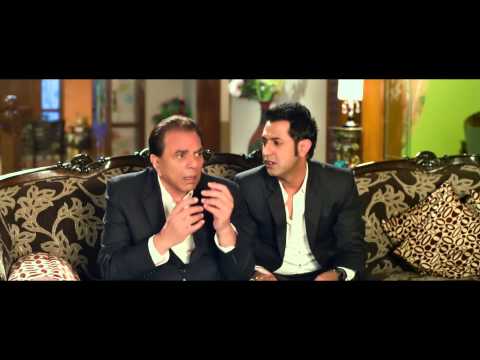 Gurpreet Ghuggi known to always play the comical role in many Punjabi movies said: "It is my privilege that I got a chance to work with the legend and very talented actor of Bollywood Dharmendra Ji and I am also very grateful to Mukta Arts, a banner of Shubhash Ghai who has given me a chance to portray this character."
Gippy added: "This is the first time a Punjabi Movie has taken on a double role situation, after adopting the Shakespeare's Comedy of Errors concept.
"This is Dharam bhaji's first Punjabi film as a main actor instead of a guest role and also a big film for me as my dream has come true, acting alongside a big artist.
"I hope everyone will enjoy this film, all types of small relationships like daughter in law, brother in law, father in law etc. are covered in the movie."
This is also the first Punjabi film to get tech-savvy; Happy New Year is not the only movie to communicate through Apps on handheld devices; Double Di Trouble is launching an interactive app for their fans.
The user will be able to access movie information from the app and at the same time add dialogues to movie stills to create a film of their own. Users will be able to share their creativity through Facebook with family and friends.
Regarding the movie, audience and application, Ashok Ghai said: "The best team of Punjabi film industry has made this film and now this mobile application will connect us directly to the audience."
The soundtrack has a total of 9 songs, composed by Jatinder Shah Meet Brothers, Anjaan, Rahat Fateh Ali Khan, Popsy, Pav Dharia. Gippy Grewal, Jazzy B, Ranjit Bawa, Kenny Chhabra and Khushboo Grewal have lent their voices for soundtrack.
About the music of the film, Dharmendra said: "The music is one of the major ingredients of Punjabiyat. The music of this film will make you laugh and dance. I am happy to see such great musical talent in Pollywood."
Speaking on behalf of Speed Records, Dinesh Aulakh said that the music of this film is very different from previous films.
The soundtrack consists of the 2 title theme songs, 3 traditional style Punjabi dance songs, 3 hip-hop modern dance songs and 1 romantic number.
The music certainly is up-to-date and fits with the Punjabi concept by capturing the Punjabi "feel" with the 'Putt Jattan De' type song, as well as being current and modern.
There are a lot of hopes for this movie, what with Dharmendra's debut and Gippy Grewal's growing acting career. This comedy duo will be causing trouble on the big screen with Double Di Trouble releasing from August 29, 2014.