"I love my fans, they all support me, and I give them all of my love."
With a huge array of hit songs and blockbuster films to his name, Diljit Dosanjh is perhaps the most famous faces of India's Punjab and an icon in the Punjabi industry having delivered some of the biggest Punjabi films to date.
While today he is known for his romantic and comedy film roles, Diljit initially began in the music industry where he first made a name for himself both in Punjab and across the globe.
In an exclusive Gupshup with DESIblitz, Diljit says: "My musical journey began from when I was little and it is still continuing today."
Born in a village called Dosanjh Kalan in Jalandhar, Diljit spent his early childhood in the village, before moving to Ludhiana for his further education. His passion unknowingly started when he started singing religious songs at the local Gurdwara as a child.
Finding a natural and raw talent, he began to pursue his singing further and eventually secured an album release with a recording company called Finetone, under the popular T-Series label.
Released in 2000, the album, entitled Ishq Da Uda Ada, secured his place as a future star of Punjab. Propelling him into the limelight, the album also secured Diljit his first recorded mainstream performance of the title track 'Ishq Da Uda Ada', from the same album which also included a music video.
He has since collaborated with some famous names of Punjab, including Miss Pooja ('Nachdi De', 2009) and Yo Yo Honey Singh, where he released the songs, 'Main, Me and Myself', 'Bhagat Singh, 'Dance With Me' and 'Goliyan'.
While still a big name in the music industry, the singer then began his journey onto the big screen, and found a new direction of talent, with acting.
While having already lent his vocals for the title song of the film Mel Karade Rabbe (2010), for the main protagonist Jimmy Shergill, Diljit starred as the main lead in the 2011 film, The Lion of Punjab.
Sadly, the film was a complete flop for the debut actor, but Diljit was saved by his movie song, 'Lak 28 Kudi Da' featuring Honey Singh, which soared to Number 1 in the UK Official Asian Download Chart.
His next venture saw him accompanied by seasoned actor Gippy Grewal and the Canadian beauty, Neeru Bajwa. The film, Jihne Mera Dil Luteya (2011) fared much better and was considered a hit. Speaking about his move into films, Diljit says: "Of all the films I have done, every film has been an amazing experience."
Arguably, his biggest success in the film industry to date has been Jatt & Juliet (2012) – one of the biggest Punjabi hits of all time. Again, with Neeru as his love interest, the pair have become one of the most popular on-screen Punjabi Jodi's among fans.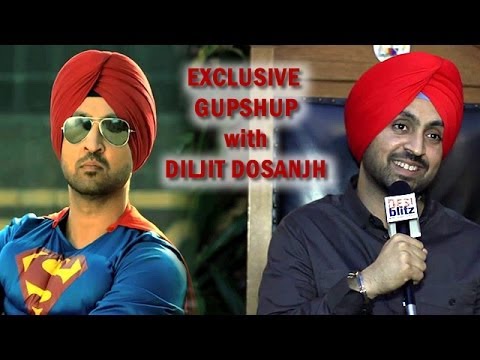 The film also rewarded Diljit with the PTC Punjabi Film Best Actor award, and director Anurag Singh decided to release a sequel called Jatt & Juliet 2 in 2013. The sequel proved just as popular as the first, and became the highest grossing Punjabi film ever, making Rs 42.2 crores at the Box Office.
Diljit's album, Back 2 Basics (2012), has proved to be his most successful and critically applauded album to date. Produced by the British Asian producer, Tru-Skool, it features the hit song, 'Kharku', which has won numerous awards including the PTC Punjabi Music Award for Best Pop Vocalist and Bhangra Song of the Year.
The album also earned Diljit several Brit Asia TV Music awards including Best International Act, Best Album and Best Bhangra Single for 'Kharku'.
'Proper Patola' featuring Badshah released in 2013 became another smash hit for the singing sensation. The music video which was shot in California crossed the 3 million views mark on YouTube in only 3 months, and was also the first Punjabi song to be featured on Vevo.
The collaboration with Badshah cemented Diljit's global star status with its mellow music beats that were a nod to Western influences and references. A perfect sound for this 'Urban Pendu', which incidentally is also Diljit's own brand name.
His latest projects include the hilarious Disco Singh (2014) and upcoming films Punjab 1984 and Mukhtiar Chadha; both films that see Diljit in a serious role.
A student of Gobinder Singh Alampuri and Kartar Singh, he has made an individual space for himself in the widely loved Punjab Industry. It's very hard to see a singer being as successfully in acting in the Indian Industry.
Diljit admits that he looks up to Gurdas Mann for this very reason – because he has proved his worth not only as an incredible vocalist, but also as an enthralling actor. By proving himself, Diljit has bought hope for many singers who would otherwise be typecast in that genre of art only.
Diljit is a strong believer that it is his fans who are the reason for his international stardom: "I love my fans, they all support me, and I give them all of my love," he tells us.
Diljit Dosanjh generally radiates endless energy in his smile and how he carries himself. Hence, just like him, his performances are perceived as innovative and hugely enjoyable to watch. With that in mind you would want to catch up on one of his performances in UK in his first ever tour. It's worth going and seeing the humble artist do what he does best – entertain his fans with his multitude of personality, charm and talent.