The raunchy lyrics and sensuous moves had viewers hooked to their screens.
There is something magical and exhilarating about raunchy Bollywood item numbers that makes people want to groove.
No Indian film is complete without them, and no Indian wedding after-party gets going until the bride and her friends do a perfect rendition of 'Chikni Chameli'.
And since no Desi heart can skip a beat when listening to these dance numbers, let us dive into the world of Bollywood dance with our favourite musical tracks from Indian cinema.
Here are our top 10 Bollywood dance sequences to get you in the mood to groove.
1. 'Chikni Chameli' (Agneepath, 2012)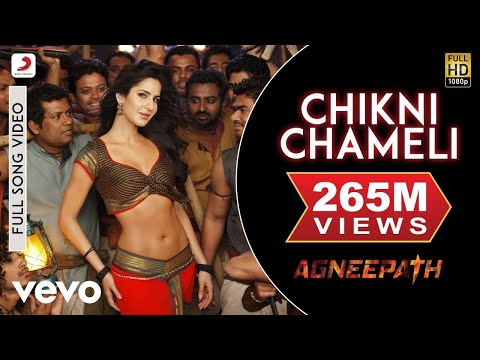 Taken from the movie Agneepath, 'Chikni Chameli' sees Katrina Kaif in an 'amchi Mumbai' avatar.
The bombastic beats and energetic choreography by Farah Khan take the song to another level.
The routine is fun, catchy and exerts a sense of 'girl power' as Katrina uses her sexuality to seduce and control the men around her while taking imaginary shots.
Ultimately, this song is number one because of Katrina's fabulous female empowerment, her quirky, sassy moves and the awesome beats.
2. 'Sheila Ki Jawani' (Tees Maar Khan, 2010)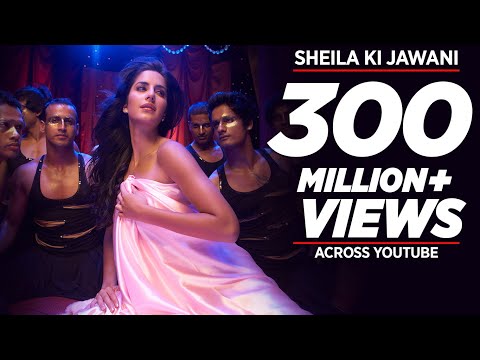 From Tees Maar Khan, this song casts Katrina in the role of Sheila. The song is extremely catchy to watch because of the easy lyrics which get stuck in your head.
The signature step where Katrina shouts 'Sheila ki Jawaani', then claps left and right is very quick to pick up.
Viewers will definitely be clapping along to these awesome beats, and we're pretty sure you'll be singing and dancing all day long.
3. 'Munni Badnaam Hui' (Dabangg, 2010)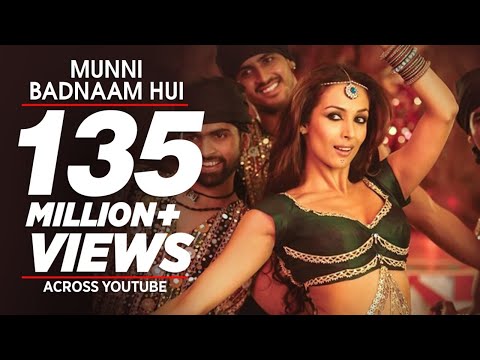 This number features the beautifully notorious Malaika Arora Khan oozing sexy confidence to Dabanng's classic item hit.
Arora shakes her slim waist in a seductive and sassy fashion.
The costumes worn by both her and the other dancers are authentically Indian, and the added rickshaw in the backdrop makes it a full on Desi item number.
4. 'Fevicol Se' (Dabangg, 2012)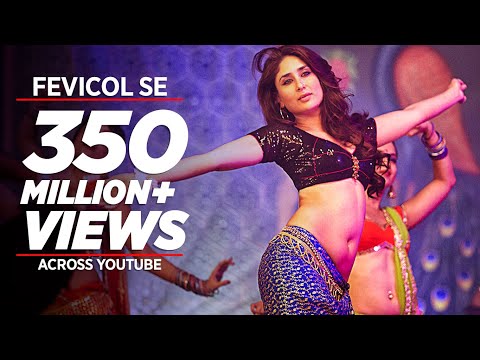 'Fevicol Se' is another Dabangg series classic.
What DESIblitz loves about this sequence is that, in addition to the stunning Kareena Kapoor Khan, it also includes some cool moves from Salman Khan.
Khan's trademark steps include pelvic thrusting and thumping of the hands, adding a sense of fun and comedy to the routine.
'Fevicol Se' is definitely one for the hero wannabes out there who love a good boogie!
5. 'Choli Ke Peeche Kya Hai' (Khalnayak, 1993)
This sequence is choreographed by Saroj Khan, and created quite a scandal on its release for its suggestive connotations!
The raunchy lyrics and sensuous moves had viewers hooked to their screens, and Queen of Dance, Madhuri Dixit looks stunning in her flowing orange lehenga.
The mother of all item songs, 'Choli Ke Peeche Kya Hai' features Rajasthani tribal moves, making it Indian to the core.
6. 'Crazy Kiya Re' (Dhoom 2, 2006)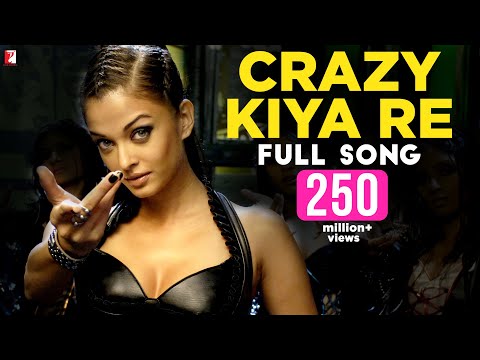 From the explosive Dhoom series, 'Crazy Kiya Re' features Miss World aka Aishwarya Rai Bachchan at her sexy best.
Falling away from Desi culture, Aishwarya wears a chic black costume that adds a sleek and stylish touch to the routine.
She moves away from traditional Indian style with very Western moves, breaking the mould of Desi item numbers by bringing them into the new age.
Although the steps are a little stylised, Ash does Desi's proud as her performance is faultless and you cannot help tapping your feet to the 'crazy' beat.
7. 'Kajra Re Kajra Re' (Bunty Aur Babli, 2005)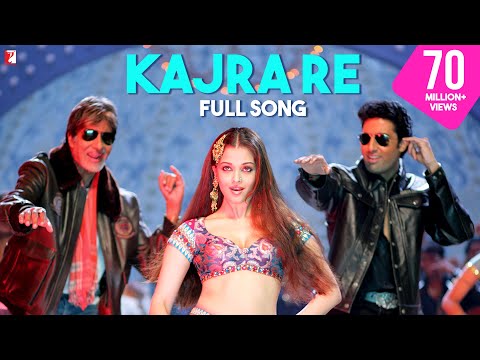 Starring the stunning Aishwarya yet again, 'Kajra Re Kajra Re' is made extra special by the added appearances of her husband Abhishek Bachchan and father-in-law Amitabh Bachchan.
Both heroes lust after the heroine, and claim that her black kohl-lined eyes take their hearts away.
As well as including three renowned Bollywood celebrities, this sequence includes fabulous Desi outfits such as the skimpy ghagra, which adds to the appeal of the number.
8. 'Ghagra' (Yeh Jawaani Hai Deewani, 2013)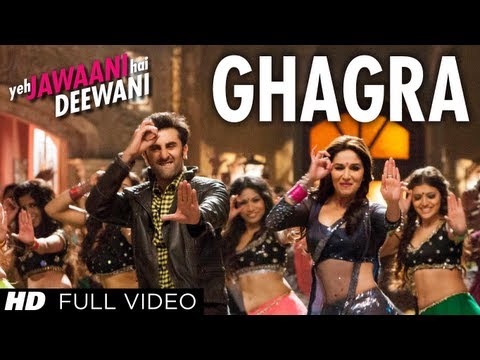 Talking about skimpy ghagras, welcome back the 'Dhak Dhak Queen' of Bollywood, Madhuri as she romances heartthrob of the nation, Ranbir Kapoor in this cheeky number.
Her evocative and perfectly-timed glances and winks make the song mesmerising, and the cheeky lyrics add a little extra spice to the dance moves.
The pair's chemistry on-screen is undeniable, and rumours suggest that Ranbir couldn't help but kiss the veteran actress Madhuri on the cheek while filming.
9. 'Chaiyya Chaiyya' (Dil Se.., 1998)
This song is definitely a blast from the past. The King of Bollywood, Shahrukh Khan performs a spectacular dance atop a moving train.
Shot during the 90s, 'Chaiyya Chaiyya' took Bollywood dance to a whole new level, and the A. R. Rahman song was a landmark for Indian choreographers.
With soulful lyrics and a rustically inspired beat, Malaika's thumkas are irresistible and the original styling offers a visual feast for viewers.
10. 'Chamma Chamma' (China Gate, 1998)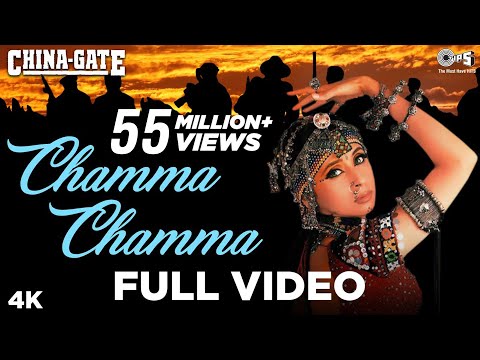 Another classic song performed in the 90s is Alka Yagnik's 'Chamma Chamma', which has stood the test of time.
The number has captured the hearts of the Indian nation and was even remixed for Baz Luhrmann's 2001 Hollywood blockbuster, Moulin Rouge.
The original number features Urmila Matondkar performing tribal Bollywood moves in beautiful Indian attire, and appeals to both the eyes and the ears.
Of course, with so many incredible dance numbers coming out of Bollywood each year, this list is by no means conclusive.
But in the meantime, be sure to enjoy these dance hits, and make them a permanent addition to your party playlist!