"Someone... somewhere... is made for you."
A visionary, having produced and directed some of Bollywood's most cherished romances – Yash Chopra was an innovator from the start.
The image of beautiful heroines in sarees, on top of snowy Swiss mountains, is synonymous with Bollywood.
This visual is now a staple fixture in Bollywood cinema.
Switzerland is very popular with Indian couples as a honeymoon or holiday destination due to Chopra's use of the location for shoots.
Chopra truly established the Bollywood era of romance, bringing joy to audiences and love stories for all.
DESIblitz countdown Yash Chopra's seven best Bollywood romances.
Kabhi Kabhie (1976)
The most poetic of Yash Chopra's romances. Kabhi Kabhie is laden with personal torment and loneliness.
The narrative explores the idea of unfulfilled love, sacrifice and the burden these acts bring.
This film is centred around four characters, Amit (Amitabh Bachchan), Pooja (Rakhee), Vijay (Shashi Kapoor) and Anjali (Waheeda Rehman).
Amit and Pooja are seen to part ways and marry others due to family pressures, despite loving one another.
The subplot which includes Neetu Singh and Rishi Kapoor. The idea for which was suggested by the wife of Yash Chopra, Pamela Chopra.
Pam had read an article about a woman meeting her adopted child which served as the inspiration for Neetu's character and her arc in the film.
The plot looks at the complexity of marriage and relationships.
Exploring the idea that everyone has secrets and in the case of arranged marriages, there are bound to be many.
Chopra takes viewers on a journey of love and loss.
Allowing us to view as these characters implode as a result of their own secrets and deceit.
Kabhi Kahbie won Filmfare awards for its music, and the screenplay that year.
This is likely due to the infamous 'Kabhi Kabhie Mere Dil Mein' song which is still regarded as one of the best Bollywood love songs.
This film is able to dabble in poetry as Chopra wrote Amitabh's character, as a lovelorn poet who grows cold with life and age.
A film that highlights the complexities of human nature, love and romance.
Kabhi Kabhie is a classic Yash Chopra film well worth watching.
See the female rendition of the famous song below: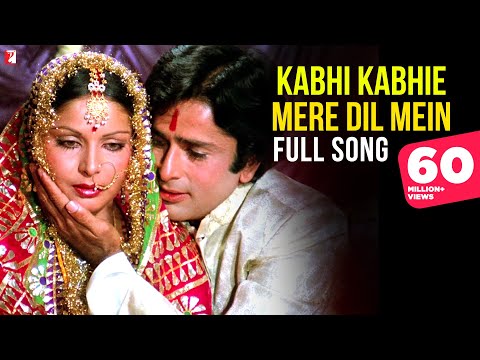 Silsila (1981)
One of Yash Chopra's more scandalous creations is Silsila.
Silsila joins Amitabh Bachchan, Rekha and Jaya Bachchan in a narrative which is still spoken of in hushed whispers.
It was during the shooting of this film that, Amitabh Bachchan and Rekha were accused of having an affair.
This accusation has remained alleged and unconfirmed.
However, there is a sense of irony at play within this film.
These three actors are seen to be depicting a tale of an extramarital affair in the movie, Silsila.
Whilst these rumours ran alongside its creation, adding fuel to the fire.
Amit (Amitabh) is in love with Chandni (Rekha), however when his brother Shekhar (Shashi Kapoor) dies suddenly havoc occurs.
Shekhar was set to wed his girlfriend Shobha (Jaya) who is now left alone and pregnant.
Amit, feeling duty bound marries Shobha and leaves Chandni who also marries another.
Shobha sadly miscarries the child, which creates a distance between her and Amit.
Years later Amit and Chandni reconnect, which is where the conflict begins.
Yash Chopra focuses on the idea of duty versus desire in, Silsila.
He explores the impact of what happens when individuals give into their internal desires rather than remaining faithful.
The performance of the actors in this film is gripping and very raw.
Chopra always would use simple plots, mix them with human emotions and showcase them in an entrancing way.
He managed to always get the most authenticate and relatable performances from his actors- a true talent for a director.
Yash was awarded the Filmfare award for best film and director for, the movie Silsila.
While Jaya, Amitabh and Rekha all won awards for their roles in Silsila.
A tryst of love gone awry, Silsila is an excellent movie which highlights true human conflict and emotion.
Whilst grappling with the issue of affairs outside of marriage.
See the trailer for this epic love triangle below: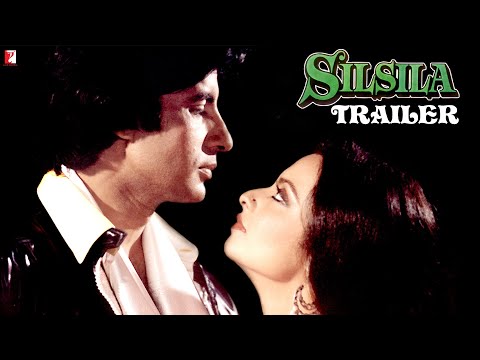 Chandni (1989)
Chandni is the essence of a Yash Raj film, with the combination of Yash Chopra and Sridevi being faultless.
One of Bollywood's most cherished love stories. Chandni is the epitome of Bollywood romance.
The film has many wonderful credits to its name.
It's iconic songs such as the title song, 'Chandni' and 'Mere Haaton Mein' have been parodied and replicated since release.
Chandni (Sridevi) is a bubbly and vivacious character who is young and naive.
She attends her cousin's wedding where she happens to meet Rohit (Rishi Kapoor).
The two have a fast and potent love affair.
Despite Chandni coming from a less wealthy household, the two decide to wed.
Complications arise after the two are engaged and the two eventually part.
A shattered Chandni is then seen on a train.
Not many realise that the first half of Chandni is a flashback.
Chopra uses this technique as a way to highlight Chandni's self-reflection and sadness upon losing Rohit.
Unlike most Bollywood films at the time, Chandni moves away to make it on her own.
She lives with friends and gets a job where she then meets Lalit (Vinod Khanna).
Chandni is a more subdued and serious version of herself when with Lalit, who has a past of his own.
Lalit grows to love Chandni and again plans to marry are in motion, until Rohit returns.
The twists and turns of this tale keep the audience captivated and conflicted, unsure of who Chandni should be with.
The script writing, direction, acting and soundtrack are all flawless in this film.
It was the movie, Chandni which made Switzerland the go-to location for Bollywood romance.
Highlighting how Yash Chopra's Chandni set the standard for Bollywood romances to follow.
See the iconic title song for this film here: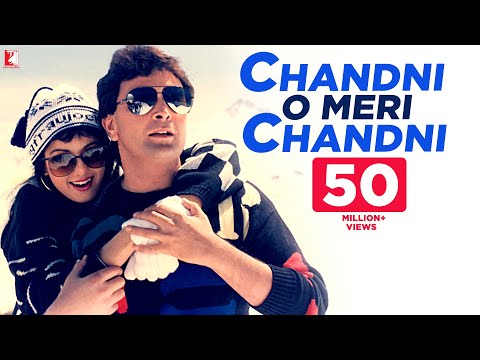 Lamhe (1991)
At the time of its release, Lamhe shocked and appalled audiences. However, as the years have passed the film has gained cult status.
Chopra had created a plot where Viren (Anil Kapoor) falls in love with Pallavi (Sridevi), a family friend who is slightly older than him.
Upon her father's death, Pallavi is inconsolable.
That is, until her secret lover appears, leaving Viren shocked and heartbroken.
Pallavi gets married and Viren moves away to London.
Pallavi meets with an accident, where she and her husband die.
But not before she delivers a baby daughter, Pooja (also played by Sridevi), who she entrusts into Viren's care.
Viren leaves Pooja with his Dai ma, (Waheeda Rehman) he has little to do with her upbringing.
Until Pooja is youthful and a woman and the two develop feelings for one another.
The age difference and romantic context suggested in Lamhe caused audiences to chastise the film and its subject.
Despite the controversy, the film still won multiple Filmfare awards.
Lamhe won Filmfare awards for best film, best actress and surprisingly best story.
Chopra again is unafraid to explore socially 'taboo subjects' as demonstrated by Lamhe.
Lamhe explores relationships with age gaps and it does so, beautifully. It was a tasteful tale of love being formless, not being vain or conscious of age.
This film showcases some of Sridevi's finest work, her character distinctions between Pallavi and Pooja are amazing to watch.
In addition to this, Lamhe has some wonderful classic Bollywood love songs.
See this amazing medley from the movie here: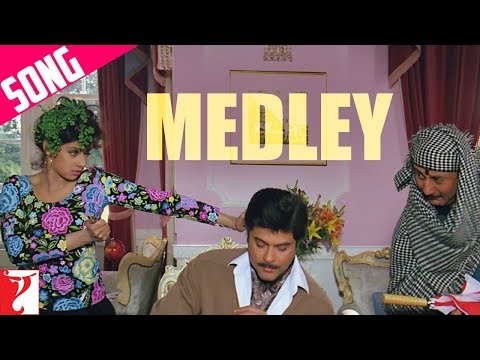 Darr (1993)
An edgier and darker exploration of love and its limits, Darr marked Chopra's first venture with Shahrukh Khan.
Once this duo paired up, the face of Bollywood cinema was changed irrevocably.
Darr is a gripping if not, slightly, disturbing tale of love, passion and eventually madness.
Chopra gave a by-line to his title, explaining that this film as a:
"Violent love story."
Always pushing the boundaries of cinema for his audience.
Chopra set out to develop a psychological thriller which had its roots in love and obsession.
Darr tells the story of an introverted and disturbed young man, Rahul (Shahrukh Khan).
Rahul appears to suffer from PTSD after his mother dies.
He is often seen speaking to his deceased mother on the phone, when nobody is actually on the line.
His main obsession and joy is his 'love' for Kiran (Juhi Chawla).
Kiran is a typical Yash Chopra heroine, beautiful, young and full of energy.
However, she becomes paranoid and afraid when she repeatedly receives threatening and menacing phone calls from a man (Rahul).
He repeats the same line with each call:
"I love you K-k-k-kiran."
Things seem to ease when Kiran marries her sweetheart, Sunil (Sunny Deol) and the two move away.
All is well until Rahul tracks the two down, driven by his obsession and madness.
One of the most iconic images of this film includes a scene where Rahul is suggested to have carved Kiran's name into his chest, leaving bloody letters scarred across his bare chest.
Darr is a darker exploration of the idea of an obsessive and violent love. It won the Filmfare awards for best actor, actress, villain and director.
See a dance sequence where Chopra explores the depth of obsession: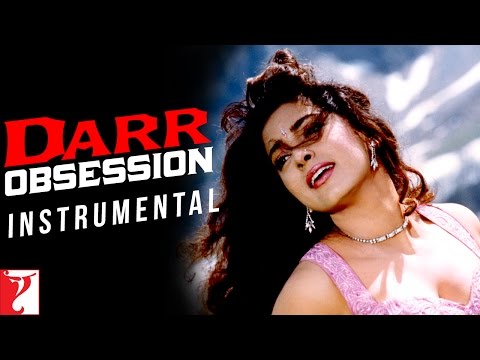 Dil To Pagal Hai (1997)
Yash Chopra stated this film to be his only, 'musical love story'.
Chopra marked Dil To Pagal Hai as a true exploration into musical theatre.
This film follows a musical troupe, the director of which is Rahul (Shahrukh Khan).
Rahul despite writing love stories and musicals, doesn't actually believe in all this, 'love nonsense' himself.
A pessimist through and through, his lead dancer Nisha (Karisma Kapoor) has feelings for Rahul. Sadly, Rahul is too self-involved to ever notice.
When Nisha injures herself rehearsing for their new play, the troupe is at a loss. Unsure of who would be fit to replace their lead, the troupe was at a loss.
Thus enters Madhuri Dixit as the doe-eyed, innocent, hopeless romantic – Pooja.
Pooja and Rahul are polar opposites but as they spend time working on the play feeling begin to arise.
This causes a quandary for Pooja, as she is engaged to her childhood companion Ajay (Akshay Kumar).
Thus ensues a captivating and lively story of love and fate.
Dil To Pagal Hai embodies the ethos that:
"Someone… somewhere… is made for you."
Yash Chopra made this, the closing statement of his film, wishing to highlight a more whimsical look at love.
The film was a smash hit in the box office with Dil To Pagal Hai winning multiple awards.
Some of which included: best film, best director, best choreographer, best actress, best actor and best-supporting actress.
A triumph of truly romantic Bollywood cinema, Dil To Pagal Hai is a must watch of Yash Chopra's films.
Enjoy the joyful title song here: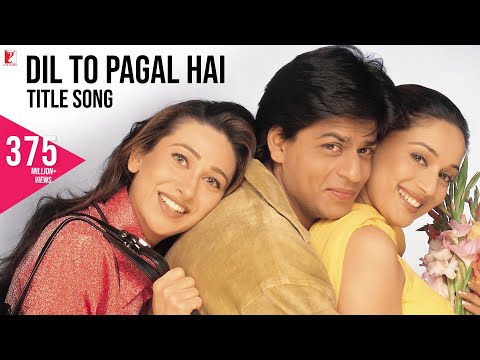 Veer-Zaara (2004)
Yash Chopra explores the concept of star-crossed lovers with Veer-Zaara.
Veer-Zaara looks at interfaith relationships as well as cross-border stigma.
With the India-Pakistan issues that are known to most of the South Asian community.
Yash Chopra decided to comment on this topic, with this film.
Veer (Shahrukh Khan) is an army rescue officer from Punjab, India.
Whereas Zaara (Preity Zinta) is a slightly spoiled and self-indulgent girl from Lahore, Pakistan.
The two meet as Zaara is on a journey to scatter her Bebe's ashes in Punjab.
She has a chance encounter with Veer which changes the course of their lives forever.
It's on this journey that the two develop a friendship. However, when the time to sperate arises, both realise they have deeper feelings for one another.
Zaara is set to wed another, despite this Veer travels to Pakistan to declare his love for Zaara and fight for his right to be with her.
Instead, Veer ends up imprisoned, wrongfully, in Pakistan with charges of being an Indian spy.
Years later in his old age, a young lawyer Saamiya (Rani Mukherjee) takes up his case.
Here is where the tale begins to unfold and with it, a resolution develops.
We won't spoil this magical story for you but unlike most star-crossed lovers, this film has a happy ending.
A story of enduring love, this was one of Yas Chopra's more thought-provoking romances.
As he highlights with Veer-Zaara, that love is faceless and shapeless, it does not see race, religion, colour or creed.
Audiences too agreed with this, with the film winning: best film, best actor, best actress and others at the Filmfare awards.
Watch one of Chopra's soulful songs from this film: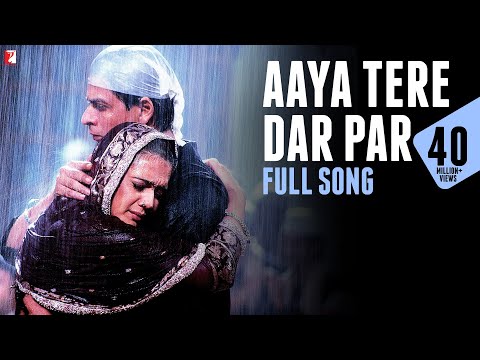 Yash Chopra is one of the finest directors Bollywood has seen.
He was very minimalist in his approach, focusing on harnessing strong performances from his actors.
Developing poetic and realistic dialogues, with dream sequences which inspired audiences to dare to dream themselves. An inspiration to many actors, directors and loved by many.
These are seven best Bollywood romances that wonderfully highlight Yash Chopra's legacy as an incredible filmmaker.