"Sridevi was a legend many of us grew up watching"
Fans of Indian cinema across the world are in mourning. The iconic actress, Sridevi is no more. Passing away on 24th February 2018, the shock of her sudden death has yet to sink in.
What is less astonishing, however, is the legacy that this rare gem of Indian cinema left behind. The 54-year-old had only recently completed 50 years in the movie industry – a remarkable feat for any actor – male or female.
From very early on, Sridevi's women-centric films redefined commercial Indian cinema, making her a feminine role model for both her acting peers and her off-screen supporters. In her later years, she again knocked gender and ageist stereotypes on their head, taking on leading roles at an age where many other woman actors would be forced into retirement.
As the wife of Boney Kapoor and mother to Jhanvi and Khushi, DESIblitz pays loving tribute to the wonderful acting genius that will always be Sridevi!
A Rising Child Star of Indian Cinema
Elegance, grace, timeless beauty are all terms that are commonly used to describe this extraordinary woman. But aside from her outer gifts, Sridevi also happened to be a powerhouse talent.
As an actress of Tamil, Telugu, Malayalam, Kannada and Bollywood cinema, Sridevi was as versatile as she was personable.
She began her illustrious showbiz career at the age of 4. Here she starred in the 1969 Tamil film, Thunaivan where she played the human form of Lord Murugan. In 1971, she featured in the Malayalam film Poompatta playing the character of Sarada.
It was a role that the child artist would receive much critical acclaim for, resulting in the Kerala State Film Award for 'Best Child Artist'. Thus beginning a fruitful and prosperous career that would last an incredible five decades.
As Sridevi became a popular young name across South India with her variety of film roles, her acting talent and enthusiasm on and off screen eventually led to Bollywood veering its attention.
Despite knowing little about the cinema or even Hindi itself, she finally made her way into the industry in 1975 with a supporting role in the film, Julie.
The Road to Bollywood
Even from a young age, Sridevi made regular on-screen appearances along the likes of South Indian superstars Kamal Hassan and Rajnikanth.
In fact, she was only 13 when she played her first adult role with the Tamil film Moondru Mudichu (1976). Performing alongside both Hassan and Rajinikanth, Sridevi played a college girl with whom both the male characters became smitten.
Three years later, she achieved the same milestone in Bollywood with Solva Sawan (1979) a remake of her Tamil film, 16 Vayathinile. Although it did not fare as well as the original, the film did open a few doors for the teenager.
However, this period was perhaps her most challenging. Although a popular star of the South, many in Bollywood took little notice because of her Hindi accent.
That is until, at the end of her teenage years, she delivered two of her most career-defining roles. In 1983, the 19-year-old starred in one of the biggest blockbusters of the '80s, a Bollywood comedy-drama called Himmatwala alongside Jeetendra.
Her look in the film became just as iconic as the movie. For the song, 'Nainon Mein Sapna', the starlet donned Indian attire and headgear that was covered in jewellery. She also became known for her 'thunder thighs' elevating her to the status of Indian pin-up.
Watch our tribute to Sridevi here: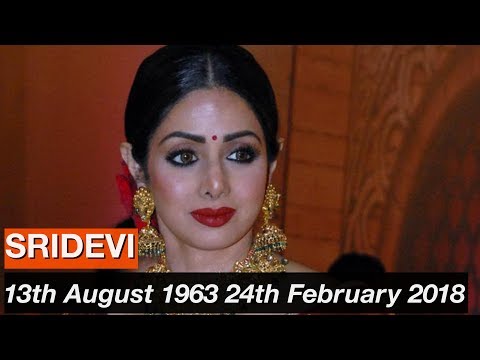 Sridevi's second stand-out role was Sadma (1983) where she played a young woman suffering from amnesia. The film left an indelible impact on audiences, and many consider it to be one of the actresses' finest roles. Although it had nowhere near the success of Himmatwala, the film eventually amounted to cult status. Her regular co-star Kamal Hassan says of the star:
"Have witnessed Sridevi's life from an adolescent teenager to the magnificent lady she became. Her stardom was well deserved. Many happy moments with her flash through my mind including the last time I met her. Sadma's lullaby haunts me now. We'll miss her."
While the Tamil industry regularly paired Sridevi with Kamal Hassan, in Bollywood, her most prominent Jodi was with Jeetendra. Their pairing lasted for 16 films, the majority of them being hits such as Jaani Dost (1983), Akalmand (1984), Tohfa (1984), and Suhagan (1986).
India's First Female Superstar
The 80s and 90s were arguably the most fruitful for Sridevi's Bollywood career. She was considered a box-office magnet and was one of the leading ladies of the time as well as one of the highest-paid.
According to IMDb, Sridevi is thought to have over 280 films in her catalogue across 5 film industries, Sridevi's was the star that fans of cinema watched growing up in the 80s.
As Bollywood also grew in popularity around the world at this time, many Brit-Asians and American Desis would have spent many joyous hours watching the dancing Sridevi on VHS. Presenter Tommy Sandhu tweeted:
"Sri Devi was a part of my childhood & my early memories of Bollywood films! The news of her passing has stunned me and no doubt the whole of India. Thank you for all the films, the songs and dance routines that made you one of the industry's finest artists."
Journalist Shaista Aziz adds: "#SriDevi was a legend many of us grew up watching. She was beautiful, witty and old skool sassy. She was one of the first #women in Indian cinema to be able to sell a film in her own right."
Actress Huma Qureshi notes:
"She made a whole generation of girls want to dance and wear pretty things .. She enacted the most glamorous and most complex characters with such ease.. She made me want to become an actor."
While her undeniable looks led to a number two-dimensional or uncomplicated feminine roles, on occasion, she was able to show off her full acting range. Whether it was her comic timing or dramatic performances, Sridevi was a formidable actress not defined by just outward beauty. Indeed, she had a unique innocence and vulnerability on-screen that matched her sex appeal.
In 1986, Sridevi played a shape-shifting woman in the fantasy film, Nagini. In it, Sridevi danced to 'Main Teri Dushman', which is still regarded as one of the best Bollywood snake dances. Finally, in 1987, the superstar delivered a show-stealing performance in Mr. India with Anil Kapoor and Amrish Puri.
Aside from Puri's famous, "Mogambo khush hua" quote, the film was memorable for Sridevi's excellent comic timing and her songs, 'Hawa Hawai', 'Karte Hain Hum Pyaar Mr. India Se' and 'I Love You'.
Then in 1989, Sridevi played a double role in the film, Chaalbaaz, again receiving non-stop accolades and praise. In the same year, she joined forces with Yash Chopra and gave fans one of the most loved female characters, Chandni.
It quickly became one of the most watched films in India, and 'Mere Haathon Mein' is one wedding song that we all remember singing along to. Yash Chopra who considered Sridevi to be one of his top heroines later cast her in one of his most memorable films, 1991's Lamhe.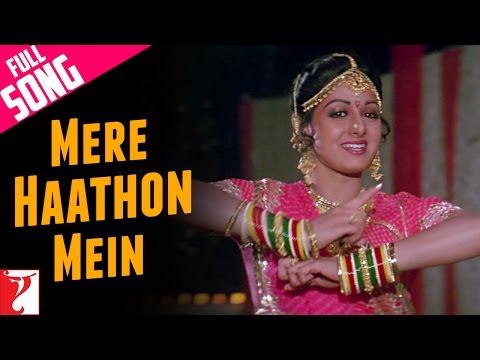 Actor and director Farhan Akhtar notes: "My first job in 1990 was on 'Lamhe' and this song 'Megha re Megha' was the very first time I saw this legendary actor create her incredible magic on screen."
It was in 1992 that she joined forces with man-of-the-moment Amitabh Bachchan, for the action and romance epic,  Khuda Gawah, set in Afghanistan. Her success and big-budget films continued into the late 90s, where the actress eventually took a break from acting, after getting married to Boney Kapoor.
Before her departure from our screens, however, she starred in 1997's Judaai, with Anil Kapoor and Urmila Matondkar.
Critic Subhash K. Jha wrote in the Times of India: "[Sridevi] left us with the most stunning hurrah in Judaai. A terrible film that I've watched countless times to see her play the money-minded harridan who 'sells' her husband to Urmila Matondkar. Who but Sridevi could carry off such an outrageous role with such enthusiastic élan?!"
Acting Break and Return to Mainstream Cinema
Sridevi's personal life was just as much reported by media and press as were her performances. In the 80s there were rumours of the actress having a love affair with Mithun Chakraborty, which reportedly lasted three years.
In the mid-90s Sridevi fell in love with film producer, Boney Kapoor. The producer was already married at the time to Mona Kapoor, who was also a friend of Sridevi.
Mona's divorce with her husband, however, became inevitable as Sridevi supposedly became pregnant with Boney's child.
After marrying in 1996, Sridevi had two daughters with Boney: Jhanvi and Khushi. They are step-sisters to Anshula and Arjun Kapoor from Boney's first marriage.
Focusing on her new marriage and young family, Sridevi took what became a 15-year hiatus from Bollywood, although she did some small TV appearances during this time.
Finally, in 2011, she returned to the big screen for Gauri Shinde's English Vinglish, a comedy-drama where a housewife enrols in an English speaking class after being mocked by her father and daughter.
Fans and critics alike sighed in relief as the acting genius had returned, reminding us once again why she was such a timeless talent and beauty.
She was honoured with the Padma Shri in 2013.
In 2017, she starred in the thriller Mom, where she played a vigilante who sets out to avenge her sexually abused daughter. Sridevi was again praised for her hard-hitting performance.
While this would be Sridevi's final leading-lady role for Indian cinema, fans and admirers can expect her to make a special appearance in Shahrukh Khan's upcoming film, Zero. Sridevi will appear as herself.
Remembering Sridevi and Her Legacy
Sadly, despite a career that spans 50 years, many from the film industry agree that the icon that was Sridevi has been lost too soon. The superstar took her last breath on Saturday 24th February 2018, where she had flown to Dubai to attend a wedding.
Fans and stars from all over are paying tribute to the actress' untimely death.
In her Instagram stories, Priyanka Chopra posted: "A bit of my childhood died today. Remembering you."
I have no words. Condolences to everyone who loved #Sridevi . A dark day . RIP

— PRIYANKA (@priyankachopra) February 24, 2018
Cementing the fact that Sridevi single-handedly inspired a whole generation to become actresses, numerous celebrities paid tribute to the leading lady:
Heartbroken & shocked to hear that my all time favourite #Sridevi is no more. May god give peace to her soul & strength to the family #RIP

— Preity G Zinta (@realpreityzinta) February 24, 2018
Great artists.. we cry for them without ever really knowing them, we mourn them because they helped us know ourselves.. pic.twitter.com/9dwnDC8qjb

— Mahira Khan (@TheMahiraKhan) February 25, 2018
Shocked stunned. Still see her laughing talking. Unbelievable. Actor par excellence. A school in herself.. learnt so much from her. Still can't believe it . A huge loss. #Sridevi

— Kajol (@itsKajolD) February 25, 2018
Shocked beyond words to hear about the sad and untimely demise of #Sridevi. A dream for many, had the good fortune of sharing screen space with her long ago and witnessed her continued grace over the years. Thoughts and prayers with the family. RIP ??

— Akshay Kumar (@akshaykumar) February 25, 2018
Shocked and saddened to hear about the untimely demise of one of Hindi cinema's greatest superstars. I grew up on her movies. She will always be one of my favourite actors of all time. May her soul rest in peace. My deepest condolences to her family. RIP #Sridevi

— Ranveer Singh (@RanveerOfficial) February 25, 2018
Growing up in the 80's meant #Sridevi was a part of life… dancing to her songs "mere hathon mein nau nau choodiyan hain", "na jaane kahan se aayi hain" to "bijli girane mein hoon aayi" and so many more… her powerful performance in Sadma had an indelible impact on me…

— Dia Mirza (@deespeak) February 25, 2018
Sridevi's long-time co-star, Rajinikanth also paid tribute:
I'm shocked and very disturbed. I've lost a dear friend and the industry has lost a true legend. My heart goes out to her family and friends. I feel the pain with them #RIPSridev … you will be missed.

— Rajinikanth (@rajinikanth) February 25, 2018
While most of us still come to terms with her passing, it should be noted that this timeless beauty and acting superstar continues to live on.
Sridevi is very much ingrained in the fabric of Indian cinema and will remain so for all time.