"It was Sridevi's bejeweled outfits and headgears that stole the show"
Chandni, Benazir, Seema and Pallavi. This veteran actress has many names, but we recognise her simply as Sridevi.
The beauty queen began her film career in several South-Indian films as a child-artist. Sridevi played her first adult role at age 13 with the Tamil film Moondru Mudichu (1976).
Subsequently, she established herself as one of the leading actresses of Tamil and Telugu cinema.
Her first Bollywood appearance was in Julie (1975). Sridevi's debut in an adult role was opposite Amol Palekar in Solva Savan (1978) while she gained more attention with Himmatwala (1983).
Throughout her career, Sridevi's frequent collaborations with Jeetendra and Anil Kapoor are now considered to be emblematic reel-life jodis.
Approximately 41 years into her Hindi-film career, Sridevi continues to be one of the most respected actresses In the film industry.
Adhering to this wonderful triumph, DESIblitz reflects on 10 most iconic films of Sridevi!
1. Himmatwala (1983)
"The water pots may have dominated most frames in 'Nainon Mein Sapna' but it was Sridevi's bejeweled outfits and headgears that stole the show," that's what the media had to say about this classic!
Paired opposite Jeetendra (as Ravi) she essays the role of Rekha, the daughter of a murderous Thakur (played by Amjad Khan) who has killed Ravi's father.
From her Desi-costume to the western 'hunter' look, we can proudly say Sridevi 'Pe Dil Aa Gaya'.
2. Sadma (1983)
Critic Subhash K Jha opined: "A milestone in her illustrious career," and rightly so!
Sridevi portrays Nehalata, a young woman who regresses to childhood after suffering a head injury in a car-crash. She is paired opposite Kamal Hassan, a lonely school teacher who looks after her.
The innocence in Sridevi's performance not only impressed several critics and audience, but also won several awards.
Although the film did not succeed at the box-office, Sadma has received a cult-status.
3. Tohfa (1984)
Once again, the popular pairing of Jeetuji and Sridevi reunite for this emotional love-triangle which also stars Jaya Prada.
Sridevi donned a girl-next-door avatar, and her performance touched the hearts of the audience.
Plus, the classic film is recognised for Bappi Lahiri's chartbuster songs: 'Pyar Ka Tohfa' and the risqué 'Ek Aankh Maru'. In addition, Sridevi later collaborated with Jeetuji in popular films like Mawaali and Maqsad.
4. Nagina (1986)
Her heart-piercing nigahein, suave thumkas and fierce adaayein… The perfect elements for essaying a snake-woman.
Hence, Sridevi's performance struck a chord with the audience.
Nagina also became a blockbuster during that year and her dancing in the climax to 'Main Teri Dushman' is considered to be one of the finest snake dances in Hindi cinema.
5. Mr. India (1987)
In the classic Mr. India, Sridevi essays a goofy-crime journalist, Seema Sahni. Numerous film enthusiasts praised her performance.
On one hand, TOI praised her impersonation of Charlie Chaplin as: "The most hilarious act she has ever done" while Rediff cited:
"Her mobile face expressions could give Jim Carrey sleepless nights … her biggest plus point is her ability to be completely uninhibited in front of the camera."
As such not only has her performance in song 'Hawa Hawai' become evergreen, but so has the scintillating rain-song 'I Love You', in which Sridevi wears a sky-blue chiffon saree and dances with Anil Kapoor.
As no award ceremony took place during the years 1987 and 1988, Sridevi, was given the Filmfare Special Award for her performances in Mr. India as well as Nagina, in 2013. All we can say is… Mogambo, Khush hua!
6. ChaalBaaz (1989)
A remake of Seeta Aur Geeta, Sridevi delivers an award-winning slapstick performance as the twin-sisters Anju and Manju.
During the following year, the 52-year-old actress also won Filmfare's 'Best Actress' award, while ace-choreographer Saroj Khan received the 'Best Choreography' award for the track 'Na Jaane Kahaan Se Aayi Hai'.
Furthermore, we also see Rajinikanth and Sunny Deol in leading roles!
7. Chandni (1989)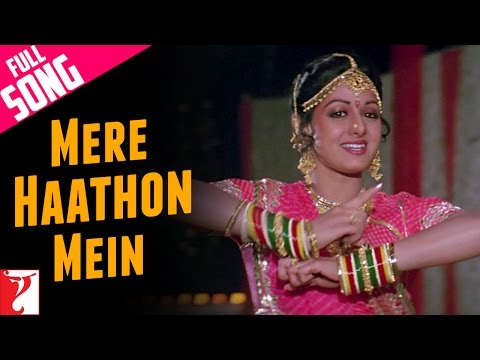 If Broadway theatre has The Woman in Black, Hindi cinema has 'The Woman in White,' aka Sridevi.
Returning to the quintessential 'girl-next-door' avatar, Yash Chopra's Chandni is considered to be Sridevi's best commercial venture till date.
Indiatimes cited: "True to her screen-name, she was an epitome of radiance, warmth and vivacity."
The film is particularly memorable due to the 'Mere Haathon Mein' track which also featured in Kabhi Khushi Kabhie Gham. The actress also crooned the track 'Chandni O Meri Chandni'.
8. Lamhe (1991)
"Love transcending the boundaries of time and space." The best way of summarising this Yash Chopra classic, Lamhe.
Once again, Sridevi appears in a double-role, as the Rajasthani Pallavi and the chirpy daughter Pooja, for which she received the Filmfare Award for 'Best Actress'.
Her performance in the tracks: 'Megha Re Megha', 'Chudiyan Khanak Gayeen' and 'Meri Bindiya' were sensational during the time.
The film, being infamous, for its bold theme, didn't do well at the Indian box-office. However, it was highly successful in the UK and the west.
9. Laadla (1994)
Sunder, Susheel and Sanskaari. Well, one can't say this about Sridevi's business-tycoon character in Laadla!
In fact, TOI described her as: "Rude, dominant and very competitive."
In comparison to Sridevi's previous roles, this was bolder. But it was worth it since she received the Filmfare Best Actress nomination.
As such, one cannot forget how Sridevi would authoritatively say: "You understand? You better understand!"
This Raj Kanwar hit also co-stars Anil Kapoor and Raveena Tandon.
10. English Vinglish (2012)
After a staggering 15-year hiatus, Gauri Shinde's English Vinglish marked the comeback of Sridevi.
She features as a housewife who tries to master English-skills in order to stop her husband and daughter mocking her.
Both critics and audiences lauded Sridevi's sincere performance and was also shortlisted as India's official entry for the Academy Awards in 'Best Foreign Language' Film category.
Overall, these were a few iconic films of Sridevi. Regardless of any role she has essayed in films, she has proved to be one of Hindi cinema's finest actresses.
DESIblitz congratulates Sridevi for receiving the 'Outstanding Achievement in Indian Cinema' award at IIFA 2016!