Red Dead Redemption 2 explores the vast region of the American wilderness.
The much anticipated Red Dead Redemption 2 is set for release on Friday, October 26, 2018.
Since the announcement in 2016, fans have been impatiently waiting for the game to come out.
It is the prequel to Red Dead Redemption, which was released in 2010.
The Western is considered one of gaming's greatest triumphs. The features have been industry-changing, some even considering it to be revolutionary.
Protagonist John Marston quickly became a fan favourite in the gaming world. Fans will be pleased that he will be returning for the upcoming game.
Red Dead Redemption 2 promises even more additions and gameplay mechanics which have never been seen before in video games.
Trailers show that it is possibly the most detailed game developers Rockstar have made.
We look at what to expect from the game in terms of story and new features.
The Story
Set 12 years before the events of the 2010 game, Red Dead Redemption 2 explores the vast region of the American wilderness.
Players will control Arthur Morgan, a leading member of Dutch Van der Linde's gang, the antagonist from the previous game.
It is 1899 and the Wild West is coming to an end. After a robbery in Blackwater town goes wrong, the gang are forced to go on the run.
The gang must rob, steal and fight to survive across several towns wilderness as their lives become more desperate.
Rival gangs and law members pursue Van der Linde and Morgan's gang to make their lives much more difficult.
As tensions develop in the gang. Arthur must choose between his own intentions and his loyalty to the gang.
Throughout the game, Arthur is Dutch's right-hand man and handles much of the gang's day-to-day activities.
To keep the gang afloat, players complete activities such as hunting for food and playing games with other gang members.
While the original game saw Marston hunt down the remaining gang members, many familiar faces return.
Among those returning are of course Dutch, Bill Williamson, Javier Escuela and a young John Marston.
New characters include Sadie Adler, Charles Smith, Micah Bell and Hosea Matthews.
The interaction between the characters is an exciting element as each character will tell unique stories based on their personality.
The story in itself promises to be one to look forward to if the original game's story is anything to go by.
New Features
While Rockstar had past releases of Red Dead Redemption and Grand Theft Auto 5 and was commended for their innovative features, they do not compare to the features of Rockstar's latest release.
The amount of detail which has gone into the game is mindblowing. Its release was delayed several times in order to perfect it.
It is rumoured that it will be over 100 Gigabytes to download, while that can take some time, it will be worth the wait.
Even imaginable detail has been incorporated to make the game as immersive as possible for players.
The first thing to expect is the stunning landscape. From busy towns to desert plains, it is all visually appealing.
All of which are enhanced by the life that each part of the map brings.
Each character has different sets of clothes for hot and cold weather conditions. The type of clothes worn affects Arthur's performance.
For example, wearing a heavy coat during hot weather results in stamina decreasing massively.
Other optional choices include choosing to roll up your sleeves or tucking your trousers into your boots.
Grooming also plays a part, shaving and cutting Arthur's hair is an option when it grows over time.
However, if grooming is not your thing, you can let Arthur's hair and beard grow to the max.
There really is no limit when it comes to the way you want Arthur to look.
Arthur's appearance will affect the way other characters will interact with him.
Daily activities play a part in Arthur's appearance. He needs to eat to keep health and stamina up so that he is in top shape for his role as Dutch's right-hand man.
Firing warning shots with your gun affect people and animals around you. This is useful for intimidating people or scaring people.
The success of the first person option in Grand Theft Auto 5 returns in Red Dead Redemption 2 so gamers can fully immerse themselves in the Wild West.
Other details to expect is that even the smallest things have been paid attention to.
For example, snow on Arthur's clothing will eventually melt and mud gradually dries.
It is these finer points which make Red Dead Redemption 2 a must buy.
Gameplay
Red Dead Redemption 2 features an expansive world to jump into. It largely focuses on exploration, hunting, shoot-outs and side-quests.
While some gameplay features have been developed and are returning, the majority is brand new for an entirely different gaming experience.
The deadeye mechanic which was so popular in the original game makes its long-awaited return.
It still follows the same principle as the original which enabled players to slow down time to fire precise shots to enemies.
This version of deadeye has five levels compared to three in the predecessor. With five stages, gamers can only wonder what the other two levels feature.
One talked about aspect is the bond Arthur has with his horse. Your trusty steed is arguably the most important ally.
It holds all your weapons and carries the hunted food to camp.
From the start, you build the bond up by looking after it. Over time as the bond improves, more weapons can be stored and you can summon it from a further distance.
One other feature is that your horse will become less scared of other animals.
However, that bond will be all for nothing if your horse is unfortunately killed in action.
It will affect the player as you put so much effort into bonding just to see it go to waste.
Arthur must then start the bonding process from the beginning with a new steed.
The environment is full of life with every citizen doing something, for example, someone will be sweeping the ground.
Their dialogue differs from one another when interacting with Arthur. Their conversations also change depending on Arthur's choices.
Some citizens are more friendly to Arthur than others.
If Arthur tries to intimidate them, some run away whereas others will argue back, even drawing their own gun in preparation for a duel with Arthur.
Watch the Official Launch trailer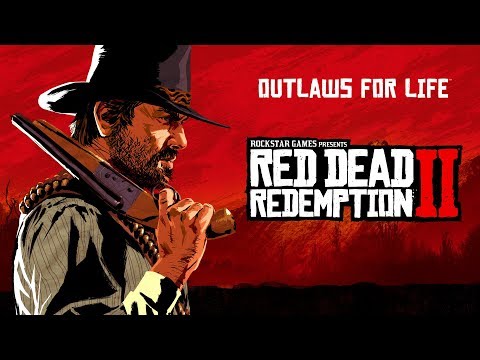 The wildlife plays a huge part in the vast environment and range from deer and rabbits to predators like alligators and bears.
All of which requires Arthur to be ready, either to hunt for food or to protect himself.
The vast detail Rockstar has put into Red Dead Redemption 2 is shown with the animals.
When bringing a deer back to camp for food, it is best to do it as soon as possible.
Leaving it on your horse too long will cause the meat to rot which will draw the ire of your fellow gang members and they will make their feelings known to Arthur.
So to stay on their good side, it's best to keep them well fed.
While it does promise a strong storyline, as with all Rockstar games, everything else makes it so much more.
The gorgeous scenery coupled with the characters make the game come to life.
Every detail and feature developed will make players feel as if they are actually in the game, especially if you decide to play it in the first person.
The fact that every citizen is a potential interaction is something which can be looked upon for future video game releases.
The most anticipated game of 2018 is one that gamers do not need to wait long for anymore.
Red Dead Redemption 2 releases on Friday, October 26, 2018.