"They're obviously very interested by Pepper."
The use of robots and Artificial Intelligence (AI) has long been a possibility in UK classrooms to introduce a new, more modern way of teaching children.
Classrooms of 2018 are already more hi-tech than a decade ago. Interactive boards, laptops and online learning tools are common.
The next step to create an even more technologically advanced classroom is robots.
Robots can be programmed to do anything. They are already a part of some industry sectors due to their efficiency.
It has been debated whether they should be a part of the classroom and unsurprisingly, there are people on either side of the fence.
Some say they present a new way of teaching children a number of subjects. On the other hand, it defeats the point in having teachers.
The matter was debated in Parliament on Tuesday, October 16, 2018, as to how robots will help education in the UK, especially in the fourth industrial revolution.
At the select committee meeting for education, a robot called Pepper, was part of a panel being questioned to discuss the potential role of AI and robotics in education.
Its appearance brought a smile to MPs' faces as it discussed the proposed use of robots within the classroom.
Pepper is part of a project at Middlesex University. Students working on the project are researching ways a robot like Pepper could help support teachers in the classroom.
In inclusion of Pepper at the select committee inquiry was to showcase the work being done by the university in the field of education.
The robot is developed by Japanese company SoftBank Robotics and was first showcased in 2014.
Robots improving education is evidenced by Pepper's development at the University.
Role of Pepper
The semi-humanoid robot is one of two robots at Middlesex University and is part of a three-year research programme.
The research is developing the world's first culturally aware robots.
Pepper's head features four microphones, two HD cameras, and a 3-D depth sensor. There is a gyroscope in the torso and touch sensors in the head and hands.
Algorithms are programmed into Pepper so that it can speak and respond to questions which it recognises as speech patterns.
The robot's aims are to enhance people's lives and to develop interaction with them.
This is seen at the meeting when members smiled upon seeing Pepper and her responses to questions.
Pepper verbally explained to the committee, that another robot similar to her was part of a project called 'Caresses'.
The project is "developing the world's first culturally aware robot," which is aimed "at assisting and caring for the elderly."
Pepper said: "In order for robots to be more acceptable to older people, it is essential that they can be programmed to adapt to diverse backgrounds."
Something which could be of huge benefit to South Asian households with elderly people who need assistance.
Pepper then went onto explain how she is helping with Middlesex university's STEM outreach programme.
When asked what will be the role of robots in the fourth industrial revolution, Pepper said:
"Robots will have an important role to play, but we will always need the soft skills that are unique to humans to sense, make and drive value from technology."
When Pepper was asked how can robots help students in the classroom, she replied that she is being used to work with a number of socially diverse projects at Middlesex.
One final-year student called Joana Miranda, who was on the panel, is working on how Pepper could help in younger classroom settings. Pepper elaborated:
"For example, Joana and I are working together to adapt my interfaces to work with primary children born with special needs to help them with numeracy skills."
For those sceptical with the idea of robots replacing teachers, the committee was told that the robots are a "tool" to be used by teachers as an "aid" to improve the delivery of teaching.
Professor Mehmet Karamanoglu, Head of Design Engineering and Mathematics at Middlesex University said:
"Robots will not be replacing the classroom teachers, but the teachers will need to develop new skills so that this tool can be better utilised."
Broader Curriculum
One of the main issues which were discussed was that there is a lack of a broad curriculum.
Joysy John, director of education at Nesta, stated skills such as creativity, confidence and the ability to learn are being pushed aside.
This is due to teachers' overemphasis on exams and league table statistics.
As a result, schoolchildren lack the life skills needed during their teenage and adult years.
She added that educationalists need to introduce a broader curriculum as well as preparing children when it comes to machine learning.
Because these skills are not addressed in schools, children only learn academics, they do not learn life skills.
With robots like Pepper, they support these activities which then can be used in the outside world.
Giving evidence on the experience while being part of Middlesex University, Pepper said:
"We put a lot of effort into engaging our students."
"We give students the opportunity to translate their work to the wider public."
This is transferable to the classroom as Pepper can teach these skills to children in an interactive way.
Pepper's interface is currently being adapted for primary school children.
With this inclusion, children will develop these skills which will boost their self-esteem in the future.
Diverse Learning
The lack of diversity within AI, in general, was addressed during the meeting.
Ms John addressed that there was a large diversity gap in AI.
She said: "Are we doing anything to address the gap, if we can, then AI is a force for good."
In terms of the use of AI in the classroom, diversity can go two ways.
Ms John added: "Schools which cannot afford high-quality teachers will use AI, this will make inequality worse."
"AI is such a powerful tool and if used right, it will make learning more personalised and that will improve inequality."
Improving diversity is possible, especially when it can be programmed into robots.
Robots will be able to assist all children as well as children with special needs effectively.
With Pepper and other robots, diversity can be incorporated at schools to give children better knowledge of different cultures.
It will engage students to learn more about different cultures, such as South Asian because a robot will draw their attention.
Joana Miranda, robotics student at Middlesex University stated that just the presence of Pepper will appeal to children.
She said: "They're obviously very interested by Pepper."
Watch a class demonstration by Pepper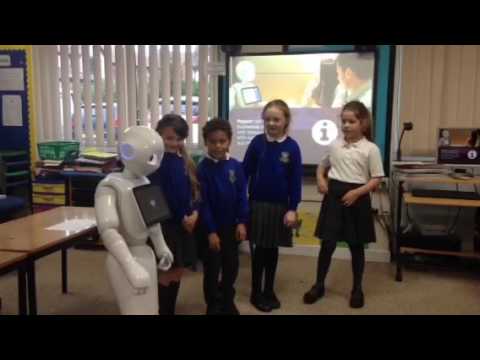 Pepper has already been tested to see if a robot will engage children to learn this way and it is positive.
Robots such as Pepper is equipped with a screen for video viewing which is another method to improve education.
Audio and visual (AV) technology in UK schools is mainly interactive whiteboards.
While they do provide relevant educational purposes, they can be limited.
With Pepper, a wide variety of algorithms can be programmed which is then played on the screen.
This ranges from a mathematics tutorial to an educational documentary on India's heritage.
Languages
Pepper can benefit the future of education, especially in the languages department.
In many schools, the languages commonly taught are French, Spanish and German.
That in itself limits a lot of children because of the vast number of languages there are in the world.
It also hinders them because the curriculum makes it compulsory from secondary school until age 14.
When it comes to languages, they are very much exam-driven and therefore the content is not interesting.
Dr Jim Anderson, senior lecturer in languages at Goldsmiths, said:
"The GCSE exam is very narrow, it lacks interesting content and appropriate tasks."
With Pepper, that changes as it can interact with students for a more practical language experience.
Different practise scenarios make learning interesting and different for children. This adds to the engaging interactions between the children and Pepper.
Another issue is that there is a lack of quality teachers that can teach other languages.
The number of ethnic minority background children is always growing and it is likely that their parent's first language is something other than English.
With languages like Hindi not being taught, it prevents some children from learning their mother tongue.
It also stops them from becoming culturally aware of their heritage.
While Pepper speaks 12 languages, it can be programmed to teach children other languages.
Professor Karamanoglu said: "They will be able to assist in a typical classroom with children to develop language skills as well as numeracy skills."
This would benefit the British-Asian community as they would be able to learn their mother tongues.
Overall Benefit and the Future
While many people are impressed with Pepper, some argue that the robot is nothing more than a gimmick.
Professor Michael Woolridge, head of AI at Oxford University referred to Pepper as an "embarrassing gimmick."
Robots enhance the overall learning experience in a number of ways. The inclusion of Pepper within the classroom is beneficial as she will motivate children.
Even the abstract subject of maths will turn into an immersive experience for students.
Professor Martin Loomes discusses how maths becomes relatable through Pepper. He said: "Shape becomes something you walk around, you touch, you feel."
This subtle change in an academic subject becomes very appealing to students.
Facial recognition is a feature of Pepper which means it engages with those who come in contact with it.
In terms of the future, as seen with the university students and Pepper, their education has been positive.
Teaching Pepper has helped with their own education.
Training Pepper is effective in training the students during their university course.
The inquiry was to establish the impact of robots and new technology within the classroom for the future.
Professor Karamanoglu added: "This includes the teachers and particularly those we are preparing to work in these settings in the future."
This can be adapted for children of all backgrounds to effectively learn using robots.
This evidence makes robots in the classroom possible for the future.
Pepper and AI is an example of robots improving the future of education.
If used properly, it improves diversity in the classroom as well as the workplace through learning about different cultures and backgrounds.
The engagement factor also motivates students to actively learn.
Pepper is a tool which should work with teachers for a better classroom experience.
Professor Loomes said: "We should be building tools for people rather than instead of people."
"Why wouldn't you?"
It is a future possibility which will improve the standard of education in the UK.