Dubbed a mix between Liberace and Al Green, Vikesh Champaneri was as assured on stage as ever.
From having zero experience on stage to being taken under the wings of will.i.am, it has been a rollercoaster ride for Vikesh Champaneri.
But his amazing journey on The Voice UK has came to an end on March 28th, 2015, as he failed to secure enough public votes to stay in the singing competition.
After the host announced the name of the last contestant who made it through to the finals, Vikesh was grateful and professional as always.
He said: "I have never performed on stage before. This has been an absolutely amazing experience. Thank everyone who voted."
Singing 'Don't Leave Me This Way' at tonight's semi-finals, Vikesh was accompanied by an array of amazing dancers and a glittering microphone.
Dubbed a mix between Liberace and Al Green, Vikesh was as assured on stage as ever. He was grooving to the beat and even high-fiving the audience!
Though slightly off-key during the second half of the song, he fully immersed himself into his performance and rounded off with his signature smile.
After voting opened to the public, the entire Team Will put together a funky performance of 'That's The Way I Like It'. Vikesh and will.i.am attempted to bring back the glory of the 80's in their black Afro wigs, and the audience loved it!
Sadly, that was not enough to sway public votes to his favour. His supporters were disappointed yet hopeful:
@VikeshMusic Absolutely gutted, you 100% deserved a place in the final. You got my vote! 🙁

— Rahee (@RaheeMapara) March 28, 2015
@VikeshMusic your performance was the best!!! I'm glad you got the sparkly microphone this week.. Keep singing and love you loads xx

— Robyn Phillips (@robyn15425) March 28, 2015
Though he will not be competing in the finals, music will still play a big part in Vikesh's life after The Voice UK.
Not only can he deliver powerful soul ballads, he can also play the harmonium and sing bhajans. What's more, he has been included in the line-up for the Glastonbury Festival 2015.
But most of all, being on the show has allowed him to pursue his passion and demonstrate to his family his serious dedication to music.
Earlier this week, he told BBC Asian Network that his family would have preferred if he was to explore a more traditional and safe choice of career.
Vikesh said: "When I told my family I was going on The Voice, they were actually quite dismissive at first of it, they said 'there's no need for you to do this'.
"I think because maybe it's an Indian thing – maybe I'm not aspiring to be a lawyer or a doctor or an accountant. It's like they thought it would be full of loose ends, just me with no sort of foundation to the career."
He continued: "Now that I've got as far as I have in the competition, they've warmed to it as well."
Despite his exit, his family will surely be incredibly proud of how far he has come and all the support that his fans have shown him.
Enjoy Vikesh's semi-final performance here: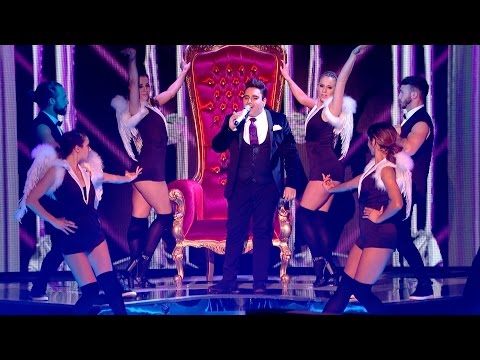 Vikesh was not the only one on Team Will to leave the show during the semi-final. Sheena McHugh also lost out on public votes.
For her performance, Sheena strutted with sexy confidence in a figure-hugging black dress on the neon-lit stage. She brought the house down with a powerful whistle note that surprised even her own coach.
With a big voice and fighter spirit, Sheena, like Vikesh, will no doubt return to the stage soon enough.
Team Will in next week's finals will be represented by Lucy O'Byrne, who gave an elegant performance of an Italian opera number in an off-shoulder dress in tonight's semi-final.
Lucy will set her eyes on the crown under the guidance of will.i.am, who helped Jermaine Jackson win the previous series in 2014.
Here are the finalists of The Voice UK Series 4:
Team Ricky
Emmanuel Nwamadi
Stevie McCrorie
Team Tom
Sasha Simone
Team Will
Lucy O'Byrne
It is sad for us to see him go, but DESIblitz cannot be more proud of what Vikesh has achieved on the show! We wish him all the best for the future and look forward to hearing his voice again!
Watch the ultimate sing-off between the four finalists of The Voice UK Series 4 on BBC One at 7pm on April 4, 2015 and vote for your favourite!